FARGO, N.D. (Valley Information Reside) – Persons are discovering out completely different reactions to the COVID-19 vaccine. Starting from slight aches to extreme complications and fevers, the signs of the vaccine varies.
Nonetheless, well being care officers within the Fargo-Moorhead space say that experiencing these signs is an effective signal to your immune system.
"It's sort of an excellent factor as a result of that tells you that your physique is reacting to the vaccine which implies that it's mounting an immune response." mentioned Sanford Dr. Avish Nagpal.
We reached out to our viewers to ask what they skilled after getting the second dose of the vaccine. A few of the responses said they haven't had any, whereas others had to make use of ache drugs like Tylenol to deal with the signs.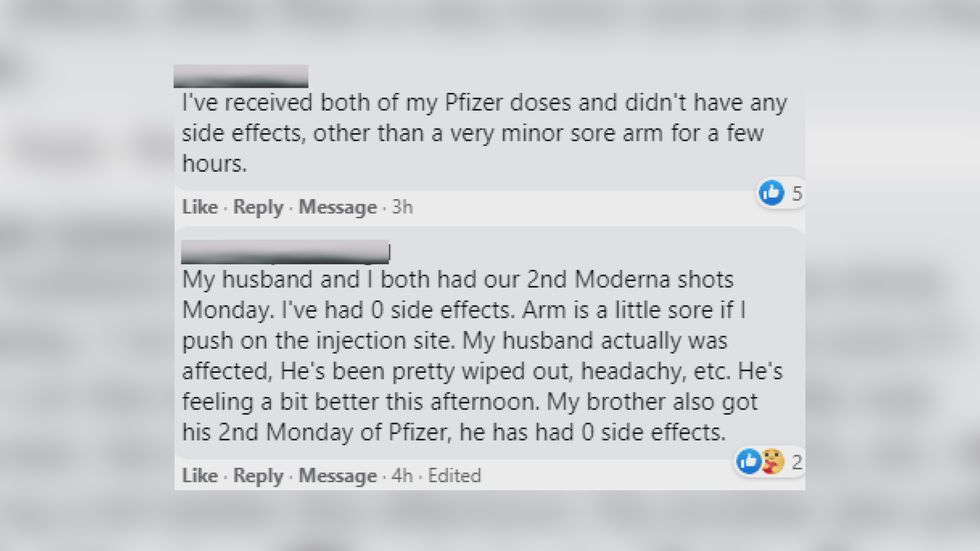 "Be sure to keep hydrated and get sufficient relaxation, in the event that they get a excessive fever, you'll be able to definitely take Tylenol or Motrin to deal with these signs." mentioned Essentia Well being Dr. Richard Vetter.
As of April 7, Cass County leads the state of North Dakota with over 111,000 doses administered. In Clay County in Minnesota, near 17,000 individuals have acquired at the least one dose of the vaccine.
"General, I've to say that our clinics are going very effectively, now we have utilized volunteers. We now have had pupil nurses which have been serving to vaccinate in that, so total I feel they've been going improbable." mentioned Clay County public well being nurse, Cheryl Sapp.
"Actually, it has taken not simply a complete village however a complete international enterprise to get the place we're at present." mentioned Dr. Nagpal.
There are literally thousands of choices to obtain a vaccine in North Dakota and Minnesota. Fargo is providing one other walk-in vaccine clinic tomorrow. To match all of them use our VNL vaccine tracker.
Copyright 2021 KVLY. All rights reserved.
window.Fusion=window.Fusion||{};Fusion.arcSite="kvly";Fusion.contextPath="/pf";Fusion.deployment="141″;Fusion.globalContent={"_id":"MDUQKS75TRDEHLICMQLX7TNR7A","kind":"story","model":"0.10.7″,"content_elements":[{"_id":"EZX7S55YCRDXBMUYAW36OLEXSQ","type":"text","additional_properties":{"_id":"SRCHAUNEBNFTDJXVMS4HED2RA4″,"comments":[],"inline_comments":[]},"content material":"FARGO, N.D. (Valley Information Reside) – Persons are discovering out completely different reactions to the COVID-19 vaccine. Starting from slight aches to extreme complications and fevers, the signs of the vaccine varies. "},{"_id":"I5JRFBPJPZFTPOT4ZOFZQ74XRY","kind":"textual content","additional_properties":{"feedback":[],"inline_comments":[]},"content material":"Nonetheless, well being care officers within the Fargo-Moorhead space say that experiencing these signs is an effective signal to your immune system. "},{"_id":"HLAK67WBGJEEJDN3ONSZ7KUTGI","kind":"textual content","additional_properties":{"feedback":[],"inline_comments":[]},"content material":""It's sort of an excellent factor as a result of that tells you that your physique is reacting to the vaccine which implies that it's mounting an immune response." mentioned Sanford Dr. Avish Nagpal. "},{"_id":"YRFZ46EF2FHHNMXAVYVOH2WJNE","kind":"textual content","additional_properties":{"feedback":[],"inline_comments":[]},"content material":"We reached out to our viewers to ask what they skilled after getting the second dose of the vaccine. A few of the responses said they haven't had any, whereas others had to make use of ache drugs like Tylenol to deal with the signs. "},{"_id":"EOFFWPUIRVFXDDEYHOZD4UUMIM","additional_properties":{"fullSizeResizeUrl":"/resizer/Bc1bhTVrnt8-tLSZulmGO6HQP80=/arc-anglerfish-arc2-prod-gray/public/EOFFWPUIRVFXDDEYHOZD4UUMIM.bmp","galleries":[],"ingestionMethod":"guide","mime_type":"utility/octet-stream","originalName":"Still0407_00002.bmp","originalUrl":"https://cloudfront-us-east-1.pictures.arcpublishing.com/grey/EOFFWPUIRVFXDDEYHOZD4UUMIM.bmp","proprietor":"aaron@tvtv.com","proxyUrl":"/resizer/Bc1bhTVrnt8-tLSZulmGO6HQP80=/arc-anglerfish-arc2-prod-gray/public/EOFFWPUIRVFXDDEYHOZD4UUMIM.bmp","revealed":true,"resizeUrl":"/resizer/Bc1bhTVrnt8-tLSZulmGO6HQP80=/arc-anglerfish-arc2-prod-gray/public/EOFFWPUIRVFXDDEYHOZD4UUMIM.bmp","restricted":false,"thumbnailResizeUrl":"/resizer/dBHsh6PD2UEtCxxCcbE8T1L8rCY=/300×0/arc-anglerfish-arc2-prod-gray/public/EOFFWPUIRVFXDDEYHOZD4UUMIM.bmp","usage_instructions":"Unrestricted","model":0,"template_id":453,"feedback":[],"_id":"Y4IZSAIKKVBJBDYRPV4UGD2UJE"},"tackle":{},"caption":"Responses we obtained on our Fb web page.","created_date":"2021-04-08T03:22:41Z","credit":{"affiliation":[{"name":"Aaron Walling/KVLY","type":"author"}]},"top":1080,"image_type":"{photograph}","last_updated_date":"2021-04-08T03:22:41Z","licensable":false,"proprietor":{"id":"grey","sponsored":false},"supply":{"additional_properties":{"editor":"picture middle"},"edit_url":"https://grey.arcpublishing.com/picture/EOFFWPUIRVFXDDEYHOZD4UUMIM","system":"picture middle"},"subtitle":"COVID vaccines fluctuate","taxonomy":{"associated_tasks":[]},"kind":"picture","url":"https://cloudfront-us-east-1.pictures.arcpublishing.com/grey/EOFFWPUIRVFXDDEYHOZD4UUMIM.bmp","model":"0.10.3″,"width":1920,"syndication":{},"creditIPTC":"Aaron Walling/KVLY","resized_urls":{"unique":"https://cloudfront-us-east-1.pictures.arcpublishing.com/grey/EOFFWPUIRVFXDDEYHOZD4UUMIM.bmp","small":{"url":"https://gray-kvly-prod.cdn.arcpublishing.com/resizer/i2dvyjXlqXTaBhgltOrz1pccIIU=/50×50/sensible/cloudfront-us-east-1.pictures.arcpublishing.com/grey/EOFFWPUIRVFXDDEYHOZD4UUMIM.bmp","top":50,"width":50},"gallery_4x3″:{"url":"https://gray-kvly-prod.cdn.arcpublishing.com/resizer/qXxCIzaFoPdGREe7ZX5QvlkOork=/1000×750/sensible/cloudfront-us-east-1.pictures.arcpublishing.com/grey/EOFFWPUIRVFXDDEYHOZD4UUMIM.bmp","top":750,"width":1000},"giant":{"url":"https://gray-kvly-prod.cdn.arcpublishing.com/resizer/FOCG6Z3Rr12wwkMk97H-LZz_xLo=/800×0/sensible/cloudfront-us-east-1.pictures.arcpublishing.com/grey/EOFFWPUIRVFXDDEYHOZD4UUMIM.bmp","top":0,"width":800},"large_1x1″:{"url":"https://gray-kvly-prod.cdn.arcpublishing.com/resizer/gjTGFQZ5kO9IVSHgROlya1_bFPw=/1200×1200/sensible/cloudfront-us-east-1.pictures.arcpublishing.com/grey/EOFFWPUIRVFXDDEYHOZD4UUMIM.bmp","top":1200,"width":1200},"large_2x1″:{"url":"https://gray-kvly-prod.cdn.arcpublishing.com/resizer/-Ec7-e_q6ygKngOyIPkR117_Vnk=/1200×600/sensible/cloudfront-us-east-1.pictures.arcpublishing.com/grey/EOFFWPUIRVFXDDEYHOZD4UUMIM.bmp","top":600,"width":1200},"large_2x3″:{"url":"https://gray-kvly-prod.cdn.arcpublishing.com/resizer/tthaxFZR64baErB3Vpvs0dwrIsE=/1200×1800/sensible/cloudfront-us-east-1.pictures.arcpublishing.com/grey/EOFFWPUIRVFXDDEYHOZD4UUMIM.bmp","top":1800,"width":1200},"large_3x1″:{"url":"https://gray-kvly-prod.cdn.arcpublishing.com/resizer/BmOtvcSFLsVFpElUSZWNz5cu5O4=/1200×400/sensible/cloudfront-us-east-1.pictures.arcpublishing.com/grey/EOFFWPUIRVFXDDEYHOZD4UUMIM.bmp","top":400,"width":1200},"large_3x2″:{"url":"https://gray-kvly-prod.cdn.arcpublishing.com/resizer/EYwtnoV-sC1o4eMsjTJVEnPw6Jo=/1200×800/sensible/cloudfront-us-east-1.pictures.arcpublishing.com/grey/EOFFWPUIRVFXDDEYHOZD4UUMIM.bmp","top":800,"width":1200},"large_4x3″:{"url":"https://gray-kvly-prod.cdn.arcpublishing.com/resizer/GJKHWWg6oaNLyac_PHV2zDWFX1Y=/1200×900/sensible/cloudfront-us-east-1.pictures.arcpublishing.com/grey/EOFFWPUIRVFXDDEYHOZD4UUMIM.bmp","top":900,"width":1200},"large_16x9″:{"url":"https://gray-kvly-prod.cdn.arcpublishing.com/resizer/Me0_0TH2J9oW9hNw3thYS7w8YAs=/1200×675/sensible/cloudfront-us-east-1.pictures.arcpublishing.com/grey/EOFFWPUIRVFXDDEYHOZD4UUMIM.bmp","top":675,"width":1200},"major":{"url":"https://gray-kvly-prod.cdn.arcpublishing.com/resizer/vIFMwUU4P7c_tCWzbZWhqWd0oY0=/980×0/sensible/cloudfront-us-east-1.pictures.arcpublishing.com/grey/EOFFWPUIRVFXDDEYHOZD4UUMIM.bmp","top":0,"width":980},"summary_1x1″:{"url":"https://gray-kvly-prod.cdn.arcpublishing.com/resizer/QgFkPxBkN0y5y8VKeCHnP0s2eOs=/800×800/sensible/cloudfront-us-east-1.pictures.arcpublishing.com/grey/EOFFWPUIRVFXDDEYHOZD4UUMIM.bmp","top":800,"width":800},"summary_2x1″:{"url":"https://gray-kvly-prod.cdn.arcpublishing.com/resizer/4bVZRNKeUAmL6D4cusDWC94vQ9s=/800×400/sensible/cloudfront-us-east-1.pictures.arcpublishing.com/grey/EOFFWPUIRVFXDDEYHOZD4UUMIM.bmp","top":400,"width":800},"summary_2x3″:{"url":"https://gray-kvly-prod.cdn.arcpublishing.com/resizer/kiIxhMC8YitVYE0YU_CMnu5o-kw=/800×1200/sensible/cloudfront-us-east-1.pictures.arcpublishing.com/grey/EOFFWPUIRVFXDDEYHOZD4UUMIM.bmp","top":1200,"width":800},"summary_3x1″:{"url":"https://gray-kvly-prod.cdn.arcpublishing.com/resizer/4z1pH5sUdkvoUHluFIpP8FIGkos=/800×267/sensible/cloudfront-us-east-1.pictures.arcpublishing.com/grey/EOFFWPUIRVFXDDEYHOZD4UUMIM.bmp","top":267,"width":800},"summary_3x2″:{"url":"https://gray-kvly-prod.cdn.arcpublishing.com/resizer/9BFZ13TmORMV-TDwzcVR1afaktc=/800×533/sensible/cloudfront-us-east-1.pictures.arcpublishing.com/grey/EOFFWPUIRVFXDDEYHOZD4UUMIM.bmp","top":533,"width":800},"summary_4x1″:{"url":"https://gray-kvly-prod.cdn.arcpublishing.com/resizer/yTN1DRc-BSCaT1oIYXND4tXl9v8=/800×200/sensible/cloudfront-us-east-1.pictures.arcpublishing.com/grey/EOFFWPUIRVFXDDEYHOZD4UUMIM.bmp","top":200,"width":800},"summary_4x3″:{"url":"https://gray-kvly-prod.cdn.arcpublishing.com/resizer/NO7vHuwFUJzZ_poH47FDIPQE9d0=/800×600/sensible/cloudfront-us-east-1.pictures.arcpublishing.com/grey/EOFFWPUIRVFXDDEYHOZD4UUMIM.bmp","top":600,"width":800},"summary_16x9″:{"url":"https://gray-kvly-prod.cdn.arcpublishing.com/resizer/AVddvqRnOTm7M3v0di2fZUoFLO8=/800×450/sensible/cloudfront-us-east-1.pictures.arcpublishing.com/grey/EOFFWPUIRVFXDDEYHOZD4UUMIM.bmp","top":450,"width":800},"summary_default":{"url":"https://gray-kvly-prod.cdn.arcpublishing.com/resizer/vIFMwUU4P7c_tCWzbZWhqWd0oY0=/980×0/sensible/cloudfront-us-east-1.pictures.arcpublishing.com/grey/EOFFWPUIRVFXDDEYHOZD4UUMIM.bmp","top":0,"width":980}}},{"_id":"RSRFEKANDFERPHM3RSAOD54NHM","kind":"textual content","additional_properties":{"feedback":[],"inline_comments":[]},"content material":""Be sure to keep hydrated and get sufficient relaxation, in the event that they get a excessive fever, you'll be able to definitely take Tylenol or Motrin to deal with these signs." mentioned Essentia Well being Dr. Richard Vetter. "},{"_id":"XOGKIK5I2ZDKBNKXE25ITBYH6M","kind":"textual content","additional_properties":{"feedback":[],"inline_comments":[]},"content material":"As of April 7, Cass County leads the state of North Dakota with over 111,000 doses administered. In Clay County in Minnesota, near 17,000 individuals have acquired at the least one dose of the vaccine. "},{"_id":"BD6FZGUVIBFP7CPFC73LUSEQQ4″,"kind":"textual content","additional_properties":{"feedback":[],"inline_comments":[]},"content material":""General, I've to say that our clinics are going very effectively, now we have utilized volunteers. We now have had pupil nurses which have been serving to vaccinate in that, so total I feel they've been going improbable." mentioned Clay County public well being nurse, Cheryl Sapp. "},{"_id":"Y6T4O2K2DVGAJPUOR6VI3JA5WY","kind":"textual content","additional_properties":{"feedback":[],"inline_comments":[]},"content material":""Actually, it has taken not simply a complete village however a complete international enterprise to get the place we're at present." mentioned Dr. Nagpal. "},{"kind":"oembed_response","subtype":"facebook-post","_id":"X4H43DW5VFFSNNIWZJ6YSI477A","raw_oembed":{"author_name":"Valley Information Reside","author_url":"https://www.fb.com/59909762325″,"provider_url":"https://www.fb.com","provider_name":"Fb","html":"
n
","kind":"facebook-post","model":"1.0″,"width":552,"_id":"https://www.fb.com/ValleyNewsLive/posts/10158752442332326&locale=en_US","additional_properties":{"feedback":[],"_id":"MTOJV5LZ3RBCBPH5FQRITUCRQY"}},"referent":{"id":"https://www.fb.com/ValleyNewsLive/posts/10158752442332326&locale=en_US","service":"oembed","kind":"facebook-post","supplier":"https://www.fb.com/plugins/publish/oembed.json/?url=","referent_properties":{"additional_properties":{"feedback":[],"_id":"MTOJV5LZ3RBCBPH5FQRITUCRQY"}}}},{"_id":"FZNGI56XQNBGLFI374YD5VWZRI","kind":"textual content","additional_properties":{"feedback":[],"inline_comments":[]},"content material":"There are literally thousands of choices to obtain a vaccine in North Dakota and Minnesota. Fargo is providing one other walk-in vaccine clinic tomorrow. To match all of them use our VNL vaccine tracker."},{"_id":"TJWQCYWJNJCK3MUCSG7BOIXPNU","kind":"textual content","additional_properties":{"_id":"357QGVWDQ5FQVFRRKS5WAQTDKY","feedback":[],"inline_comments":[]},"content material":"Copyright 2021 KVLY. All rights reserved."}],"created_date":"2021-04-08T03:09:38.361Z","revision":{"revision_id":"4JJGG6JWKJAMDHSJDF3WAHLZ4Q","parent_id":"TCORALG4WJF5LPLTHQ4LVTBYHE","editions":["default"],"department":"default","user_id":"aaron@tvtv.com","revealed":true},"last_updated_date":"2021-04-08T03:25:52.820Z","canonical_url":"/2021/04/08/symptoms-from-covid-vaccine-vary-fm-health-care-officials-react/","headlines":{"primary":"Signs from COVID-vaccine fluctuate; FM well being care officers react","cellular":"","native":"","print":"","pill":"","internet":"","meta_title":""},"proprietor":{"sponsored":false,"id":"grey"},"copyright":"Copyright 2021 KVLY. All rights reserved.","tackle":{},"workflow":{"status_code":1},"subheadlines":{"primary":""},"description":{"primary":"Signs from the COVID-19 vaccine varies from slight aches to extreme complications. Healthcare officers from the Fargo-Moorhead space communicate on the topic."},"language":"","label":{},"supply":{"identify":"grey","system":"composer","source_type":"employees"},"taxonomy":{"tags":[],"websites":[],"sections":[{"_id":"https://www.valleynewslive.com/news","_website":"kvly","type":"section","version":"0.6.0″,"name":"News","path":"https://www.valleynewslive.com/news","parent_id":"https://www.valleynewslive.com/","parent":{"default":"https://www.valleynewslive.com/"},"additional_properties":{"original":{"_id":"https://www.valleynewslive.com/news","site": Fargo, ND","navigation":{"nav_title":"News"},"_admin":{"dfp_id":"https://www.valleynewslive.com/news"},"_website":"kvly","name":"News","order":{"default":1001,"publishing-sections":1132,"navigation-menu-links":1003,"footer-content-links":1002},"parent":{"default":"https://www.valleynewslive.com/","publishing-sections":"https://www.valleynewslive.com/","navigation-menu-links":"https://www.valleynewslive.com/","footer-content-links":"https://www.valleynewslive.com/"},"ancestors":{"default":["https://www.valleynewslive.com/"],"publishing-sections":["https://www.valleynewslive.com/"],"navigation-menu-links":["https://www.valleynewslive.com/"],"footer-content-links":["https://www.valleynewslive.com/"]},"inactive":false,"node_type":"part"}},"_website_section_id":"kvly./information"}],"primary_section":{"_id":"https://www.valleynewslive.com/information","_website":"kvly","kind":"part","model":"0.6.0″,"identify":"Information","path":"https://www.valleynewslive.com/information","parent_id":"https://www.valleynewslive.com/","father or mother":{"default":"https://www.valleynewslive.com/"},"additional_properties":{"unique":{"_id":"https://www.valleynewslive.com/information","website": Information ,"navigation":{"nav_title":"Information"},"_admin":{"dfp_id":"https://www.valleynewslive.com/information"},"_website":"kvly","identify":"Information","order":{"default":1001,"publishing-sections":1132,"navigation-menu-links":1003,"footer-content-links":1002},"father or mother":{"default":"https://www.valleynewslive.com/","publishing-sections":"https://www.valleynewslive.com/","navigation-menu-links":"https://www.valleynewslive.com/","footer-content-links":"https://www.valleynewslive.com/"},"ancestors":{"default":["https://www.valleynewslive.com/"],"publishing-sections":["https://www.valleynewslive.com/"],"navigation-menu-links":["https://www.valleynewslive.com/"],"footer-content-links":["https://www.valleynewslive.com/"]},"inactive":false,"node_type":"part"}}},"active_primary_section":{"_id":"https://www.valleynewslive.com/information","_website":"kvly","kind":"part","model":"0.6.0″,"identify":"Information","path":"https://www.valleynewslive.com/information","parent_id":"https://www.valleynewslive.com/","father or mother":{"default":"https://www.valleynewslive.com/"},"additional_properties":{"unique":{"_id":"https://www.valleynewslive.com/information","website": Information ,"navigation":{"nav_title":"Information"},"_admin":{"dfp_id":"https://www.valleynewslive.com/information"},"_website":"kvly","identify":"Information","order":{"default":1001,"publishing-sections":1132,"navigation-menu-links":1003,"footer-content-links":1002},"father or mother":{"default":"https://www.valleynewslive.com/","publishing-sections":"https://www.valleynewslive.com/","navigation-menu-links":"https://www.valleynewslive.com/","footer-content-links":"https://www.valleynewslive.com/"},"ancestors":{"default":["https://www.valleynewslive.com/"],"publishing-sections":["https://www.valleynewslive.com/"],"navigation-menu-links":["https://www.valleynewslive.com/"],"footer-content-links":["https://www.valleynewslive.com/"]},"inactive":false,"node_type":"part"}},"_website_section_id":"kvly./information"},"related_section_ids":"https://www.valleynewslive.com/information"},"related_content":{"primary":[],"redirect":[]},"promo_items":{"primary":{"_id":"PLEYGISS3ZBTTF2C4WWT5HU67M","additional_properties":{"fullSizeResizeUrl":"/resizer/qxyZPE9CPouMthyRbcziOnizfCI=/arc-anglerfish-arc2-prod-gray/public/PLEYGISS3ZBTTF2C4WWT5HU67M.jpg","galleries":[],"ingestionMethod":"guide","key phrases":[""],"mime_type":"picture/jpeg","originalName":"VNL LOGO_800x460.jpg","originalUrl":"https://cloudfront-us-east-1.pictures.arcpublishing.com/grey/PLEYGISS3ZBTTF2C4WWT5HU67M.jpg","proprietor":"cordell.wagner@valleynewslive.com","proxyUrl":"/resizer/qxyZPE9CPouMthyRbcziOnizfCI=/arc-anglerfish-arc2-prod-gray/public/PLEYGISS3ZBTTF2C4WWT5HU67M.jpg","revealed":true,"resizeUrl":"/resizer/qxyZPE9CPouMthyRbcziOnizfCI=/arc-anglerfish-arc2-prod-gray/public/PLEYGISS3ZBTTF2C4WWT5HU67M.jpg","restricted":false,"thumbnailResizeUrl":"/resizer/uN7nesySFXnkKuTgJ-LtShuR2gQ=/300×0/arc-anglerfish-arc2-prod-gray/public/PLEYGISS3ZBTTF2C4WWT5HU67M.jpg","usage_instructions":"Common","model":0,"template_id":453},"tackle":{},"caption":"vnl brand","created_date":"2021-03-02T08:15:16Z","credit":{"affiliation":[{"name":"KVLY","type":"author"}]},"top":460,"image_type":"{photograph}","last_updated_date":"2021-03-02T08:15:16Z","licensable":false,"proprietor":{"id":"grey","sponsored":false},"supply":{"additional_properties":{"editor":"picture middle"},"edit_url":"https://grey.arcpublishing.com/picture/PLEYGISS3ZBTTF2C4WWT5HU67M","system":"picture middle"},"subtitle":"vnl brand","taxonomy":{"associated_tasks":[]},"kind":"picture","url":"https://cloudfront-us-east-1.pictures.arcpublishing.com/grey/PLEYGISS3ZBTTF2C4WWT5HU67M.jpg","model":"0.10.3″,"width":800,"syndication":{},"creditIPTC":"KVLY","resized_urls":{"unique":"https://cloudfront-us-east-1.pictures.arcpublishing.com/grey/PLEYGISS3ZBTTF2C4WWT5HU67M.jpg","small":{"url":"https://gray-kvly-prod.cdn.arcpublishing.com/resizer/5lP9IpbUbSEJBrXVcQs6RLap-34=/50×50/sensible/cloudfront-us-east-1.pictures.arcpublishing.com/grey/PLEYGISS3ZBTTF2C4WWT5HU67M.jpg","top":50,"width":50},"gallery_4x3″:{"url":"https://gray-kvly-prod.cdn.arcpublishing.com/resizer/U-htCTDzA3qUe7zIRUSQUSejK5g=/1000×750/sensible/cloudfront-us-east-1.pictures.arcpublishing.com/grey/PLEYGISS3ZBTTF2C4WWT5HU67M.jpg","top":750,"width":1000},"giant":{"url":"https://gray-kvly-prod.cdn.arcpublishing.com/resizer/6qh2tlhQYfVR3RDR1S9ym7Z2_g4=/800×0/sensible/cloudfront-us-east-1.pictures.arcpublishing.com/grey/PLEYGISS3ZBTTF2C4WWT5HU67M.jpg","top":0,"width":800},"large_1x1″:{"url":"https://gray-kvly-prod.cdn.arcpublishing.com/resizer/gIk7YB6cbmxeSysqFxIMA3XT2QI=/1200×1200/sensible/cloudfront-us-east-1.pictures.arcpublishing.com/grey/PLEYGISS3ZBTTF2C4WWT5HU67M.jpg","top":1200,"width":1200},"large_2x1″:{"url":"https://gray-kvly-prod.cdn.arcpublishing.com/resizer/0UPJ9JDMphyHAtKIRq6xNArxmio=/1200×600/sensible/cloudfront-us-east-1.pictures.arcpublishing.com/grey/PLEYGISS3ZBTTF2C4WWT5HU67M.jpg","top":600,"width":1200},"large_2x3″:{"url":"https://gray-kvly-prod.cdn.arcpublishing.com/resizer/s0J31BkiykOp-OCqfQs1nEstI0U=/1200×1800/sensible/cloudfront-us-east-1.pictures.arcpublishing.com/grey/PLEYGISS3ZBTTF2C4WWT5HU67M.jpg","top":1800,"width":1200},"large_3x1″:{"url":"https://gray-kvly-prod.cdn.arcpublishing.com/resizer/dclgxZGF788otB4KpL4ToHyCa80=/1200×400/sensible/cloudfront-us-east-1.pictures.arcpublishing.com/grey/PLEYGISS3ZBTTF2C4WWT5HU67M.jpg","top":400,"width":1200},"large_3x2″:{"url":"https://gray-kvly-prod.cdn.arcpublishing.com/resizer/UMvVquXO7K5YEhULGar-lNhDvi4=/1200×800/sensible/cloudfront-us-east-1.pictures.arcpublishing.com/grey/PLEYGISS3ZBTTF2C4WWT5HU67M.jpg","top":800,"width":1200},"large_4x3″:{"url":"https://gray-kvly-prod.cdn.arcpublishing.com/resizer/edInfgqGwMTbdNdtzcl6dDZRXoI=/1200×900/sensible/cloudfront-us-east-1.pictures.arcpublishing.com/grey/PLEYGISS3ZBTTF2C4WWT5HU67M.jpg","top":900,"width":1200},"large_16x9″:{"url":"https://gray-kvly-prod.cdn.arcpublishing.com/resizer/r-YfDkdC5pxNMDg2D2CpRdb1h3Y=/1200×675/sensible/cloudfront-us-east-1.pictures.arcpublishing.com/grey/PLEYGISS3ZBTTF2C4WWT5HU67M.jpg","top":675,"width":1200},"major":{"url":"https://gray-kvly-prod.cdn.arcpublishing.com/resizer/f2xsH_MP_iYANiGm2VVRUkTioV4=/980×0/sensible/cloudfront-us-east-1.pictures.arcpublishing.com/grey/PLEYGISS3ZBTTF2C4WWT5HU67M.jpg","top":0,"width":980},"summary_1x1″:{"url":"https://gray-kvly-prod.cdn.arcpublishing.com/resizer/WGImwlrf8n7BtSflEn-EdMnifrs=/800×800/sensible/cloudfront-us-east-1.pictures.arcpublishing.com/grey/PLEYGISS3ZBTTF2C4WWT5HU67M.jpg","top":800,"width":800},"summary_2x1″:{"url":"https://gray-kvly-prod.cdn.arcpublishing.com/resizer/EQAPof7kSc7htCnioA5dGMLBx2I=/800×400/sensible/cloudfront-us-east-1.pictures.arcpublishing.com/grey/PLEYGISS3ZBTTF2C4WWT5HU67M.jpg","top":400,"width":800},"summary_2x3″:{"url":"https://gray-kvly-prod.cdn.arcpublishing.com/resizer/oNX3xZmIEmaKHeGP2HOhHAUFiA4=/800×1200/sensible/cloudfront-us-east-1.pictures.arcpublishing.com/grey/PLEYGISS3ZBTTF2C4WWT5HU67M.jpg","top":1200,"width":800},"summary_3x1″:{"url":"https://gray-kvly-prod.cdn.arcpublishing.com/resizer/Omw_h95nSzLvQqkNsYwXMdRXipc=/800×267/sensible/cloudfront-us-east-1.pictures.arcpublishing.com/grey/PLEYGISS3ZBTTF2C4WWT5HU67M.jpg","top":267,"width":800},"summary_3x2″:{"url":"https://gray-kvly-prod.cdn.arcpublishing.com/resizer/X-h5_ILRnUm-xNy-i4vi75rGr4w=/800×533/sensible/cloudfront-us-east-1.pictures.arcpublishing.com/grey/PLEYGISS3ZBTTF2C4WWT5HU67M.jpg","top":533,"width":800},"summary_4x1″:{"url":"https://gray-kvly-prod.cdn.arcpublishing.com/resizer/JeTMxYEtLTzWF3sXRn8CVp0hFZY=/800×200/sensible/cloudfront-us-east-1.pictures.arcpublishing.com/grey/PLEYGISS3ZBTTF2C4WWT5HU67M.jpg","top":200,"width":800},"summary_4x3″:{"url":"https://gray-kvly-prod.cdn.arcpublishing.com/resizer/vMqxJFWLwpEb0GDx0hjnUflQbMQ=/800×600/sensible/cloudfront-us-east-1.pictures.arcpublishing.com/grey/PLEYGISS3ZBTTF2C4WWT5HU67M.jpg","top":600,"width":800},"summary_16x9″:{"url":"https://gray-kvly-prod.cdn.arcpublishing.com/resizer/M0MNFTZlOL_vGV1jjHk4zTRpZ-c=/800×450/sensible/cloudfront-us-east-1.pictures.arcpublishing.com/grey/PLEYGISS3ZBTTF2C4WWT5HU67M.jpg","top":450,"width":800},"summary_default":{"url":"https://gray-kvly-prod.cdn.arcpublishing.com/resizer/f2xsH_MP_iYANiGm2VVRUkTioV4=/980×0/sensible/cloudfront-us-east-1.pictures.arcpublishing.com/grey/PLEYGISS3ZBTTF2C4WWT5HU67M.jpg","top":0,"width":980}}}},"distributor":{"identify":"grey","class":"employees","subcategory":""},"canonical_website":"kvly","geo":{},"planning":{"internal_note":"","story_length":{"word_count_actual":295,"character_count_actual":1734,"character_encoding":"UTF-16″,"line_count_actual":13,"inch_count_actual":2}},"display_date":"2021-04-08T03:25:52.506Z","credit":{"by":[{"_id":"Aaron Walling","type":"author","version":"0.5.8″,"name":"Aaron Walling","org":"KTVF Fairbanks","image":{"url":"https://s3.amazonaws.com/arc-authors/gray/af2e4ad0-669d-4c30-acc0-709ed32d4b28.jpg","version":"0.5.8″,"resized_urls":{"original":"https://s3.amazonaws.com/arc-authors/gray/af2e4ad0-669d-4c30-acc0-709ed32d4b28.jpg","small":{"url":"https://gray-kvly-prod.cdn.arcpublishing.com/resizer/TSAHu88-1XdpPjshjzT-GInBLYc=/50×50/smart/s3.amazonaws.com/arc-authors/gray/af2e4ad0-669d-4c30-acc0-709ed32d4b28.jpg","height":50,"width":50},"gallery_4x3″:{"url":"https://gray-kvly-prod.cdn.arcpublishing.com/resizer/DkFffjUmHbn51_y-rYWcP_RtT-s=/1000×750/smart/s3.amazonaws.com/arc-authors/gray/af2e4ad0-669d-4c30-acc0-709ed32d4b28.jpg","height":750,"width":1000},"large":{"url":"https://gray-kvly-prod.cdn.arcpublishing.com/resizer/8m3Cf4IfLgFQTpJWwRMkSCi3Lk8=/800×0/smart/s3.amazonaws.com/arc-authors/gray/af2e4ad0-669d-4c30-acc0-709ed32d4b28.jpg","height":0,"width":800},"large_1x1″:{"url":"https://gray-kvly-prod.cdn.arcpublishing.com/resizer/MJkpjpkIyq_SBzKqttzBaQQu-sI=/1200×1200/smart/s3.amazonaws.com/arc-authors/gray/af2e4ad0-669d-4c30-acc0-709ed32d4b28.jpg","height":1200,"width":1200},"large_2x1″:{"url":"https://gray-kvly-prod.cdn.arcpublishing.com/resizer/ezNVmesbkcjI1y2owjVandzL7EU=/1200×600/smart/s3.amazonaws.com/arc-authors/gray/af2e4ad0-669d-4c30-acc0-709ed32d4b28.jpg","height":600,"width":1200},"large_2x3″:{"url":"https://gray-kvly-prod.cdn.arcpublishing.com/resizer/bLMn7CJgcs_XrYt0qDRYJX66yIk=/1200×1800/smart/s3.amazonaws.com/arc-authors/gray/af2e4ad0-669d-4c30-acc0-709ed32d4b28.jpg","height":1800,"width":1200},"large_3x1″:{"url":"https://gray-kvly-prod.cdn.arcpublishing.com/resizer/Sbscfgi5NV20kR5FZqIWCRvk608=/1200×400/smart/s3.amazonaws.com/arc-authors/gray/af2e4ad0-669d-4c30-acc0-709ed32d4b28.jpg","height":400,"width":1200},"large_3x2″:{"url":"https://gray-kvly-prod.cdn.arcpublishing.com/resizer/iFqBiFWM9n5D-ML1Q8zklyNN5To=/1200×800/smart/s3.amazonaws.com/arc-authors/gray/af2e4ad0-669d-4c30-acc0-709ed32d4b28.jpg","height":800,"width":1200},"large_4x3″:{"url":"https://gray-kvly-prod.cdn.arcpublishing.com/resizer/HE7RQz3Yz0n-OqeUMSZBQLXEuKg=/1200×900/smart/s3.amazonaws.com/arc-authors/gray/af2e4ad0-669d-4c30-acc0-709ed32d4b28.jpg","height":900,"width":1200},"large_16x9″:{"url":"https://gray-kvly-prod.cdn.arcpublishing.com/resizer/QqPhhu05x6vtXkdy5-Ua-_vkeAY=/1200×675/smart/s3.amazonaws.com/arc-authors/gray/af2e4ad0-669d-4c30-acc0-709ed32d4b28.jpg","height":675,"width":1200},"primary":{"url":"https://gray-kvly-prod.cdn.arcpublishing.com/resizer/0txglV15HglydAnfyH3ge_O_j_c=/980×0/smart/s3.amazonaws.com/arc-authors/gray/af2e4ad0-669d-4c30-acc0-709ed32d4b28.jpg","height":0,"width":980},"summary_1x1″:{"url":"https://gray-kvly-prod.cdn.arcpublishing.com/resizer/sSoaqaMgpuZdHjMBlNqkXdiGlQc=/800×800/smart/s3.amazonaws.com/arc-authors/gray/af2e4ad0-669d-4c30-acc0-709ed32d4b28.jpg","height":800,"width":800},"summary_2x1″:{"url":"https://gray-kvly-prod.cdn.arcpublishing.com/resizer/cfGX5OKr8LuE6f57FgP9hTlG2g4=/800×400/smart/s3.amazonaws.com/arc-authors/gray/af2e4ad0-669d-4c30-acc0-709ed32d4b28.jpg","height":400,"width":800},"summary_2x3″:{"url":"https://gray-kvly-prod.cdn.arcpublishing.com/resizer/BbN2cJnI76dMPtPHFeXFs0QErps=/800×1200/smart/s3.amazonaws.com/arc-authors/gray/af2e4ad0-669d-4c30-acc0-709ed32d4b28.jpg","height":1200,"width":800},"summary_3x1″:{"url":"https://gray-kvly-prod.cdn.arcpublishing.com/resizer/ip9uEDnKebgvOg12dBtdfqo_8Wc=/800×267/smart/s3.amazonaws.com/arc-authors/gray/af2e4ad0-669d-4c30-acc0-709ed32d4b28.jpg","height":267,"width":800},"summary_3x2″:{"url":"https://gray-kvly-prod.cdn.arcpublishing.com/resizer/ViSyljp7q62mUW8FNE_suFqRJZg=/800×533/smart/s3.amazonaws.com/arc-authors/gray/af2e4ad0-669d-4c30-acc0-709ed32d4b28.jpg","height":533,"width":800},"summary_4x1″:{"url":"https://gray-kvly-prod.cdn.arcpublishing.com/resizer/Z-zKmxFPMDmDOVEp3AiXIb2ivmw=/800×200/smart/s3.amazonaws.com/arc-authors/gray/af2e4ad0-669d-4c30-acc0-709ed32d4b28.jpg","height":200,"width":800},"summary_4x3″:{"url":"https://gray-kvly-prod.cdn.arcpublishing.com/resizer/KJ1KAJPF-08RhU4cA5pW-rYQDfc=/800×600/smart/s3.amazonaws.com/arc-authors/gray/af2e4ad0-669d-4c30-acc0-709ed32d4b28.jpg","height":600,"width":800},"summary_16x9″:{"url":"https://gray-kvly-prod.cdn.arcpublishing.com/resizer/RCcU-PzAJZeeCL-209huFQpM-L4=/800×450/smart/s3.amazonaws.com/arc-authors/gray/af2e4ad0-669d-4c30-acc0-709ed32d4b28.jpg","height":450,"width":800},"summary_default":{"url":"https://gray-kvly-prod.cdn.arcpublishing.com/resizer/0txglV15HglydAnfyH3ge_O_j_c=/980×0/smart/s3.amazonaws.com/arc-authors/gray/af2e4ad0-669d-4c30-acc0-709ed32d4b28.jpg","height":0,"width":980}}},"description":"Aaron Walling has been part of sports media since the Fall of 2012, where he started with play-by-play announcing for the Colony Knights in Palmer, AK. From there he went on to the University of Alaska Fairbanks for a Journalism degree, which he got in 2017. He has been a sports reporter and commentator for several years. ","url":null,"slug":"","social_links":[{"site":"email","url":"aaron@tvtv.com"}],"socialLinks":[{"site":"email","url":"aaron@tvtv.com","deprecated":true,"deprecation_msg":"Please use social_links."}],"additional_properties":{"unique":{"_id":"Aaron Walling","firstName":"Aaron","lastName":"Walling","byline":"Aaron Walling","function":"KXDF Sports activities Reporter – Anchor","picture":"https://s3.amazonaws.com/arc-authors/grey/af2e4ad0-669d-4c30-acc0-709ed32d4b28.jpg","electronic mail":"aaron@tvtv.com","affiliations":"","languages":"English","beat":"Sports activities","author_type":"Workers","schooling":[{"name":"University of Alaska Fairbanks, Journalism, 2017″}],"awards":[],"books":[],"podcasts":[],"bio_page":null,"location":"KTVF Fairbanks","bio":"Aaron Walling has been a part of sports activities media because the Fall of 2012, the place he began with play-by-play saying for the Colony Knights in Palmer, AK. From there he went on to the College of Alaska Fairbanks for a Journalism diploma, which he obtained in 2017. He has been a sports activities reporter and commentator for a number of years. ","longBio":"Aaron Walling has been a part of sports activities media because the Fall of 2012, the place he began with play-by-play saying for the Colony Knights in Palmer, AK. From there he went on to the College of Alaska Fairbanks for a Journalism diploma, which he obtained in 2017. Aaron's ardour for sports activities led him to unimaginable jobs because the voice for the Nanooks' males's and ladies's basketball stay stream, writing for the Information-Miner, and doing an task with BBC Radio 4 on Gov. Walker. At Channel 13, Aaron is the Sports activities Director/Anchor/Reporter, often overlaying all sports activities. Aaron began working right here on July twenty fourth. Aaron is a sports activities fanatic, rooting for his Cleveland Browns. He's additionally married to his pretty spouse Cecily.","slug":"","native_app_rendering":false,"fuzzy_match":false,"contributor":false,"standing":false,"experience":"Sports activities","custom_gray_stationdepartment":"sports activities","custom_gray_stationname":"ktvf","last_updated_date":"2021-01-30T03:25:05.600Z","website_url":null}}}]},"subtype":"default","first_publish_date":"2021-04-08T03:25:52.506Z","web sites":{"kvly":{"website_section":{"_id":"https://www.valleynewslive.com/information","_website":"kvly","kind":"part","model":"0.6.0″,"identify":"Information","path":"https://www.valleynewslive.com/information","parent_id":"https://www.valleynewslive.com/","father or mother":{"default":"https://www.valleynewslive.com/"},"additional_properties":{"unique":{"_id":"https://www.valleynewslive.com/information","website": Information ,"navigation":{"nav_title":"Information"},"_admin":{"dfp_id":"https://www.valleynewslive.com/information"},"_website":"kvly","identify":"Information","order":{"default":1001,"publishing-sections":1132,"navigation-menu-links":1003,"footer-content-links":1002},"father or mother":{"default":"https://www.valleynewslive.com/","publishing-sections":"https://www.valleynewslive.com/","navigation-menu-links":"https://www.valleynewslive.com/","footer-content-links":"https://www.valleynewslive.com/"},"ancestors":{"default":["https://www.valleynewslive.com/"],"publishing-sections":["https://www.valleynewslive.com/"],"navigation-menu-links":["https://www.valleynewslive.com/"],"footer-content-links":["https://www.valleynewslive.com/"]},"inactive":false,"node_type":"part"}},"_website_section_id":"kvly./information"},"website_url":"/2021/04/08/symptoms-from-covid-vaccine-vary-fm-health-care-officials-react/"}},"additional_properties":{"clipboard":{},"has_published_copy":true,"is_published":false,"publish_date":"2021-04-08T03:25:52.506Z"},"publish_date":"2021-04-08T03:25:52.506Z","slug":"Proprietor","publishing":{"scheduled_operations":{"publish_edition":[],"unpublish_edition":[]}},"web site":"kvly","website_url":"/2021/04/08/symptoms-from-covid-vaccine-vary-fm-health-care-officials-react/","hasVideo":false,"hasVideoCenterVideo":false,"hasClickabilityVideo":false,"hasPowaLiveVideoPlayer":false,"dataTransformedAt":"2021-04-08T04:01:14.944Z"};Fusion.globalContentConfig={"supply":"content-api","question":{"uri":"/2021/04/08/symptoms-from-covid-vaccine-vary-fm-health-care-officials-react/","website_url":"/2021/04/08/symptoms-from-covid-vaccine-vary-fm-health-care-officials-react/","revealed":"true","arc-site":"kvly"}};Fusion.lastModified=1617854475063;Fusion.contentCache={"site-navigation":{"{"hierarchy":"navigation-navbar-links"}":{"knowledge":{"_website":"kvly","youngsters":[{"_id":"https://www.valleynewslive.com/weather","children":[],"footer":{"title":"Climate","url":"https://www.valleynewslive.com/climate"},"id":"https://www.valleynewslive.com/climate","identify":"Climate","navigation":{"nav_title":"Climate","title":"Climate","url":"https://www.valleynewslive.com/climate"},"node_type":"part","website": First Alert StormTeam Climate ,"kind":"part","url":"https://www.valleynewslive.com/climate"},{"_id":"link-TADDY2RBHT68DCHF9AAPH7Q9AG","youngsters":[],"display_name":"Make investments In Your Valley","footer":{"title":"Make investments In Your Valley","url":"https://www.graytvlocal.com/market/red-river-valley"},"id":"link-TADDY2RBHT68DCHF9AAPH7Q9AG","identify":"Make investments In Your Valley","navigation":{"title":"Make investments In Your Valley","url":"https://www.graytvlocal.com/market/red-river-valley"},"node_type":"hyperlink","website":{"title":"Make investments In Your Valley","url":"https://www.graytvlocal.com/market/red-river-valley"},"kind":"hyperlink","url":"https://www.graytvlocal.com/market/red-river-valley"},{"_id":"https://www.valleynewslive.com/sports activities","youngsters":[],"footer":{"title":"Sports activities","url":"https://www.valleynewslive.com/sports activities"},"id":"https://www.valleynewslive.com/sports activities","identify":"Sports activities","navigation":{"nav_title":"Sports activities","title":"Sports activities","url":"https://www.valleynewslive.com/sports activities"},"node_type":"part","website":{"site_title":"Sports activities","title":"Sports activities","url":"https://www.valleynewslive.com/sports activities"},"kind":"part","url":"https://www.valleynewslive.com/sports activities"},{"_id":"link-3K23RE5RFX7KZAHJWHH6F227UC","youngsters":[],"display_name":"Video","footer":{"title":"Video","url":"https://www.valleynewslive.com/video-gallery/information/"},"id":"link-3K23RE5RFX7KZAHJWHH6F227UC","identify":"Video","navigation":{"title":"Video","url":"https://www.valleynewslive.com/video-gallery/information/"},"node_type":"hyperlink","website":{"title":"Video","url":"https://www.valleynewslive.com/video-gallery/information/"},"kind":"hyperlink","url":"https://www.valleynewslive.com/video-gallery/information/"},{"_id":"https://www.valleynewslive.com/contests","youngsters":[],"footer":{"title":"Contests","url":"https://www.valleynewslive.com/contests"},"id":"https://www.valleynewslive.com/contests","identify":"Contests","navigation":{"nav_title":"Contests","title":"Contests","url":"https://www.valleynewslive.com/contests"},"node_type":"part","website":{"site_title":"Contests","title":"Contests","url":"https://www.valleynewslive.com/contests"},"kind":"part","url":"https://www.valleynewslive.com/contests"},{"_id":"https://www.valleynewslive.com/information/schooling/back-to-school","youngsters":[],"footer":{"title":"Again To Faculty","url":"https://www.valleynewslive.com/information/schooling/back-to-school"},"id":"https://www.valleynewslive.com/information/schooling/back-to-school","identify":"Again To Faculty","navigation":{"nav_title":"Again To Faculty","title":"Again To Faculty","url":"https://www.valleynewslive.com/information/schooling/back-to-school"},"node_type":"part","website":{"site_title":"Again To Faculty","title":"Again To Faculty","url":"https://www.valleynewslive.com/information/schooling/back-to-school"},"kind":"part","url":"https://www.valleynewslive.com/information/schooling/back-to-school"},{"_id":"link-B5E23UZ6DN3A513GQXQPFB7PYM","youngsters":[],"display_name":"COVID-19 Updates","footer":{"title":"COVID-19 Updates","url":"https://www.valleynewslive.com/well being/coronavirus"},"id":"link-B5E23UZ6DN3A513GQXQPFB7PYM","identify":"COVID-19 Updates","navigation":{"title":"COVID-19 Updates","url":"https://www.valleynewslive.com/well being/coronavirus"},"node_type":"hyperlink","website":{"title":"COVID-19 Updates","url":"https://www.valleynewslive.com/well being/coronavirus"},"kind":"hyperlink","url":"https://www.valleynewslive.com/well being/coronavirus"},{"_id":"link-XABKB2GZ595JT3KTX03NK26VNM","youngsters":[],"display_name":"KVLY Livestream","footer":{"title":"KVLY Livestream","url":"https://www.valleynewslive.com/livestream"},"id":"link-XABKB2GZ595JT3KTX03NK26VNM","identify":"KVLY Livestream","navigation":{"title":"KVLY Livestream","url":"https://www.valleynewslive.com/livestream"},"node_type":"hyperlink","website":{"title":"KVLY Livestream","url":"https://www.valleynewslive.com/livestream"},"kind":"hyperlink","url":"https://www.valleynewslive.com/livestream"}],"identify":"KVLY","node_type":"part","_id":"https://www.valleynewslive.com/"},"expires":1617855009672,"lastModified":1617854409672},"{"hierarchy":"navigation-menu-links"}":{"knowledge":{"_website":"kvly","youngsters":[{"_id":"https://www.valleynewslive.com/weather/closings","children":[{"_id":"link-07WZC9H30T0A76K2U5FNRQEKV4″,"children":[],"display_name":"Request Closings Login","footer":{"title":"Request Closings Login","url":"https://www.valleynewslive.com/web page/request-login"},"id":"link-07WZC9H30T0A76K2U5FNRQEKV4″,"identify":"Request Closings Login","navigation":{"title":"Request Closings Login","url":"https://www.valleynewslive.com/web page/request-login"},"node_type":"hyperlink","website":{"title":"Request Closings Login","url":"https://www.valleynewslive.com/web page/request-login"},"kind":"hyperlink","url":"https://www.valleynewslive.com/web page/request-login"}],"footer":{"title":"Closings","url":"https://www.valleynewslive.com/climate/closings"},"id":"https://www.valleynewslive.com/climate/closings","identify":"Closings","navigation":{"nav_title":"Closings","title":"Closings","url":"https://www.valleynewslive.com/climate/closings"},"node_type":"part","website":{"site_tagline":null,"site_title":"Closings","site_url":null,"title":"Closings","url":"https://www.valleynewslive.com/climate/closings"},"kind":"part","url":"https://www.valleynewslive.com/climate/closings"},{"_id":"https://www.valleynewslive.com/homepage","youngsters":[],"footer":{"title":"Dwelling","url":"https://www.valleynewslive.com/homepage"},"id":"https://www.valleynewslive.com/homepage","identify":"Homepage","navigation":{"nav_title":"Dwelling","title":"Dwelling","url":"https://www.valleynewslive.com/homepage"},"node_type":"part","website": Fargo, ND","url":"https://www.valleynewslive.com/homepage","kind":"part","url":"https://www.valleynewslive.com/homepage"},{"_id":"https://www.valleynewslive.com/information","youngsters":[{"_id":"https://www.valleynewslive.com/news/regional","children":[],"footer":{"title":"Regional","url":"https://www.valleynewslive.com/information/regional"},"id":"https://www.valleynewslive.com/information/regional","identify":"Regional","navigation":{"nav_title":"Regional","title":"Regional","url":"https://www.valleynewslive.com/information/regional"},"node_type":"part","website":{"site_title":"Regional","title":"Regional","url":"https://www.valleynewslive.com/information/regional"},"kind":"part","url":"https://www.valleynewslive.com/information/regional"},{"_id":"https://www.valleynewslive.com/information/nationwide","youngsters":[],"footer":{"title":"Nationwide","url":"https://www.valleynewslive.com/information/nationwide"},"id":"https://www.valleynewslive.com/information/nationwide","identify":"Nationwide","navigation":{"nav_title":"Nationwide","title":"Nationwide","url":"https://www.valleynewslive.com/information/nationwide"},"node_type":"part","website":{"site_title":"Nationwide","title":"Nationwide","url":"https://www.valleynewslive.com/information/nationwide"},"kind":"part","url":"https://www.valleynewslive.com/information/nationwide"},{"_id":"https://www.valleynewslive.com/information/worldwide","youngsters":[],"footer":{"title":"Worldwide","url":"https://www.valleynewslive.com/information/worldwide"},"id":"https://www.valleynewslive.com/information/worldwide","identify":"Worldwide","navigation":{"nav_title":"Worldwide","title":"Worldwide","url":"https://www.valleynewslive.com/information/worldwide"},"node_type":"part","website":{"site_title":"Worldwide","title":"Worldwide","url":"https://www.valleynewslive.com/information/worldwide"},"kind":"part","url":"https://www.valleynewslive.com/information/worldwide"},{"_id":"https://www.valleynewslive.com/information/leisure","youngsters":[],"footer":{"title":"Leisure","url":"https://www.valleynewslive.com/information/leisure"},"id":"https://www.valleynewslive.com/information/leisure","identify":"Leisure","navigation":{"nav_title":"Leisure","title":"Leisure","url":"https://www.valleynewslive.com/information/leisure"},"node_type":"part","website":{"site_title":"Leisure","title":"Leisure","url":"https://www.valleynewslive.com/information/leisure"},"kind":"part","url":"https://www.valleynewslive.com/information/leisure"},{"_id":"https://www.valleynewslive.com/information/economic system","youngsters":[],"footer":{"title":"Financial system","url":"https://www.valleynewslive.com/information/economic system"},"id":"https://www.valleynewslive.com/information/economic system","identify":"Financial system","navigation":{"nav_title":"Financial system","title":"Financial system","url":"https://www.valleynewslive.com/information/economic system"},"node_type":"part","website":{"site_title":"Financial system","title":"Financial system","url":"https://www.valleynewslive.com/information/economic system"},"kind":"part","url":"https://www.valleynewslive.com/information/economic system"},{"_id":"https://www.valleynewslive.com/information/schooling","youngsters":[],"footer":{"title":"Schooling","url":"https://www.valleynewslive.com/information/schooling"},"id":"https://www.valleynewslive.com/information/schooling","identify":"Schooling","navigation":{"nav_title":"Schooling","title":"Schooling","url":"https://www.valleynewslive.com/information/schooling"},"node_type":"part","website":{"site_title":"Schooling","title":"Schooling","url":"https://www.valleynewslive.com/information/schooling"},"kind":"part","url":"https://www.valleynewslive.com/information/schooling"},{"_id":"https://www.valleynewslive.com/information/surroundings","youngsters":[],"footer":{"title":"Atmosphere","url":"https://www.valleynewslive.com/information/surroundings"},"id":"https://www.valleynewslive.com/information/surroundings","identify":"Atmosphere","navigation":{"nav_title":"Atmosphere","title":"Atmosphere","url":"https://www.valleynewslive.com/information/surroundings"},"node_type":"part","website":{"site_title":"Atmosphere","title":"Atmosphere","url":"https://www.valleynewslive.com/information/surroundings"},"kind":"part","url":"https://www.valleynewslive.com/information/surroundings"},{"_id":"https://www.valleynewslive.com/well being","youngsters":[],"footer":{"title":"Well being","url":"https://www.valleynewslive.com/well being"},"id":"https://www.valleynewslive.com/well being","identify":"Well being","navigation":{"nav_title":"Well being","title":"Well being","url":"https://www.valleynewslive.com/well being"},"node_type":"part","website":{"site_title":"Well being","title":"Well being","url":"https://www.valleynewslive.com/well being"},"kind":"part","url":"https://www.valleynewslive.com/well being"},{"_id":"https://www.valleynewslive.com/information/science","youngsters":[],"footer":{"title":"Science","url":"https://www.valleynewslive.com/information/science"},"id":"https://www.valleynewslive.com/information/science","identify":"Science","navigation":{"nav_title":"Science","title":"Science","url":"https://www.valleynewslive.com/information/science"},"node_type":"part","website":{"site_title":"Science","title":"Science","url":"https://www.valleynewslive.com/information/science"},"kind":"part","url":"https://www.valleynewslive.com/information/science"},{"_id":"https://www.valleynewslive.com/information/know-how","youngsters":[],"footer":{"title":"Expertise","url":"https://www.valleynewslive.com/information/know-how"},"id":"https://www.valleynewslive.com/information/know-how","identify":"Expertise","navigation":{"nav_title":"Expertise","title":"Expertise","url":"https://www.valleynewslive.com/information/know-how"},"node_type":"part","website":{"site_title":"Expertise","title":"Expertise","url":"https://www.valleynewslive.com/information/know-how"},"kind":"part","url":"https://www.valleynewslive.com/information/know-how"}],"footer":{"title":"Information","url":"https://www.valleynewslive.com/information"},"id":"https://www.valleynewslive.com/information","identify":"Information","navigation":{"nav_title":"Information","title":"Information","url":"https://www.valleynewslive.com/information"},"node_type":"part","website": Fargo, ND","url":"https://www.valleynewslive.com/information","kind":"part","url":"https://www.valleynewslive.com/information"},{"_id":"link-GX9KQFJRND3H7AUM4281N6GC70″,"youngsters":[],"display_name":"COVID-19 Updates","footer":{"title":"COVID-19 Updates","url":"https://www.valleynewslive.com/well being/coronavirus"},"id":"link-GX9KQFJRND3H7AUM4281N6GC70″,"identify":"COVID-19 Updates","navigation":{"title":"COVID-19 Updates","url":"https://www.valleynewslive.com/well being/coronavirus"},"node_type":"hyperlink","website":{"title":"COVID-19 Updates","url":"https://www.valleynewslive.com/well being/coronavirus"},"kind":"hyperlink","url":"https://www.valleynewslive.com/well being/coronavirus"},{"_id":"https://www.valleynewslive.com/information/schooling/back-to-school","youngsters":[],"footer":{"title":"Again To Faculty","url":"https://www.valleynewslive.com/information/schooling/back-to-school"},"id":"https://www.valleynewslive.com/information/schooling/back-to-school","identify":"Again To Faculty","navigation":{"nav_title":"Again To Faculty","title":"Again To Faculty","url":"https://www.valleynewslive.com/information/schooling/back-to-school"},"node_type":"part","website":{"site_title":"Again To Faculty","title":"Again To Faculty","url":"https://www.valleynewslive.com/information/schooling/back-to-school"},"kind":"part","url":"https://www.valleynewslive.com/information/schooling/back-to-school"},{"_id":"link-WBDFD12KB573104FCNYTAZ6HEW","youngsters":[],"display_name":"KVLY Livestream","footer":{"title":"KVLY Livestream","url":"https://www.valleynewslive.com/livestream"},"id":"link-WBDFD12KB573104FCNYTAZ6HEW","identify":"KVLY Livestream","navigation":{"title":"KVLY Livestream","url":"https://www.valleynewslive.com/livestream"},"node_type":"hyperlink","website":{"title":"KVLY Livestream","url":"https://www.valleynewslive.com/livestream"},"kind":"hyperlink","url":"https://www.valleynewslive.com/livestream"},{"_id":"link-YBVJHHTND951FBUPE6WFR462EW","youngsters":[],"display_name":"KX4 Livestream","footer":{"title":"KX4 Livestream","url":"https://www.valleynewslive.com/livestream2″},"id":"link-YBVJHHTND951FBUPE6WFR462EW","identify":"KX4 Livestream","navigation":{"title":"KX4 Livestream","url":"https://www.valleynewslive.com/livestream2″},"node_type":"hyperlink","website":{"title":"KX4 Livestream","url":"https://www.valleynewslive.com/livestream2″},"kind":"hyperlink","url":"https://www.valleynewslive.com/livestream2″},{"_id":"link-661CXFCH01135FEQKZ7VA3PH08″,"youngsters":[],"display_name":"Fargo CW Livestream","footer":{"title":"Fargo CW Livestream","url":"https://www.valleynewslive.com/livestream3″},"id":"link-661CXFCH01135FEQKZ7VA3PH08″,"identify":"Fargo CW Livestream","navigation":{"title":"Fargo CW Livestream","url":"https://www.valleynewslive.com/livestream3″},"node_type":"hyperlink","website":{"title":"Fargo CW Livestream","url":"https://www.valleynewslive.com/livestream3″},"kind":"hyperlink","url":"https://www.valleynewslive.com/livestream3″},{"_id":"link-JP0WX8U9C118H2VB94MTFHPQY4″,"youngsters":[],"display_name":"CBS Information Reside","footer":{"title":"CBS Information Reside","url":"https://www.valleynewslive.com/web page/cbs-news-live"},"id":"link-JP0WX8U9C118H2VB94MTFHPQY4″,"identify":"CBS Information Reside","navigation":{"title":"CBS Information Reside","url":"https://www.valleynewslive.com/web page/cbs-news-live"},"node_type":"hyperlink","website":{"title":"CBS Information Reside","url":"https://www.valleynewslive.com/web page/cbs-news-live"},"kind":"hyperlink","url":"https://www.valleynewslive.com/web page/cbs-news-live"},{"_id":"link-NQ0CN7DX0X2XV9GECC8M1X1MUR","youngsters":[],"display_name":"Metropolis Of Fargo Livestream","footer":{"title":"Metropolis Of Fargo Livestream","url":"https://www.valleynewslive.com/web page/city-of-fargo-live-stream/"},"id":"link-NQ0CN7DX0X2XV9GECC8M1X1MUR","identify":"Metropolis Of Fargo Livestream","navigation":{"title":"Metropolis Of Fargo Livestream","url":"https://www.valleynewslive.com/web page/city-of-fargo-live-stream/"},"node_type":"hyperlink","website":{"title":"Metropolis Of Fargo Livestream","url":"https://www.valleynewslive.com/web page/city-of-fargo-live-stream/"},"kind":"hyperlink","url":"https://www.valleynewslive.com/web page/city-of-fargo-live-stream/"},{"_id":"https://www.valleynewslive.com/politics/election-results","youngsters":[{"_id":"link-7MQB0G338H75HCCN1HVUWBCGU4″,"children":[],"display_name":"Nationwide Outcomes Map","footer":{"title":"Nationwide Outcomes Map","url":"https://www.valleynewslive.com/politics/national-election-map/"},"id":"link-7MQB0G338H75HCCN1HVUWBCGU4″,"identify":"Nationwide Outcomes Map","navigation":{"title":"Nationwide Outcomes Map","url":"https://www.valleynewslive.com/politics/national-election-map/"},"node_type":"hyperlink","website":{"title":"Nationwide Outcomes Map","url":"https://www.valleynewslive.com/politics/national-election-map/"},"kind":"hyperlink","url":"https://www.valleynewslive.com/politics/national-election-map/"}],"footer":{"title":"Election Outcomes","url":"https://www.valleynewslive.com/politics/election-results"},"id":"https://www.valleynewslive.com/politics/election-results","identify":"Election Outcomes","navigation":{"nav_title":"Election Outcomes","title":"Election Outcomes","url":"https://www.valleynewslive.com/politics/election-results"},"node_type":"part","website":{"site_tagline":null,"site_title":"Election Outcomes","site_url":null,"title":"Election Outcomes","url":"https://www.valleynewslive.com/politics/election-results"},"kind":"part","url":"https://www.valleynewslive.com/politics/election-results"},{"_id":"https://www.valleynewslive.com/climate","youngsters":[{"_id":"https://www.valleynewslive.com/weather/maproom","children":[],"footer":{"title":"Maps","url":"https://www.valleynewslive.com/climate/maproom"},"id":"https://www.valleynewslive.com/climate/maproom","identify":"Maproom","navigation":{"nav_title":"Maps","title":"Maps","url":"https://www.valleynewslive.com/climate/maproom"},"node_type":"part","website":{"site_tagline":null,"site_title":"Maps","site_url":null,"title":"Maps","url":"https://www.valleynewslive.com/climate/maproom"},"kind":"part","url":"https://www.valleynewslive.com/climate/maproom"},{"_id":"https://www.valleynewslive.com/climate/river-levels","youngsters":[],"footer":{"title":"River Ranges","url":"https://www.valleynewslive.com/climate/river-levels"},"id":"https://www.valleynewslive.com/climate/river-levels","identify":"River Ranges","navigation":{"nav_title":"River Ranges","title":"River Ranges","url":"https://www.valleynewslive.com/climate/river-levels"},"node_type":"part","website":{"site_tagline":null,"site_title":"River Ranges","site_url":null,"title":"River Ranges","url":"https://www.valleynewslive.com/climate/river-levels"},"kind":"part","url":"https://www.valleynewslive.com/climate/river-levels"},{"_id":"link-GDFC29DWB177HD45MVWYM8NUD0″,"youngsters":[],"display_name":"Street Situations","footer":{"title":"Street Situations","url":"https://www.valleynewslive.com/web page/road-conditions"},"id":"link-GDFC29DWB177HD45MVWYM8NUD0″,"identify":"Street Situations","navigation":{"title":"Street Situations","url":"https://www.valleynewslive.com/web page/road-conditions"},"node_type":"hyperlink","website":{"title":"Street Situations","url":"https://www.valleynewslive.com/web page/road-conditions"},"kind":"hyperlink","url":"https://www.valleynewslive.com/web page/road-conditions"},{"_id":"https://www.valleynewslive.com/climate/radar","youngsters":[],"footer":{"title":"Interactive Radar","url":"https://www.valleynewslive.com/climate/radar"},"id":"https://www.valleynewslive.com/climate/radar","identify":"Radar","navigation":{"nav_title":"Interactive Radar","title":"Interactive Radar","url":"https://www.valleynewslive.com/climate/radar"},"node_type":"part","website":{"site_tagline":"Interactive Radar","site_title":"Interactive Radar","site_url":null,"title":"Interactive Radar","url":"https://www.valleynewslive.com/climate/radar"},"kind":"part","url":"https://www.valleynewslive.com/climate/radar"},{"_id":"link-J3UAVGJ5DX1W104FD34RM71U34″,"youngsters":[],"display_name":"Closings & Delays","footer":{"title":"Closings & Delays","url":"https://www.valleynewslive.com/climate/closings"},"id":"link-J3UAVGJ5DX1W104FD34RM71U34″,"identify":"Closings & Delays","navigation":{"title":"Closings & Delays","url":"https://www.valleynewslive.com/climate/closings"},"node_type":"hyperlink","website":{"title":"Closings & Delays","url":"https://www.valleynewslive.com/climate/closings"},"kind":"hyperlink","url":"https://www.valleynewslive.com/climate/closings"},{"_id":"link-JWTRVEJ7C51WB699BWZDXEGYFM","youngsters":[],"display_name":"Request Closings Login","footer":{"title":"Request Closings Login","url":"https://www.valleynewslive.com/web page/request-login"},"id":"link-JWTRVEJ7C51WB699BWZDXEGYFM","identify":"Request Closings Login","navigation":{"title":"Request Closings Login","url":"https://www.valleynewslive.com/web page/request-login"},"node_type":"hyperlink","website":{"title":"Request Closings Login","url":"https://www.valleynewslive.com/web page/request-login"},"kind":"hyperlink","url":"https://www.valleynewslive.com/web page/request-login"},{"_id":"https://www.valleynewslive.com/climate/cams","youngsters":[],"footer":{"title":"Skycam Community","url":"https://www.valleynewslive.com/climate/cams"},"id":"https://www.valleynewslive.com/climate/cams","identify":"Climate Cams","navigation":{"nav_title":"Skycam Community","title":"Skycam Community","url":"https://www.valleynewslive.com/climate/cams"},"node_type":"part","website":{"site_tagline":"Skycam Community","site_title":"Skycam Community","site_url":null,"title":"Skycam Community","url":"https://www.valleynewslive.com/climate/cams"},"kind":"part","url":"https://www.valleynewslive.com/climate/cams"},{"_id":"link-UTT2HHXV910E3BDN2B35F2JD2G","youngsters":[],"display_name":"Luther Climate Child","footer":{"title":"Luther Climate Child","url":"https://www.valleynewslive.com/2020/09/17/luther-weather-kid-registration"},"id":"link-UTT2HHXV910E3BDN2B35F2JD2G","identify":"Luther Climate Child","navigation":{"title":"Luther Climate Child","url":"https://www.valleynewslive.com/2020/09/17/luther-weather-kid-registration"},"node_type":"hyperlink","website":{"title":"Luther Climate Child","url":"https://www.valleynewslive.com/2020/09/17/luther-weather-kid-registration"},"kind":"hyperlink","url":"https://www.valleynewslive.com/2020/09/17/luther-weather-kid-registration"},{"_id":"https://www.valleynewslive.com/climate/headlines","youngsters":[],"footer":{"title":"Headlines","url":"https://www.valleynewslive.com/climate/headlines"},"id":"https://www.valleynewslive.com/climate/headlines","identify":"Headlines","navigation":{"nav_title":null,"title":"Headlines","url":"https://www.valleynewslive.com/climate/headlines"},"node_type":"part","website":{"site_tagline":null,"site_title":null,"site_url":null,"title":"Headlines","url":"https://www.valleynewslive.com/climate/headlines"},"kind":"part","url":"https://www.valleynewslive.com/climate/headlines"}],"footer":{"title":"Climate","url":"https://www.valleynewslive.com/climate"},"id":"https://www.valleynewslive.com/climate","identify":"Climate","navigation":{"nav_title":"Climate","title":"Climate","url":"https://www.valleynewslive.com/climate"},"node_type":"part","website": First Alert StormTeam Climate ,"kind":"part","url":"https://www.valleynewslive.com/climate"},{"_id":"https://www.valleynewslive.com/sports activities","youngsters":[{"_id":"https://www.valleynewslive.com/sports/scoreboard","children":[],"footer":{"title":"Scoreboard","url":"https://www.valleynewslive.com/sports activities/scoreboard"},"id":"https://www.valleynewslive.com/sports activities/scoreboard","identify":"Scoreboard","navigation":{"nav_title":"Scoreboard","title":"Scoreboard","url":"https://www.valleynewslive.com/sports activities/scoreboard"},"node_type":"part","website":{"site_tagline":null,"site_title":"Scoreboard","site_url":null,"title":"Scoreboard","url":"https://www.valleynewslive.com/sports activities/scoreboard"},"kind":"part","url":"https://www.valleynewslive.com/sports activities/scoreboard"},{"_id":"https://www.valleynewslive.com/sports activities/faculty/bison-huddle","youngsters":[],"footer":{"title":"Bison Huddle","url":"https://www.valleynewslive.com/sports activities/faculty/bison-huddle"},"id":"https://www.valleynewslive.com/sports activities/faculty/bison-huddle","identify":"Bison Huddle","navigation":{"nav_title":"Bison Huddle","title":"Bison Huddle","url":"https://www.valleynewslive.com/sports activities/faculty/bison-huddle"},"node_type":"part","website":{"site_title":"Bison Huddle","title":"Bison Huddle","url":"https://www.valleynewslive.com/sports activities/faculty/bison-huddle"},"kind":"part","url":"https://www.valleynewslive.com/sports activities/faculty/bison-huddle"},{"_id":"https://www.valleynewslive.com/sports activities/bison-football-show","youngsters":[],"footer":{"title":"Bison Soccer Present","url":"https://www.valleynewslive.com/sports activities/bison-football-show"},"id":"https://www.valleynewslive.com/sports activities/bison-football-show","identify":"Bison Soccer Present","navigation":{"nav_title":"Bison Soccer Present","title":"Bison Soccer Present","url":"https://www.valleynewslive.com/sports activities/bison-football-show"},"node_type":"part","website":{"site_tagline":"Bison Soccer Present","site_title":"Bison Soccer Present","site_url":null,"title":"Bison Soccer Present","url":"https://www.valleynewslive.com/sports activities/bison-football-show"},"kind":"part","url":"https://www.valleynewslive.com/sports activities/bison-football-show"},{"_id":"https://www.valleynewslive.com/sports activities/faculty/und-corner","youngsters":[],"footer":{"title":"UND Nook","url":"https://www.valleynewslive.com/sports activities/faculty/und-corner"},"id":"https://www.valleynewslive.com/sports activities/faculty/und-corner","identify":"UND Nook","navigation":{"nav_title":"UND Nook","title":"UND Nook","url":"https://www.valleynewslive.com/sports activities/faculty/und-corner"},"node_type":"part","website":{"site_title":"Und Nook","title":"Und Nook","url":"https://www.valleynewslive.com/sports activities/faculty/und-corner"},"kind":"part","url":"https://www.valleynewslive.com/sports activities/faculty/und-corner"},{"_id":"link-3P068PUEKX0DH6CYWPZH95W9VR","youngsters":[],"display_name":"Sports activities Movies","footer":{"title":"Sports activities Movies","url":"https://www.valleynewslive.com/video-gallery/sports activities/"},"id":"link-3P068PUEKX0DH6CYWPZH95W9VR","identify":"Sports activities Movies","navigation":{"title":"Sports activities Movies","url":"https://www.valleynewslive.com/video-gallery/sports activities/"},"node_type":"hyperlink","website":{"title":"Sports activities Movies","url":"https://www.valleynewslive.com/video-gallery/sports activities/"},"kind":"hyperlink","url":"https://www.valleynewslive.com/video-gallery/sports activities/"}],"footer":{"title":"Sports activities","url":"https://www.valleynewslive.com/sports activities"},"id":"https://www.valleynewslive.com/sports activities","identify":"Sports activities","navigation":{"nav_title":"Sports activities","title":"Sports activities","url":"https://www.valleynewslive.com/sports activities"},"node_type":"part","website":{"site_title":"Sports activities","title":"Sports activities","url":"https://www.valleynewslive.com/sports activities"},"kind":"part","url":"https://www.valleynewslive.com/sports activities"},{"_id":"https://www.valleynewslive.com/about-us","youngsters":[{"_id":"https://www.valleynewslive.com/about-us/meet-the-team","children":[],"footer":{"title":"Meet the Group","url":"https://www.valleynewslive.com/about-us/meet-the-team"},"id":"https://www.valleynewslive.com/about-us/meet-the-team","identify":"Meet the Group","navigation":{"nav_title":"Meet the Group","title":"Meet the Group","url":"https://www.valleynewslive.com/about-us/meet-the-team"},"node_type":"part","website":{"site_tagline":"Meet the Group","site_title":null,"site_url":null,"title":"Meet the Group","url":"https://www.valleynewslive.com/about-us/meet-the-team"},"kind":"part","url":"https://www.valleynewslive.com/about-us/meet-the-team"},{"_id":"link-HCAHGYTTXH2G325B46ZXTKCGJ4″,"youngsters":[],"display_name":"Information/Climate App Assist","footer":{"title":"Information/Climate App Assist","url":"https://www.valleynewslive.com/web page/valley-news-live-news-app-wx-app-support"},"id":"link-HCAHGYTTXH2G325B46ZXTKCGJ4″,"identify":"Information/Climate App Assist","navigation":{"title":"Information/Climate App Assist","url":"https://www.valleynewslive.com/web page/valley-news-live-news-app-wx-app-support"},"node_type":"hyperlink","website":{"title":"Information/Climate App Assist","url":"https://www.valleynewslive.com/web page/valley-news-live-news-app-wx-app-support"},"kind":"hyperlink","url":"https://www.valleynewslive.com/web page/valley-news-live-news-app-wx-app-support"},{"_id":"https://www.valleynewslive.com/about-us/valley-news-live-jobs","youngsters":[],"footer":{"title":"Valley Information Reside Jobs","url":"https://www.valleynewslive.com/about-us/valley-news-live-jobs"},"id":"https://www.valleynewslive.com/about-us/valley-news-live-jobs","identify":"Valley Information Reside Jobs","navigation":{"nav_title":"Valley Information Reside Jobs","title":"Valley Information Reside Jobs","url":"https://www.valleynewslive.com/about-us/valley-news-live-jobs"},"node_type":"part","website":{"site_tagline":"Valley Information Reside Jobs","site_title":"Valley Information Reside Jobs","site_url":null,"title":"Valley Information Reside Jobs","url":"https://www.valleynewslive.com/about-us/valley-news-live-jobs"},"kind":"part","url":"https://www.valleynewslive.com/about-us/valley-news-live-jobs"}],"footer":{"title":"About Us","url":"https://www.valleynewslive.com/about-us"},"id":"https://www.valleynewslive.com/about-us","identify":"About Us","navigation":{"nav_title":"About Us","title":"About Us","url":"https://www.valleynewslive.com/about-us"},"node_type":"part","website":{"site_title":"About Us","title":"About Us","url":"https://www.valleynewslive.com/about-us"},"kind":"part","url":"https://www.valleynewslive.com/about-us"},{"_id":"https://www.valleynewslive.com/promote","youngsters":[{"_id":"link-MA9Y0WC6G13ED22NR2Y2Y5GBWG","children":[],"display_name":"Make investments In Your Valley","footer":{"title":"Make investments In Your Valley","url":"https://www.graytvlocal.com/market/red-river-valley"},"id":"link-MA9Y0WC6G13ED22NR2Y2Y5GBWG","identify":"Make investments In Your Valley","navigation":{"title":"Make investments In Your Valley","url":"https://www.graytvlocal.com/market/red-river-valley"},"node_type":"hyperlink","website":{"title":"Make investments In Your Valley","url":"https://www.graytvlocal.com/market/red-river-valley"},"kind":"hyperlink","url":"https://www.graytvlocal.com/market/red-river-valley"},{"_id":"link-X1TRGT7XK5463EJH6R5CV2CTDW","youngsters":[],"display_name":"VNL Ad Options","footer":{"title":"VNL Ad Options","url":"https://www.valleynewslive.com/web page/vnl-ad-solutions"},"id":"link-X1TRGT7XK5463EJH6R5CV2CTDW","identify":"VNL Ad Options","navigation":{"title":"VNL Ad Options","url":"https://www.valleynewslive.com/web page/vnl-ad-solutions"},"node_type":"hyperlink","website":{"title":"VNL Ad Options","url":"https://www.valleynewslive.com/web page/vnl-ad-solutions"},"kind":"hyperlink","url":"https://www.valleynewslive.com/web page/vnl-ad-solutions"}],"footer":{"title":"Promote With Us","url":"https://www.valleynewslive.com/promote"},"id":"https://www.valleynewslive.com/promote","identify":"Promote With Us","navigation":{"nav_title":"Promote With Us","title":"Promote With Us","url":"https://www.valleynewslive.com/promote"},"node_type":"part","website":{"site_tagline":"Promote With Us","site_title":"Promote With Us","site_url":null,"title":"Promote With Us","url":"https://www.valleynewslive.com/promote"},"kind":"part","url":"https://www.valleynewslive.com/promote"},{"_id":"link-3K23RE5RFX7KZAHJWHH6F227UC","youngsters":[],"display_name":"Video","footer":{"title":"Video","url":"https://www.valleynewslive.com/video-gallery/information/"},"id":"link-3K23RE5RFX7KZAHJWHH6F227UC","identify":"Video","navigation":{"title":"Video","url":"https://www.valleynewslive.com/video-gallery/information/"},"node_type":"hyperlink","website":{"title":"Video","url":"https://www.valleynewslive.com/video-gallery/information/"},"kind":"hyperlink","url":"https://www.valleynewslive.com/video-gallery/information/"},{"_id":"https://www.valleynewslive.com/politics/pov-now","youngsters":[],"footer":{"title":"Level of View","url":"https://www.valleynewslive.com/politics/pov-now"},"id":"https://www.valleynewslive.com/politics/pov-now","identify":"Level of View","navigation":{"nav_title":"Level of View","title":"Level of View","url":"https://www.valleynewslive.com/politics/pov-now"},"node_type":"part","website":{"site_title":"Level of View","title":"Level of View","url":"https://www.valleynewslive.com/politics/pov-now"},"kind":"part","url":"https://www.valleynewslive.com/politics/pov-now"},{"_id":"https://www.valleynewslive.com/information/north-dakota-today","youngsters":[],"footer":{"title":"North Dakota At the moment","url":"https://www.valleynewslive.com/information/north-dakota-today"},"id":"https://www.valleynewslive.com/information/north-dakota-today","identify":"North Dakota At the moment","navigation":{"nav_title":"North Dakota At the moment","title":"North Dakota At the moment","url":"https://www.valleynewslive.com/information/north-dakota-today"},"node_type":"part","website":{"site_title":"North Dakota At the moment","title":"North Dakota At the moment","url":"https://www.valleynewslive.com/information/north-dakota-today"},"kind":"part","url":"https://www.valleynewslive.com/information/north-dakota-today"},{"_id":"https://www.valleynewslive.com/information/valley-today","youngsters":[],"footer":{"title":"Valley At the moment","url":"https://www.valleynewslive.com/information/valley-today"},"id":"https://www.valleynewslive.com/information/valley-today","identify":"Valley At the moment","navigation":{"nav_title":"Valley At the moment","title":"Valley At the moment","url":"https://www.valleynewslive.com/information/valley-today"},"node_type":"part","website":{"site_title":"Valley At the moment","title":"Valley At the moment","url":"https://www.valleynewslive.com/information/valley-today"},"kind":"part","url":"https://www.valleynewslive.com/information/valley-today"},{"_id":"https://www.valleynewslive.com/neighborhood","youngsters":[{"_id":"https://www.valleynewslive.com/community/calendar","children":[],"footer":{"title":"Group Calendar","url":"https://www.valleynewslive.com/neighborhood/calendar"},"id":"https://www.valleynewslive.com/neighborhood/calendar","identify":"Calendar","navigation":{"nav_title":"Group Calendar","title":"Group Calendar","url":"https://www.valleynewslive.com/neighborhood/calendar"},"node_type":"part","website":{"site_tagline":"Group Calendar","site_title":"Group Calendar","site_url":null,"title":"Group Calendar","url":"https://www.valleynewslive.com/neighborhood/calendar"},"kind":"part","url":"https://www.valleynewslive.com/neighborhood/calendar"}],"footer":{"title":"Group","url":"https://www.valleynewslive.com/neighborhood"},"id":"https://www.valleynewslive.com/neighborhood","identify":"Group","navigation":{"nav_title":"Group","title":"Group","url":"https://www.valleynewslive.com/neighborhood"},"node_type":"part","website":{"site_title":"Group","title":"Group","url":"https://www.valleynewslive.com/neighborhood"},"kind":"part","url":"https://www.valleynewslive.com/neighborhood"},{"_id":"https://www.valleynewslive.com/programming/schedule","youngsters":[{"_id":"link-64T1RV3KQ55RKDQX66HYNTWK48″,"children":[],"display_name":"NBC","footer":{"title":"NBC","url":"https://www.nbc.com/"},"id":"link-64T1RV3KQ55RKDQX66HYNTWK48″,"identify":"NBC","navigation":{"title":"NBC","url":"https://www.nbc.com/"},"node_type":"hyperlink","website":{"title":"NBC","url":"https://www.nbc.com/"},"kind":"hyperlink","url":"https://www.nbc.com/"},{"_id":"link-ZQKJFBEGTX1CFDUC2NJF1T5AC4″,"youngsters":[],"display_name":"CBS All Entry","footer":{"title":"CBS All Entry","url":"https://www.cbs.com/all-access/"},"id":"link-ZQKJFBEGTX1CFDUC2NJF1T5AC4″,"identify":"CBS All Entry","navigation":{"title":"CBS All Entry","url":"https://www.cbs.com/all-access/"},"node_type":"hyperlink","website":{"title":"CBS All Entry","url":"https://www.cbs.com/all-access/"},"kind":"hyperlink","url":"https://www.cbs.com/all-access/"},{"_id":"link-RR0T30ZK9517K1A40KY83U9P1W","youngsters":[],"display_name":"CW","footer":{"title":"CW","url":"https://www.valleynewslive.com/web page/fargo-cw"},"id":"link-RR0T30ZK9517K1A40KY83U9P1W","identify":"CW","navigation":{"title":"CW","url":"https://www.valleynewslive.com/web page/fargo-cw"},"node_type":"hyperlink","website":{"title":"CW","url":"https://www.valleynewslive.com/web page/fargo-cw"},"kind":"hyperlink","url":"https://www.valleynewslive.com/web page/fargo-cw"},{"_id":"link-MXZCREB9PX51T39ZVKRWKE8U9C","youngsters":[],"display_name":"MeTV","footer":{"title":"MeTV","url":"https://www.metv.com/"},"id":"link-MXZCREB9PX51T39ZVKRWKE8U9C","identify":"MeTV","navigation":{"title":"MeTV","url":"https://www.metv.com/"},"node_type":"hyperlink","website":{"title":"MeTV","url":"https://www.metv.com/"},"kind":"hyperlink","url":"https://www.metv.com/"},{"_id":"link-3GYWA9KU4579DADDM63UT4JN08″,"youngsters":[],"display_name":"Heroes & Icons","footer":{"title":"Heroes & Icons","url":"https://www.handitv.com/reveals/"},"id":"link-3GYWA9KU4579DADDM63UT4JN08″,"identify":"Heroes & Icons","navigation":{"title":"Heroes & Icons","url":"https://www.handitv.com/reveals/"},"node_type":"hyperlink","website":{"title":"Heroes & Icons","url":"https://www.handitv.com/reveals/"},"kind":"hyperlink","url":"https://www.handitv.com/reveals/"}],"footer":{"title":"What's On","url":"https://www.valleynewslive.com/programming/schedule"},"id":"https://www.valleynewslive.com/programming/schedule","identify":"Schedule","navigation":{"nav_title":"What's On","title":"What's On","url":"https://www.valleynewslive.com/programming/schedule"},"node_type":"part","website":{"site_tagline":"What's On","site_title":"Programming Schedule","site_url":null,"title":"Programming Schedule","url":"https://www.valleynewslive.com/programming/schedule"},"kind":"part","url":"https://www.valleynewslive.com/programming/schedule"},{"_id":"https://www.valleynewslive.com/contests","youngsters":[],"footer":{"title":"Contests","url":"https://www.valleynewslive.com/contests"},"id":"https://www.valleynewslive.com/contests","identify":"Contests","navigation":{"nav_title":"Contests","title":"Contests","url":"https://www.valleynewslive.com/contests"},"node_type":"part","website":{"site_title":"Contests","title":"Contests","url":"https://www.valleynewslive.com/contests"},"kind":"part","url":"https://www.valleynewslive.com/contests"},{"_id":"link-WAMN5B5XDT0MT65CECXFC21XHR","youngsters":[],"display_name":"VNL Offers","footer":{"title":"VNL Offers","url":"https://kvly.halfoffdeal.com/"},"id":"link-WAMN5B5XDT0MT65CECXFC21XHR","identify":"VNL Offers","navigation":{"title":"VNL Offers","url":"https://kvly.halfoffdeal.com/"},"node_type":"hyperlink","website":{"title":"VNL Offers","url":"https://kvly.halfoffdeal.com/"},"kind":"hyperlink","url":"https://kvly.halfoffdeal.com/"},{"_id":"link-RXQV85U5ZH0PV1Y1VFKD0ZA8H0″,"youngsters":[],"display_name":"VNL Employment","footer":{"title":"VNL Employment","url":"https://www.vnlemployment.com/"},"id":"link-RXQV85U5ZH0PV1Y1VFKD0ZA8H0″,"identify":"VNL Employment","navigation":{"title":"VNL Employment","url":"https://www.vnlemployment.com/"},"node_type":"hyperlink","website":{"title":"VNL Employment","url":"https://www.vnlemployment.com/"},"kind":"hyperlink","url":"https://www.vnlemployment.com/"},{"_id":"link-Z3BWGK7BC93T5FKGEHYR2VK0F4″,"youngsters":[],"display_name":"Submit Pictures & Video","footer":{"title":"Submit Pictures & Video","url":"https://www.valleynewslive.com/neighborhood/user-content"},"id":"link-Z3BWGK7BC93T5FKGEHYR2VK0F4″,"identify":"Submit Pictures & Video","navigation":{"title":"Submit Pictures & Video","url":"https://www.valleynewslive.com/neighborhood/user-content"},"node_type":"hyperlink","website":{"title":"Submit Pictures & Video","url":"https://www.valleynewslive.com/neighborhood/user-content"},"kind":"hyperlink","url":"https://www.valleynewslive.com/neighborhood/user-content"},{"_id":"link-7N0MNHUAQN6H1EJV0FQAC2KW8M","youngsters":[],"display_name":"Full Courtroom Press with Greta VanSusteren","footer":{"title":"Full Courtroom Press with Greta VanSusteren","url":"https://www.fullcourtgreta.com/"},"id":"link-7N0MNHUAQN6H1EJV0FQAC2KW8M","identify":"Full Courtroom Press with Greta VanSusteren","navigation":{"title":"Full Courtroom Press with Greta VanSusteren","url":"https://www.fullcourtgreta.com/"},"node_type":"hyperlink","website":{"title":"Full Courtroom Press with Greta VanSusteren","url":"https://www.fullcourtgreta.com/"},"kind":"hyperlink","url":"https://www.fullcourtgreta.com/"},{"_id":"link-WFYKXTRK4525NC08TQBCQM8MB8″,"youngsters":[],"display_name":"Circle Nation Music & Life-style","footer":{"title":"Circle Nation Music & Life-style","url":"https://www.circleplus.com/"},"id":"link-WFYKXTRK4525NC08TQBCQM8MB8″,"identify":"Circle Nation Music & Life-style","navigation":{"title":"Circle Nation Music & Life-style","url":"https://www.circleplus.com/"},"node_type":"hyperlink","website":{"title":"Circle Nation Music & Life-style","url":"https://www.circleplus.com/"},"kind":"hyperlink","url":"https://www.circleplus.com/"},{"_id":"link-PZ389PQ02H2NX30B4F6F00D6RM","youngsters":[],"display_name":"Examine TV","footer":{"title":"Examine TV","url":"https://www.investigatetv.com/"},"id":"link-PZ389PQ02H2NX30B4F6F00D6RM","identify":"Examine TV","navigation":{"title":"Examine TV","url":"https://www.investigatetv.com/"},"node_type":"hyperlink","website":{"title":"Examine TV","url":"https://www.investigatetv.com/"},"kind":"hyperlink","url":"https://www.investigatetv.com/"},{"_id":"link-7QPDY5HR3H4KFDD6VXBXTG8T88″,"youngsters":[],"display_name":"Grey DC Bureau","footer":{"title":"Grey DC Bureau","url":"https://www.graydc.com/"},"id":"link-7QPDY5HR3H4KFDD6VXBXTG8T88″,"identify":"Grey DC Bureau","navigation":{"title":"Grey DC Bureau","url":"https://www.graydc.com/"},"node_type":"hyperlink","website":{"title":"Grey DC Bureau","url":"https://www.graydc.com/"},"kind":"hyperlink","url":"https://www.graydc.com/"},{"_id":"link-8095QZ9W4T3XT975N5PY9MYKBW","youngsters":[],"display_name":"PowerNation","footer":{"title":"PowerNation","url":"https://www.valleynewslive.com/powernation"},"id":"link-8095QZ9W4T3XT975N5PY9MYKBW","identify":"PowerNation","navigation":{"title":"PowerNation","url":"https://www.valleynewslive.com/powernation"},"node_type":"hyperlink","website":{"title":"PowerNation","url":"https://www.valleynewslive.com/powernation"},"kind":"hyperlink","url":"https://www.valleynewslive.com/powernation"},{"_id":"link-WB3AXRAHP94W989GCC4060W2U0″,"youngsters":[],"display_name":"Midwest Grill'n","footer":{"title":"Midwest Grill'n","url":"https://www.maddogandmerrill.com/"},"id":"link-WB3AXRAHP94W989GCC4060W2U0″,"identify":"Midwest Grill'n","navigation":{"title":"Midwest Grill'n","url":"https://www.maddogandmerrill.com/"},"node_type":"hyperlink","website":{"title":"Midwest Grill'n","url":"https://www.maddogandmerrill.com/"},"kind":"hyperlink","url":"https://www.maddogandmerrill.com/"},{"_id":"link-JP01KZZNVD07QC87EHM7049D88″,"youngsters":[],"display_name":"Mr. Meals","footer":{"title":"Mr. Meals","url":"https://www.valleynewslive.com/web page/mr-food/"},"id":"link-JP01KZZNVD07QC87EHM7049D88″,"identify":"Mr. Meals","navigation":{"title":"Mr. Meals","url":"https://www.valleynewslive.com/web page/mr-food/"},"node_type":"hyperlink","website":{"title":"Mr. Meals","url":"https://www.valleynewslive.com/web page/mr-food/"},"kind":"hyperlink","url":"https://www.valleynewslive.com/web page/mr-food/"},{"_id":"link-DG6XM9HJAD1QXB7GWPAMGE6R9W","youngsters":[],"display_name":"Newest Newscasts","footer":{"title":"Newest Newscasts","url":"https://www.vuit.com/stay/12764/kvly-nbc/vod"},"id":"link-DG6XM9HJAD1QXB7GWPAMGE6R9W","identify":"Newest Newscasts","navigation":{"title":"Newest Newscasts","url":"https://www.vuit.com/stay/12764/kvly-nbc/vod"},"node_type":"hyperlink","website":{"title":"Newest Newscasts","url":"https://www.vuit.com/stay/12764/kvly-nbc/vod"},"kind":"hyperlink","url":"https://www.vuit.com/stay/12764/kvly-nbc/vod"}],"identify":"KVLY","node_type":"part","_id":"https://www.valleynewslive.com/"},"expires":1617854643940,"lastModified":1617854043940},"{"hierarchy":"footer-content-links"}":{"knowledge":{"_website":"kvly","youngsters":[{"_id":"https://www.valleynewslive.com/homepage","children":[],"footer":{"title":"Dwelling","url":"https://www.valleynewslive.com/homepage"},"id":"https://www.valleynewslive.com/homepage","identify":"Homepage","navigation":{"nav_title":"Dwelling","title":"Dwelling","url":"https://www.valleynewslive.com/homepage"},"node_type":"part","website": Fargo, ND","url":"https://www.valleynewslive.com/homepage","kind":"part","url":"https://www.valleynewslive.com/homepage"},{"_id":"https://www.valleynewslive.com/information","youngsters":[],"footer":{"title":"Information","url":"https://www.valleynewslive.com/information"},"id":"https://www.valleynewslive.com/information","identify":"Information","navigation":{"nav_title":"Information","title":"Information","url":"https://www.valleynewslive.com/information"},"node_type":"part","website": Fargo, ND","url":"https://www.valleynewslive.com/information","kind":"part","url":"https://www.valleynewslive.com/information"},{"_id":"https://www.valleynewslive.com/climate","youngsters":[],"footer":{"title":"Climate","url":"https://www.valleynewslive.com/climate"},"id":"https://www.valleynewslive.com/climate","identify":"Climate","navigation":{"nav_title":"Climate","title":"Climate","url":"https://www.valleynewslive.com/climate"},"node_type":"part","website": First Alert StormTeam Climate ,"kind":"part","url":"https://www.valleynewslive.com/climate"},{"_id":"https://www.valleynewslive.com/sports activities","youngsters":[],"footer":{"title":"Sports activities","url":"https://www.valleynewslive.com/sports activities"},"id":"https://www.valleynewslive.com/sports activities","identify":"Sports activities","navigation":{"nav_title":"Sports activities","title":"Sports activities","url":"https://www.valleynewslive.com/sports activities"},"node_type":"part","website":{"site_title":"Sports activities","title":"Sports activities","url":"https://www.valleynewslive.com/sports activities"},"kind":"part","url":"https://www.valleynewslive.com/sports activities"},{"_id":"link-KHQMT4FRGD5UX5QDPD88PPJGE4″,"youngsters":[],"display_name":"Submit Pictures and Video","footer":{"title":"Submit Pictures and Video","url":"https://www.valleynewslive.com/neighborhood/user-content"},"id":"link-KHQMT4FRGD5UX5QDPD88PPJGE4″,"identify":"Submit Pictures and Video","navigation":{"title":"Submit Pictures and Video","url":"https://www.valleynewslive.com/neighborhood/user-content"},"node_type":"hyperlink","website":{"title":"Submit Pictures and Video","url":"https://www.valleynewslive.com/neighborhood/user-content"},"kind":"hyperlink","url":"https://www.valleynewslive.com/neighborhood/user-content"},{"_id":"link-WPTBYBVVUH3NN2CZEHHJHFXFVR","youngsters":[],"display_name":"Livestream","footer":{"title":"Livestream","url":"https://www.valleynewslive.com/livestream"},"id":"link-WPTBYBVVUH3NN2CZEHHJHFXFVR","identify":"Livestream","navigation":{"title":"Livestream","url":"https://www.valleynewslive.com/livestream"},"node_type":"hyperlink","website":{"title":"Livestream","url":"https://www.valleynewslive.com/livestream"},"kind":"hyperlink","url":"https://www.valleynewslive.com/livestream"}],"identify":"KVLY","node_type":"part","_id":"https://www.valleynewslive.com/"},"expires":1617854989821,"lastModified":1617854389821},"{"hierarchy":"footer-legal-links"}":{"knowledge":{"_website":"kvly","youngsters":[{"_id":"link-RAVZ5EMP7X7HZ0ENA4AG8ARGX0″,"children":[],"display_name":"Privateness Coverage","footer":{"title":"Privateness Coverage","url":"https://www.valleynewslive.com/privacy-policy"},"id":"link-RAVZ5EMP7X7HZ0ENA4AG8ARGX0″,"identify":"Privateness Coverage","navigation":{"title":"Privateness Coverage","url":"https://www.valleynewslive.com/privacy-policy"},"node_type":"hyperlink","website":{"title":"Privateness Coverage","url":"https://www.valleynewslive.com/privacy-policy"},"kind":"hyperlink","url":"https://www.valleynewslive.com/privacy-policy"},{"_id":"link-HZMV79DZJH6THAGWGEVR94X9RR","youngsters":[],"display_name":"Phrases of Service","footer":{"title":"Phrases of Service","url":"https://www.valleynewslive.com/terms-of-service"},"id":"link-HZMV79DZJH6THAGWGEVR94X9RR","identify":"Phrases of Service","navigation":{"title":"Phrases of Service","url":"https://www.valleynewslive.com/terms-of-service"},"node_type":"hyperlink","website":{"title":"Phrases of Service","url":"https://www.valleynewslive.com/terms-of-service"},"kind":"hyperlink","url":"https://www.valleynewslive.com/terms-of-service"},{"_id":"link-7AKBQ3BMNN4373Z8J5JRYW5EZ8″,"youngsters":[],"display_name":"EEO Assertion","footer":{"title":"EEO Assertion","url":"https://publicfiles.fcc.gov/tv-profile/kvly-tv/equal-employment-opportunity-records/additional-documents/eeo-public-file-reports/6d608d40-1c4f-2cd0-05b7-0790bd3de33e/"},"id":"link-7AKBQ3BMNN4373Z8J5JRYW5EZ8″,"identify":"EEO Assertion","navigation":{"title":"EEO Assertion","url":"https://publicfiles.fcc.gov/tv-profile/kvly-tv/equal-employment-opportunity-records/additional-documents/eeo-public-file-reports/6d608d40-1c4f-2cd0-05b7-0790bd3de33e/"},"node_type":"hyperlink","website":{"title":"EEO Assertion","url":"https://publicfiles.fcc.gov/tv-profile/kvly-tv/equal-employment-opportunity-records/additional-documents/eeo-public-file-reports/6d608d40-1c4f-2cd0-05b7-0790bd3de33e/"},"kind":"hyperlink","url":"https://publicfiles.fcc.gov/tv-profile/kvly-tv/equal-employment-opportunity-records/additional-documents/eeo-public-file-reports/6d608d40-1c4f-2cd0-05b7-0790bd3de33e/"},{"_id":"link-V3TM57X9993X3C99HXCVM33ZAG","youngsters":[],"display_name":"FCC Public Inspection File","footer":{"title":"FCC Public Inspection File","url":"https://publicfiles.fcc.gov/tv-profile/kvly-tv"},"id":"link-V3TM57X9993X3C99HXCVM33ZAG","identify":"FCC Public Inspection File","navigation":{"title":"FCC Public Inspection File","url":"https://publicfiles.fcc.gov/tv-profile/kvly-tv"},"node_type":"hyperlink","website":{"title":"FCC Public Inspection File","url":"https://publicfiles.fcc.gov/tv-profile/kvly-tv"},"kind":"hyperlink","url":"https://publicfiles.fcc.gov/tv-profile/kvly-tv"},{"_id":"link-Q7U5783FA55U16ZNEYHMEXKWYR","youngsters":[],"display_name":"mail@valleynewslive.com – (701) 893-7523″,"footer":{"title":"mail@valleynewslive.com – (701) 893-7523″,"url":"https://www.valleynewslive.com/2021/04/08/symptoms-from-covid-vaccine-vary-fm-health-care-officials-react/mailto:mail@valleynewslive.com"},"id":"link-Q7U5783FA55U16ZNEYHMEXKWYR","identify":"mail@valleynewslive.com – (701) 893-7523″,"navigation":{"title":"mail@valleynewslive.com – (701) 893-7523″,"url":"https://www.valleynewslive.com/2021/04/08/symptoms-from-covid-vaccine-vary-fm-health-care-officials-react/mailto:mail@valleynewslive.com"},"node_type":"hyperlink","website":{"title":"mail@valleynewslive.com – (701) 893-7523″,"url":"https://www.valleynewslive.com/2021/04/08/symptoms-from-covid-vaccine-vary-fm-health-care-officials-react/mailto:mail@valleynewslive.com"},"kind":"hyperlink","url":"https://www.valleynewslive.com/2021/04/08/symptoms-from-covid-vaccine-vary-fm-health-care-officials-react/mailto:mail@valleynewslive.com"},{"_id":"link-2556MK8BZ94BHFJA5TTFPG07PM","youngsters":[],"display_name":"FCC Purposes","footer":{"title":"FCC Purposes","url":"https://webpubcontent.grey.television/gdm/fcc/kvly-fcc_applications.pdf"},"id":"link-2556MK8BZ94BHFJA5TTFPG07PM","identify":"FCC Purposes","navigation":{"title":"FCC Purposes","url":"https://webpubcontent.grey.television/gdm/fcc/kvly-fcc_applications.pdf"},"node_type":"hyperlink","website":{"title":"FCC Purposes","url":"https://webpubcontent.grey.television/gdm/fcc/kvly-fcc_applications.pdf"},"kind":"hyperlink","url":"https://webpubcontent.grey.television/gdm/fcc/kvly-fcc_applications.pdf"}],"identify":"KVLY","node_type":"part","_id":"https://www.valleynewslive.com/"},"expires":1617854582927,"lastModified":1617853982927}},"breaking-news-feed":{"{"dateTimeLimitByMinutes":60,"includeSections":"/information/breaking"}":{"knowledge":{"_id":"44136fa355b3678a1146ad16f7e8649e94fb4fc21fe77e8310c060f61caaff8a"},"expires":1617854481660,"lastModified":1617854361660}},"wx-alerts-details-gdm":{"{}":{"knowledge":{"advisory":{},"assertion":{},"warning":{},"watch":{},"different":{},"depend":0,"_id":"55c3314b5684ba2c65a21c06f5e417e24540eedcd0a22e0644dcc95c874da212″},"expires":1617854542768,"lastModified":1617854235000}},"gsync-closings":{"{}":{"knowledge":{"exportType":"L1″,"lastUpdated":"2021-04-08T04:00:38.762Z","countiesList":[],"states":[],"statesSelectKeyValuePairs":[],"organizations":[],"totalResults":0,"typesSelectKeyValuePairs":[],"dataTransformedAt":"2021-04-08T04:00:38.762Z","_id":"0067ebfed1eb2946cc71a8f6aa7cf09ad303f2119d4d8d9cb1a9cde22daea3d9″},"expires":1617854558734,"lastModified":1617854438734}},"related-content-feed":{"{"feedOffset":0,"feedSize":3,"id":"MDUQKS75TRDEHLICMQLX7TNR7A","includedTypes":""}":{"knowledge":{"content_elements":[],"depend":0,"dataTransformedAt":"2021-04-08T03:56:31.607Z","_id":"90aa8fb8b45b9d21b4119c59f9076c810fb59cffe1490dd2663d2a7cd5ddeb7a"},"expires":1617854791587,"lastModified":1617854191587}},"content-most-read-feed":{"{"feedOffset":0,"feedSize":5,"includedTypes":"article"}":{"knowledge":{"kind":"outcomes","model":"0.6.0″,"content_elements":[{"credits":{"by":[]},"display_date":"2021-04-06T03:26:13.519Z","description":{"primary":"A father is outraged after his son has been repeatedly bullied at Jamestown Excessive Faculty."},"headlines":{"primary":"Father Outraged Over Son Being Bullied And Bodily Assaulted At Jamestown Excessive Faculty"},"promo_items":{"primary":{"_id":"64QKJGXO7JKK3DR62AJRGFDVAA","additional_properties":{"fullSizeResizeUrl":"/resizer/zQEJ-4YADtnPHgaHthcpMy77hBE=/arc-anglerfish-arc2-prod-gray/public/64QKJGXO7JKK3DR62AJRGFDVAA.jpg","galleries":[],"mime_type":"picture/jpeg","originalName":"bully40.jpg","originalUrl":"https://cloudfront-us-east-1.pictures.arcpublishing.com/grey/64QKJGXO7JKK3DR62AJRGFDVAA.jpg","proprietor":"Matt McGovern","proxyUrl":"/resizer/zQEJ-4YADtnPHgaHthcpMy77hBE=/arc-anglerfish-arc2-prod-gray/public/64QKJGXO7JKK3DR62AJRGFDVAA.jpg","revealed":true,"resizeUrl":"/resizer/zQEJ-4YADtnPHgaHthcpMy77hBE=/arc-anglerfish-arc2-prod-gray/public/64QKJGXO7JKK3DR62AJRGFDVAA.jpg","restricted":false,"thumbnailResizeUrl":"/resizer/ck4imITBaQQ_IMmmI-_2eGwE1PQ=/300×0/arc-anglerfish-arc2-prod-gray/public/64QKJGXO7JKK3DR62AJRGFDVAA.jpg","model":0},"alt_text":"","caption":"","copyright":"","created_date":"2020-06-11T18:17:54Z","credit":{"affiliation":[{"name":"KGNS","type":"author"}]},"top":835,"last_updated_date":"2020-06-11T18:17:54Z","licensable":false,"proprietor":{"id":"grey"},"supply":{"additional_properties":{"editor":"picture middle"},"edit_url":"https://grey.arcpublishing.com/picture/64QKJGXO7JKK3DR62AJRGFDVAA","system":"picture middle"},"subtitle":"bully","kind":"picture","url":"https://cloudfront-us-east-1.pictures.arcpublishing.com/grey/64QKJGXO7JKK3DR62AJRGFDVAA.jpg","model":"0.10.3″,"width":1669,"resized_urls":{"unique":"https://cloudfront-us-east-1.pictures.arcpublishing.com/grey/64QKJGXO7JKK3DR62AJRGFDVAA.jpg","small":{"url":"https://gray-kvly-prod.cdn.arcpublishing.com/resizer/vNLOg42AqL6w-DmIfrSYPE5Vq3M=/50×50/sensible/cloudfront-us-east-1.pictures.arcpublishing.com/grey/64QKJGXO7JKK3DR62AJRGFDVAA.jpg","top":50,"width":50},"gallery_4x3″:{"url":"https://gray-kvly-prod.cdn.arcpublishing.com/resizer/xE8aY2HjmhZsQL84JKzwbkY3xc0=/1000×750/sensible/cloudfront-us-east-1.pictures.arcpublishing.com/grey/64QKJGXO7JKK3DR62AJRGFDVAA.jpg","top":750,"width":1000},"giant":{"url":"https://gray-kvly-prod.cdn.arcpublishing.com/resizer/kFJWvkxGOPQMll46G06oaA6lkwk=/800×0/sensible/cloudfront-us-east-1.pictures.arcpublishing.com/grey/64QKJGXO7JKK3DR62AJRGFDVAA.jpg","top":0,"width":800},"large_1x1″:{"url":"https://gray-kvly-prod.cdn.arcpublishing.com/resizer/9HEpy3nW7ZtLmYzqVcmIfaWP6ZY=/1200×1200/sensible/cloudfront-us-east-1.pictures.arcpublishing.com/grey/64QKJGXO7JKK3DR62AJRGFDVAA.jpg","top":1200,"width":1200},"large_2x1″:{"url":"https://gray-kvly-prod.cdn.arcpublishing.com/resizer/xFs9OTfOPhm64wj5iI0HoLrXOc4=/1200×600/sensible/cloudfront-us-east-1.pictures.arcpublishing.com/grey/64QKJGXO7JKK3DR62AJRGFDVAA.jpg","top":600,"width":1200},"large_2x3″:{"url":"https://gray-kvly-prod.cdn.arcpublishing.com/resizer/Hre-Bckk4mfLWW4s3cdp8qjS4Ss=/1200×1800/sensible/cloudfront-us-east-1.pictures.arcpublishing.com/grey/64QKJGXO7JKK3DR62AJRGFDVAA.jpg","top":1800,"width":1200},"large_3x1″:{"url":"https://gray-kvly-prod.cdn.arcpublishing.com/resizer/i0HLr1QzvlSMSqTEYPvp4BkJlT0=/1200×400/sensible/cloudfront-us-east-1.pictures.arcpublishing.com/grey/64QKJGXO7JKK3DR62AJRGFDVAA.jpg","top":400,"width":1200},"large_3x2″:{"url":"https://gray-kvly-prod.cdn.arcpublishing.com/resizer/LFGzQ4NQfpgxubXd3WUqMMgAWr8=/1200×800/sensible/cloudfront-us-east-1.pictures.arcpublishing.com/grey/64QKJGXO7JKK3DR62AJRGFDVAA.jpg","top":800,"width":1200},"large_4x3″:{"url":"https://gray-kvly-prod.cdn.arcpublishing.com/resizer/E99Hmp2eAIYzXQaIEUgid7pSK-M=/1200×900/sensible/cloudfront-us-east-1.pictures.arcpublishing.com/grey/64QKJGXO7JKK3DR62AJRGFDVAA.jpg","top":900,"width":1200},"large_16x9″:{"url":"https://gray-kvly-prod.cdn.arcpublishing.com/resizer/SI9n6cWzAohtSQ-FYgmUwr05xtw=/1200×675/sensible/cloudfront-us-east-1.pictures.arcpublishing.com/grey/64QKJGXO7JKK3DR62AJRGFDVAA.jpg","top":675,"width":1200},"major":{"url":"https://gray-kvly-prod.cdn.arcpublishing.com/resizer/HF7gcoJe4FIuXKdV0xjeeIxJFFg=/980×0/sensible/cloudfront-us-east-1.pictures.arcpublishing.com/grey/64QKJGXO7JKK3DR62AJRGFDVAA.jpg","top":0,"width":980},"summary_1x1″:{"url":"https://gray-kvly-prod.cdn.arcpublishing.com/resizer/WDGFfUpbpb1UuzpVeGLA8kipdqI=/800×800/sensible/cloudfront-us-east-1.pictures.arcpublishing.com/grey/64QKJGXO7JKK3DR62AJRGFDVAA.jpg","top":800,"width":800},"summary_2x1″:{"url":"https://gray-kvly-prod.cdn.arcpublishing.com/resizer/YhsV9BHk8Dc3mMsTsQI2mOVdmlU=/800×400/sensible/cloudfront-us-east-1.pictures.arcpublishing.com/grey/64QKJGXO7JKK3DR62AJRGFDVAA.jpg","top":400,"width":800},"summary_2x3″:{"url":"https://gray-kvly-prod.cdn.arcpublishing.com/resizer/bQOzI00ajdEHA1od_XfYPwdoDc4=/800×1200/sensible/cloudfront-us-east-1.pictures.arcpublishing.com/grey/64QKJGXO7JKK3DR62AJRGFDVAA.jpg","top":1200,"width":800},"summary_3x1″:{"url":"https://gray-kvly-prod.cdn.arcpublishing.com/resizer/nvj0hcVLStCIOVkol9oJv5Oaeto=/800×267/sensible/cloudfront-us-east-1.pictures.arcpublishing.com/grey/64QKJGXO7JKK3DR62AJRGFDVAA.jpg","top":267,"width":800},"summary_3x2″:{"url":"https://gray-kvly-prod.cdn.arcpublishing.com/resizer/p-YXhM4oMDny_swy4vtxZbga-vs=/800×533/sensible/cloudfront-us-east-1.pictures.arcpublishing.com/grey/64QKJGXO7JKK3DR62AJRGFDVAA.jpg","top":533,"width":800},"summary_4x1″:{"url":"https://gray-kvly-prod.cdn.arcpublishing.com/resizer/8Qd3ebrfnSwaw_0cdb-Vmi0mwN8=/800×200/sensible/cloudfront-us-east-1.pictures.arcpublishing.com/grey/64QKJGXO7JKK3DR62AJRGFDVAA.jpg","top":200,"width":800},"summary_4x3″:{"url":"https://gray-kvly-prod.cdn.arcpublishing.com/resizer/9818spOpz-Jz74Kczef91yPgJdk=/800×600/sensible/cloudfront-us-east-1.pictures.arcpublishing.com/grey/64QKJGXO7JKK3DR62AJRGFDVAA.jpg","top":600,"width":800},"summary_16x9″:{"url":"https://gray-kvly-prod.cdn.arcpublishing.com/resizer/sY2-rEG36dIEGuv32oKl4TO1eEc=/800×450/sensible/cloudfront-us-east-1.pictures.arcpublishing.com/grey/64QKJGXO7JKK3DR62AJRGFDVAA.jpg","top":450,"width":800},"summary_default":{"url":"https://gray-kvly-prod.cdn.arcpublishing.com/resizer/HF7gcoJe4FIuXKdV0xjeeIxJFFg=/980×0/sensible/cloudfront-us-east-1.pictures.arcpublishing.com/grey/64QKJGXO7JKK3DR62AJRGFDVAA.jpg","top":0,"width":980}}},"lead_art":{"kind":"video","web sites":{"kvly":{"website_section":{"path":"https://www.valleynewslive.com/information","_website":"kvly","identify":"Information","_id":"https://www.valleynewslive.com/information","kind":"part","model":"0.6.0″,"major":true},"website_url":"/video/2021/04/06/news-father-outraged-over-son-being-bullied-physically-assaulted/"}}}},"supply":{"system":"composer"},"subheadlines":{"primary":""},"taxonomy":{"tags":[]},"kind":"story","model":"0.10.7″,"web site":"kvly","web sites":{"kvly":{"website_section":{"_id":"https://www.valleynewslive.com/neighborhood","_website":"kvly","kind":"part","model":"0.6.0″,"identify":"Group","path":"https://www.valleynewslive.com/neighborhood","parent_id":"https://www.valleynewslive.com/","father or mother":{"default":"https://www.valleynewslive.com/"},"additional_properties":{"unique":{"_id":"https://www.valleynewslive.com/neighborhood","_website":"kvly","identify":"Group","website":{"site_title":"Group"},"navigation":{"nav_title":"Group"},"node_type":"part","order":{"default":1001,"publishing-sections":1002,"navigation-menu-links":1020},"ancestors":{"default":["https://www.valleynewslive.com/"],"publishing-sections":["https://www.valleynewslive.com/"],"navigation-menu-links":["https://www.valleynewslive.com/"]},"father or mother":{"default":"https://www.valleynewslive.com/","publishing-sections":"https://www.valleynewslive.com/","navigation-menu-links":"https://www.valleynewslive.com/"},"_admin":{"dfp_id":"https://www.valleynewslive.com/neighborhood"},"inactive":false}},"_website_section_id":"kvly./neighborhood"},"website_url":"https://www.valleynewslive.com/2021/04/06/father-outraged-over-son-being-bullied-and-physically-assaulted-at-jamestown-high-school/"}},"_id":"ARJ44JEEXJBORN4OG3WIKPEES4″,"content_elements":[],"website_url":"https://www.valleynewslive.com/2021/04/06/father-outraged-over-son-being-bullied-and-physically-assaulted-at-jamestown-high-school/","hasVideo":true,"hasVideoCenterVideo":true,"hasClickabilityVideo":false,"hasPowaLiveVideoPlayer":false,"pageviews":21353},{"credit":{"by":[]},"display_date":"2021-04-07T02:21:03.600Z","description":{"primary":"A Fargo girl is trying to find the witnesses that caught her canine getting attacked by one other neighbor's canine."},"headlines":{"primary":"Fargo Lady Looking For Witnesses After Her Canine Was Attacked"},"promo_items":{"primary":{"_id":"AT7K7XJTS5FIZEJ4U7SPTU266U","additional_properties":{"fullSizeResizeUrl":"/resizer/UGW21S3LFKBuiAAVMfEby6th9GU=/arc-anglerfish-arc2-prod-gray/public/AT7K7XJTS5FIZEJ4U7SPTU266U.PNG","galleries":[],"ingestionMethod":"guide","mime_type":"picture/png","originalName":"DOG.PNG","originalUrl":"https://cloudfront-us-east-1.pictures.arcpublishing.com/grey/AT7K7XJTS5FIZEJ4U7SPTU266U.PNG","proprietor":"nachai.taylor@valleynewslive.com","proxyUrl":"/resizer/UGW21S3LFKBuiAAVMfEby6th9GU=/arc-anglerfish-arc2-prod-gray/public/AT7K7XJTS5FIZEJ4U7SPTU266U.PNG","revealed":true,"resizeUrl":"/resizer/UGW21S3LFKBuiAAVMfEby6th9GU=/arc-anglerfish-arc2-prod-gray/public/AT7K7XJTS5FIZEJ4U7SPTU266U.PNG","restricted":false,"thumbnailResizeUrl":"/resizer/-1RQ9bbXdkHnmFmJlszi76W8tGA=/300×0/arc-anglerfish-arc2-prod-gray/public/AT7K7XJTS5FIZEJ4U7SPTU266U.PNG","usage_instructions":"KVLY","model":0,"template_id":453},"tackle":{},"caption":"Canine Attacked","created_date":"2021-04-07T02:20:20Z","credit":{"affiliation":[{"name":"KVLY","type":"author"}]},"top":342,"image_type":"{photograph}","last_updated_date":"2021-04-07T02:20:20Z","licensable":false,"proprietor":{"id":"grey","sponsored":false},"supply":{"additional_properties":{"editor":"picture middle"},"edit_url":"https://grey.arcpublishing.com/picture/AT7K7XJTS5FIZEJ4U7SPTU266U","system":"picture middle"},"subtitle":"Canine Attacked","taxonomy":{"associated_tasks":[]},"kind":"picture","url":"https://cloudfront-us-east-1.pictures.arcpublishing.com/grey/AT7K7XJTS5FIZEJ4U7SPTU266U.PNG","model":"0.10.3″,"width":644,"syndication":{},"creditIPTC":"KVLY","resized_urls":{"unique":"https://cloudfront-us-east-1.pictures.arcpublishing.com/grey/AT7K7XJTS5FIZEJ4U7SPTU266U.PNG","small":{"url":"https://gray-kvly-prod.cdn.arcpublishing.com/resizer/rCUgWc6Y424S5cUemD4xNr54cYE=/50×50/sensible/cloudfront-us-east-1.pictures.arcpublishing.com/grey/AT7K7XJTS5FIZEJ4U7SPTU266U.PNG","top":50,"width":50},"gallery_4x3″:{"url":"https://gray-kvly-prod.cdn.arcpublishing.com/resizer/8NnqyVHUyQykKZh3BwRDlZq1yks=/1000×750/sensible/cloudfront-us-east-1.pictures.arcpublishing.com/grey/AT7K7XJTS5FIZEJ4U7SPTU266U.PNG","top":750,"width":1000},"giant":{"url":"https://gray-kvly-prod.cdn.arcpublishing.com/resizer/fpd6mnRRqxLN4UKzOyhVTU-_Qes=/800×0/sensible/cloudfront-us-east-1.pictures.arcpublishing.com/grey/AT7K7XJTS5FIZEJ4U7SPTU266U.PNG","top":0,"width":800},"large_1x1″:{"url":"https://gray-kvly-prod.cdn.arcpublishing.com/resizer/LD4bz7ISNJX08sZ8LSt7qcGSKho=/1200×1200/sensible/cloudfront-us-east-1.pictures.arcpublishing.com/grey/AT7K7XJTS5FIZEJ4U7SPTU266U.PNG","top":1200,"width":1200},"large_2x1″:{"url":"https://gray-kvly-prod.cdn.arcpublishing.com/resizer/yEAA_5r0tvKrqpfYntMl45i-l0I=/1200×600/sensible/cloudfront-us-east-1.pictures.arcpublishing.com/grey/AT7K7XJTS5FIZEJ4U7SPTU266U.PNG","top":600,"width":1200},"large_2x3″:{"url":"https://gray-kvly-prod.cdn.arcpublishing.com/resizer/BNG4GzgQj9t_u_SyiHYyuLtQfiI=/1200×1800/sensible/cloudfront-us-east-1.pictures.arcpublishing.com/grey/AT7K7XJTS5FIZEJ4U7SPTU266U.PNG","top":1800,"width":1200},"large_3x1″:{"url":"https://gray-kvly-prod.cdn.arcpublishing.com/resizer/n6XcgomgkhQgJVvYkcKu-5ijucA=/1200×400/sensible/cloudfront-us-east-1.pictures.arcpublishing.com/grey/AT7K7XJTS5FIZEJ4U7SPTU266U.PNG","top":400,"width":1200},"large_3x2″:{"url":"https://gray-kvly-prod.cdn.arcpublishing.com/resizer/NHFqRnyAizowWR3FeCuVKQZY4CM=/1200×800/sensible/cloudfront-us-east-1.pictures.arcpublishing.com/grey/AT7K7XJTS5FIZEJ4U7SPTU266U.PNG","top":800,"width":1200},"large_4x3″:{"url":"https://gray-kvly-prod.cdn.arcpublishing.com/resizer/_DgPlLPI3tx8Ym3UAq0gHpDZX2E=/1200×900/sensible/cloudfront-us-east-1.pictures.arcpublishing.com/grey/AT7K7XJTS5FIZEJ4U7SPTU266U.PNG","top":900,"width":1200},"large_16x9″:{"url":"https://gray-kvly-prod.cdn.arcpublishing.com/resizer/AIsOxFxgnmB7dq4ZBwvGHg1hOjs=/1200×675/sensible/cloudfront-us-east-1.pictures.arcpublishing.com/grey/AT7K7XJTS5FIZEJ4U7SPTU266U.PNG","top":675,"width":1200},"major":{"url":"https://gray-kvly-prod.cdn.arcpublishing.com/resizer/GJAiAbcUMuzS7sbPg0pTML5neA8=/980×0/sensible/cloudfront-us-east-1.pictures.arcpublishing.com/grey/AT7K7XJTS5FIZEJ4U7SPTU266U.PNG","top":0,"width":980},"summary_1x1″:{"url":"https://gray-kvly-prod.cdn.arcpublishing.com/resizer/vuQqgHFl-br-ZCcY2SRso9BZRU0=/800×800/sensible/cloudfront-us-east-1.pictures.arcpublishing.com/grey/AT7K7XJTS5FIZEJ4U7SPTU266U.PNG","top":800,"width":800},"summary_2x1″:{"url":"https://gray-kvly-prod.cdn.arcpublishing.com/resizer/iw9HWGPTs4HxY_PdZL3WxrzVFk0=/800×400/sensible/cloudfront-us-east-1.pictures.arcpublishing.com/grey/AT7K7XJTS5FIZEJ4U7SPTU266U.PNG","top":400,"width":800},"summary_2x3″:{"url":"https://gray-kvly-prod.cdn.arcpublishing.com/resizer/McriirPt2STWGKE8pAVdeHl5c4c=/800×1200/sensible/cloudfront-us-east-1.pictures.arcpublishing.com/grey/AT7K7XJTS5FIZEJ4U7SPTU266U.PNG","top":1200,"width":800},"summary_3x1″:{"url":"https://gray-kvly-prod.cdn.arcpublishing.com/resizer/PoRERByEVAtaNyaVKApesY4uTBM=/800×267/sensible/cloudfront-us-east-1.pictures.arcpublishing.com/grey/AT7K7XJTS5FIZEJ4U7SPTU266U.PNG","top":267,"width":800},"summary_3x2″:{"url":"https://gray-kvly-prod.cdn.arcpublishing.com/resizer/BiTnFgzwneDZGpOD78K-Wr7KWvQ=/800×533/sensible/cloudfront-us-east-1.pictures.arcpublishing.com/grey/AT7K7XJTS5FIZEJ4U7SPTU266U.PNG","top":533,"width":800},"summary_4x1″:{"url":"https://gray-kvly-prod.cdn.arcpublishing.com/resizer/1AMvj2MEMdt_53Vqic6L1-mmzaU=/800×200/sensible/cloudfront-us-east-1.pictures.arcpublishing.com/grey/AT7K7XJTS5FIZEJ4U7SPTU266U.PNG","top":200,"width":800},"summary_4x3″:{"url":"https://gray-kvly-prod.cdn.arcpublishing.com/resizer/S3tAEN0hCLS1IbKHMf797Dovinw=/800×600/sensible/cloudfront-us-east-1.pictures.arcpublishing.com/grey/AT7K7XJTS5FIZEJ4U7SPTU266U.PNG","top":600,"width":800},"summary_16x9″:{"url":"https://gray-kvly-prod.cdn.arcpublishing.com/resizer/NwnzuENLkK-mtROwu5qNrOlrBOA=/800×450/sensible/cloudfront-us-east-1.pictures.arcpublishing.com/grey/AT7K7XJTS5FIZEJ4U7SPTU266U.PNG","top":450,"width":800},"summary_default":{"url":"https://gray-kvly-prod.cdn.arcpublishing.com/resizer/GJAiAbcUMuzS7sbPg0pTML5neA8=/980×0/sensible/cloudfront-us-east-1.pictures.arcpublishing.com/grey/AT7K7XJTS5FIZEJ4U7SPTU266U.PNG","top":0,"width":980}}},"lead_art":{"kind":"video","web sites":{"kvly":{"website_section":{"path":"https://www.valleynewslive.com/information","_website":"kvly","identify":"Information","_id":"https://www.valleynewslive.com/information","kind":"part","model":"0.6.0″,"major":true},"website_url":"/video/2021/04/07/news-woman-searching-witnesses-who-saw-dog-attack/"}}}},"supply":{"system":"composer"},"subheadlines":{"primary":"The assault left Carole Kvidt with an almost $700 vet invoice."},"taxonomy":{"tags":[]},"kind":"story","model":"0.10.7″,"web site":"kvly","web sites":{"kvly":{"website_section":{"_id":"https://www.valleynewslive.com/neighborhood","_website":"kvly","kind":"part","model":"0.6.0″,"identify":"Group","path":"https://www.valleynewslive.com/neighborhood","parent_id":"https://www.valleynewslive.com/","father or mother":{"default":"https://www.valleynewslive.com/"},"additional_properties":{"unique":{"_id":"https://www.valleynewslive.com/neighborhood","_website":"kvly","identify":"Group","website":{"site_title":"Group"},"navigation":{"nav_title":"Group"},"node_type":"part","order":{"default":1001,"publishing-sections":1002,"navigation-menu-links":1020},"ancestors":{"default":["https://www.valleynewslive.com/"],"publishing-sections":["https://www.valleynewslive.com/"],"navigation-menu-links":["https://www.valleynewslive.com/"]},"father or mother":{"default":"https://www.valleynewslive.com/","publishing-sections":"https://www.valleynewslive.com/","navigation-menu-links":"https://www.valleynewslive.com/"},"_admin":{"dfp_id":"https://www.valleynewslive.com/neighborhood"},"inactive":false}},"_website_section_id":"kvly./neighborhood"},"website_url":"https://www.valleynewslive.com/2021/04/07/fargo-woman-searching-for-witnesses-after-her-dog-was-attacked/"}},"_id":"MMZGVNHSZBASLKDY33ULVZQQGI","content_elements":[],"website_url":"https://www.valleynewslive.com/2021/04/07/fargo-woman-searching-for-witnesses-after-her-dog-was-attacked/","hasVideo":true,"hasVideoCenterVideo":true,"hasClickabilityVideo":false,"hasPowaLiveVideoPlayer":false,"pageviews":7208},{"credit":{"by":[{"_id":"jordan.schroeer","type":"author","version":"0.5.8″,"name":"Jordan Schroeer","org":"Fargo, North Dakota","image":{"url":"https://s3.amazonaws.com/arc-authors/gray/9f529356-5b98-4ae9-8959-2a82d30b6acb.jpg","version":"0.5.8″,"resized_urls":{"original":"https://s3.amazonaws.com/arc-authors/gray/9f529356-5b98-4ae9-8959-2a82d30b6acb.jpg","small":{"url":"https://gray-kvly-prod.cdn.arcpublishing.com/resizer/odY6TOfaswBMVXThs7xdXqGzqXg=/50×50/smart/s3.amazonaws.com/arc-authors/gray/9f529356-5b98-4ae9-8959-2a82d30b6acb.jpg","height":50,"width":50},"gallery_4x3″:{"url":"https://gray-kvly-prod.cdn.arcpublishing.com/resizer/U1cZZDztLLtfSEYLBq2TzGYj9QQ=/1000×750/smart/s3.amazonaws.com/arc-authors/gray/9f529356-5b98-4ae9-8959-2a82d30b6acb.jpg","height":750,"width":1000},"large":{"url":"https://gray-kvly-prod.cdn.arcpublishing.com/resizer/m4k_2XMV6VeuHT996KJmcW7x0GM=/800×0/smart/s3.amazonaws.com/arc-authors/gray/9f529356-5b98-4ae9-8959-2a82d30b6acb.jpg","height":0,"width":800},"large_1x1″:{"url":"https://gray-kvly-prod.cdn.arcpublishing.com/resizer/etFUG0sOwOW7hMx_OZtvnNJrnMQ=/1200×1200/smart/s3.amazonaws.com/arc-authors/gray/9f529356-5b98-4ae9-8959-2a82d30b6acb.jpg","height":1200,"width":1200},"large_2x1″:{"url":"https://gray-kvly-prod.cdn.arcpublishing.com/resizer/RttfOSlvEva3owUXpOGvqxkkxq8=/1200×600/smart/s3.amazonaws.com/arc-authors/gray/9f529356-5b98-4ae9-8959-2a82d30b6acb.jpg","height":600,"width":1200},"large_2x3″:{"url":"https://gray-kvly-prod.cdn.arcpublishing.com/resizer/RSB2CNTnwYB4psyhPq1vUYFfp9o=/1200×1800/smart/s3.amazonaws.com/arc-authors/gray/9f529356-5b98-4ae9-8959-2a82d30b6acb.jpg","height":1800,"width":1200},"large_3x1″:{"url":"https://gray-kvly-prod.cdn.arcpublishing.com/resizer/DR-aq30u5VExmai7TqqwQoMi0tE=/1200×400/smart/s3.amazonaws.com/arc-authors/gray/9f529356-5b98-4ae9-8959-2a82d30b6acb.jpg","height":400,"width":1200},"large_3x2″:{"url":"https://gray-kvly-prod.cdn.arcpublishing.com/resizer/IRwStf5r1nHDx19ESaKRAyKHELs=/1200×800/smart/s3.amazonaws.com/arc-authors/gray/9f529356-5b98-4ae9-8959-2a82d30b6acb.jpg","height":800,"width":1200},"large_4x3″:{"url":"https://gray-kvly-prod.cdn.arcpublishing.com/resizer/-M6EaLS9jtPzhX1RfHvGx6u9Dxc=/1200×900/smart/s3.amazonaws.com/arc-authors/gray/9f529356-5b98-4ae9-8959-2a82d30b6acb.jpg","height":900,"width":1200},"large_16x9″:{"url":"https://gray-kvly-prod.cdn.arcpublishing.com/resizer/XA12z9TTa6v2PV3gey8l8W66Wp4=/1200×675/smart/s3.amazonaws.com/arc-authors/gray/9f529356-5b98-4ae9-8959-2a82d30b6acb.jpg","height":675,"width":1200},"primary":{"url":"https://gray-kvly-prod.cdn.arcpublishing.com/resizer/HUhENhVCyVqa7lWDRb2AsITA1e8=/980×0/smart/s3.amazonaws.com/arc-authors/gray/9f529356-5b98-4ae9-8959-2a82d30b6acb.jpg","height":0,"width":980},"summary_1x1″:{"url":"https://gray-kvly-prod.cdn.arcpublishing.com/resizer/3SviYucfVi4AGbJ4aPDT2wtuddI=/800×800/smart/s3.amazonaws.com/arc-authors/gray/9f529356-5b98-4ae9-8959-2a82d30b6acb.jpg","height":800,"width":800},"summary_2x1″:{"url":"https://gray-kvly-prod.cdn.arcpublishing.com/resizer/eatgQbFF9e1xwMOqFY5yMYUO5XA=/800×400/smart/s3.amazonaws.com/arc-authors/gray/9f529356-5b98-4ae9-8959-2a82d30b6acb.jpg","height":400,"width":800},"summary_2x3″:{"url":"https://gray-kvly-prod.cdn.arcpublishing.com/resizer/WPzQh1RiGjr61pmf1bGiV48dO7Y=/800×1200/smart/s3.amazonaws.com/arc-authors/gray/9f529356-5b98-4ae9-8959-2a82d30b6acb.jpg","height":1200,"width":800},"summary_3x1″:{"url":"https://gray-kvly-prod.cdn.arcpublishing.com/resizer/QNdgcA3QUcgG7II3FVtUu7Yaxj4=/800×267/smart/s3.amazonaws.com/arc-authors/gray/9f529356-5b98-4ae9-8959-2a82d30b6acb.jpg","height":267,"width":800},"summary_3x2″:{"url":"https://gray-kvly-prod.cdn.arcpublishing.com/resizer/6_AujlNqvNKZ3j1wdVU7vwaKNYE=/800×533/smart/s3.amazonaws.com/arc-authors/gray/9f529356-5b98-4ae9-8959-2a82d30b6acb.jpg","height":533,"width":800},"summary_4x1″:{"url":"https://gray-kvly-prod.cdn.arcpublishing.com/resizer/5Jx-W5n11LWWA6t6ThTRD66yPpU=/800×200/smart/s3.amazonaws.com/arc-authors/gray/9f529356-5b98-4ae9-8959-2a82d30b6acb.jpg","height":200,"width":800},"summary_4x3″:{"url":"https://gray-kvly-prod.cdn.arcpublishing.com/resizer/zDDxMKyTMFGHZOVSGBrjh8sTSsM=/800×600/smart/s3.amazonaws.com/arc-authors/gray/9f529356-5b98-4ae9-8959-2a82d30b6acb.jpg","height":600,"width":800},"summary_16x9″:{"url":"https://gray-kvly-prod.cdn.arcpublishing.com/resizer/iqhX-j65DBSjsy1J6hKD41LpLkM=/800×450/smart/s3.amazonaws.com/arc-authors/gray/9f529356-5b98-4ae9-8959-2a82d30b6acb.jpg","height":450,"width":800},"summary_default":{"url":"https://gray-kvly-prod.cdn.arcpublishing.com/resizer/HUhENhVCyVqa7lWDRb2AsITA1e8=/980×0/smart/s3.amazonaws.com/arc-authors/gray/9f529356-5b98-4ae9-8959-2a82d30b6acb.jpg","height":0,"width":980}}},"description":"","url":"","slug":"","social_links":[{"site":"email","url":"jordan.schroeer@valleynewslive.com"}],"socialLinks":[{"site":"email","url":"jordan.schroeer@valleynewslive.com","deprecated":true,"deprecation_msg":"Please use social_links."}],"additional_properties":{"unique":{"_id":"jordan.schroeer","firstName":"Jordan","lastName":"Schroeer","byline":"Jordan Schroeer","function":"Valley At the moment Anchor","picture":"https://s3.amazonaws.com/arc-authors/grey/9f529356-5b98-4ae9-8959-2a82d30b6acb.jpg","electronic mail":"jordan.schroeer@valleynewslive.com","affiliations":"","schooling":[],"awards":[],"books":[],"podcasts":[],"bio_page":"","bio":"","longBio":"","slug":"","native_app_rendering":false,"fuzzy_match":false,"contributor":false,"standing":true,"last_updated_date":"2021-01-05T16:00:13.237Z","custom_gray_stationname":"kvly","custom_gray_stationdepartment":"information","custom_gray_displaypriority":"4″,"location":"Fargo, North Dakota"}}}]},"display_date":"2021-04-06T14:09:07.805Z","description":{"primary":"The assertion urges Catholics to seek the advice of their pastor if questions come up about their private state of affairs."},"headlines":{"primary":"Fargo Catholic Diocese reinstates obligation to attend mass"},"promo_items":{"primary":{"_id":"J25IY5XQ4VDQXFAPJEJ65MELIU","additional_properties":{"fullSizeResizeUrl":"/resizer/mWAOt2v43udzrGnWrq8ph-HfKdo=/arc-anglerfish-arc2-prod-gray/public/J25IY5XQ4VDQXFAPJEJ65MELIU.jpg","galleries":[],"ingestionMethod":"guide","mime_type":"picture/jpeg","originalName":"John Folda internet.jpg","originalUrl":"https://cloudfront-us-east-1.pictures.arcpublishing.com/grey/J25IY5XQ4VDQXFAPJEJ65MELIU.jpg","proprietor":"jordan.schroeer@valleynewslive.com","proxyUrl":"/resizer/mWAOt2v43udzrGnWrq8ph-HfKdo=/arc-anglerfish-arc2-prod-gray/public/J25IY5XQ4VDQXFAPJEJ65MELIU.jpg","revealed":true,"resizeUrl":"/resizer/mWAOt2v43udzrGnWrq8ph-HfKdo=/arc-anglerfish-arc2-prod-gray/public/J25IY5XQ4VDQXFAPJEJ65MELIU.jpg","restricted":false,"thumbnailResizeUrl":"/resizer/COzUXU4Q3Flqq8RAQmQIg9i4hXM=/300×0/arc-anglerfish-arc2-prod-gray/public/J25IY5XQ4VDQXFAPJEJ65MELIU.jpg","usage_instructions":"Anybody can use","model":0,"template_id":453},"tackle":{},"caption":"Bishop John T. Folda","created_date":"2021-04-06T14:08:52Z","credit":{"affiliation":[{"name":"Fargo Catholic Diocese","type":"author"}]},"top":460,"image_type":"{photograph}","last_updated_date":"2021-04-06T14:08:52Z","licensable":false,"proprietor":{"id":"grey","sponsored":false},"supply":{"additional_properties":{"editor":"picture middle"},"edit_url":"https://grey.arcpublishing.com/picture/J25IY5XQ4VDQXFAPJEJ65MELIU","system":"picture middle"},"subtitle":"Bishop John Folda","taxonomy":{"associated_tasks":[]},"kind":"picture","url":"https://cloudfront-us-east-1.pictures.arcpublishing.com/grey/J25IY5XQ4VDQXFAPJEJ65MELIU.jpg","model":"0.10.3″,"width":800,"syndication":{},"creditIPTC":"Fargo Catholic Diocese","resized_urls":{"unique":"https://cloudfront-us-east-1.pictures.arcpublishing.com/grey/J25IY5XQ4VDQXFAPJEJ65MELIU.jpg","small":{"url":"https://gray-kvly-prod.cdn.arcpublishing.com/resizer/xCo5CQ7VGqWxdC0dC1MAzY00-28=/50×50/sensible/cloudfront-us-east-1.pictures.arcpublishing.com/grey/J25IY5XQ4VDQXFAPJEJ65MELIU.jpg","top":50,"width":50},"gallery_4x3″:{"url":"https://gray-kvly-prod.cdn.arcpublishing.com/resizer/smJjndvhmRyMDr9DFhfWR19SDRI=/1000×750/sensible/cloudfront-us-east-1.pictures.arcpublishing.com/grey/J25IY5XQ4VDQXFAPJEJ65MELIU.jpg","top":750,"width":1000},"giant":{"url":"https://gray-kvly-prod.cdn.arcpublishing.com/resizer/D4jmuNfKKaHuGedzmawFlCIXI-o=/800×0/sensible/cloudfront-us-east-1.pictures.arcpublishing.com/grey/J25IY5XQ4VDQXFAPJEJ65MELIU.jpg","top":0,"width":800},"large_1x1″:{"url":"https://gray-kvly-prod.cdn.arcpublishing.com/resizer/Ww9gFqe28bPg991F6UG7_c_tRGI=/1200×1200/sensible/cloudfront-us-east-1.pictures.arcpublishing.com/grey/J25IY5XQ4VDQXFAPJEJ65MELIU.jpg","top":1200,"width":1200},"large_2x1″:{"url":"https://gray-kvly-prod.cdn.arcpublishing.com/resizer/36aR4e2H1pKWBAqXrY54yweHkLA=/1200×600/sensible/cloudfront-us-east-1.pictures.arcpublishing.com/grey/J25IY5XQ4VDQXFAPJEJ65MELIU.jpg","top":600,"width":1200},"large_2x3″:{"url":"https://gray-kvly-prod.cdn.arcpublishing.com/resizer/uFfPAwiBgkQrH73DCTTJh2Xe8xA=/1200×1800/sensible/cloudfront-us-east-1.pictures.arcpublishing.com/grey/J25IY5XQ4VDQXFAPJEJ65MELIU.jpg","top":1800,"width":1200},"large_3x1″:{"url":"https://gray-kvly-prod.cdn.arcpublishing.com/resizer/aBt44Cl61IaTKGG7OxvKa3MmEEc=/1200×400/sensible/cloudfront-us-east-1.pictures.arcpublishing.com/grey/J25IY5XQ4VDQXFAPJEJ65MELIU.jpg","top":400,"width":1200},"large_3x2″:{"url":"https://gray-kvly-prod.cdn.arcpublishing.com/resizer/X4SnE9fVAPl4_Nfk9jjbAXKSCFA=/1200×800/sensible/cloudfront-us-east-1.pictures.arcpublishing.com/grey/J25IY5XQ4VDQXFAPJEJ65MELIU.jpg","top":800,"width":1200},"large_4x3″:{"url":"https://gray-kvly-prod.cdn.arcpublishing.com/resizer/64ny1OOYZ_Lsc6gtxJ9rYbgXLmY=/1200×900/sensible/cloudfront-us-east-1.pictures.arcpublishing.com/grey/J25IY5XQ4VDQXFAPJEJ65MELIU.jpg","top":900,"width":1200},"large_16x9″:{"url":"https://gray-kvly-prod.cdn.arcpublishing.com/resizer/3UojqYYP9Y0miwxMkpFjnKXf_8s=/1200×675/sensible/cloudfront-us-east-1.pictures.arcpublishing.com/grey/J25IY5XQ4VDQXFAPJEJ65MELIU.jpg","top":675,"width":1200},"major":{"url":"https://gray-kvly-prod.cdn.arcpublishing.com/resizer/N94HAai9ReEKmDAdavxomRf1bIs=/980×0/sensible/cloudfront-us-east-1.pictures.arcpublishing.com/grey/J25IY5XQ4VDQXFAPJEJ65MELIU.jpg","top":0,"width":980},"summary_1x1″:{"url":"https://gray-kvly-prod.cdn.arcpublishing.com/resizer/ezTgNR1jfj8EokSTCmgcZvhRb7o=/800×800/sensible/cloudfront-us-east-1.pictures.arcpublishing.com/grey/J25IY5XQ4VDQXFAPJEJ65MELIU.jpg","top":800,"width":800},"summary_2x1″:{"url":"https://gray-kvly-prod.cdn.arcpublishing.com/resizer/BIvWUChH8lQV2LVdOa-ywrdC5NU=/800×400/sensible/cloudfront-us-east-1.pictures.arcpublishing.com/grey/J25IY5XQ4VDQXFAPJEJ65MELIU.jpg","top":400,"width":800},"summary_2x3″:{"url":"https://gray-kvly-prod.cdn.arcpublishing.com/resizer/dva3jEpZh5SEbFO6EL4U3MeFhBo=/800×1200/sensible/cloudfront-us-east-1.pictures.arcpublishing.com/grey/J25IY5XQ4VDQXFAPJEJ65MELIU.jpg","top":1200,"width":800},"summary_3x1″:{"url":"https://gray-kvly-prod.cdn.arcpublishing.com/resizer/0OET3zyGURhQbWlSrXKXoMxGJ80=/800×267/sensible/cloudfront-us-east-1.pictures.arcpublishing.com/grey/J25IY5XQ4VDQXFAPJEJ65MELIU.jpg","top":267,"width":800},"summary_3x2″:{"url":"https://gray-kvly-prod.cdn.arcpublishing.com/resizer/GPSYyApC4Vv2Vj6M3hHkpqxuuvw=/800×533/sensible/cloudfront-us-east-1.pictures.arcpublishing.com/grey/J25IY5XQ4VDQXFAPJEJ65MELIU.jpg","top":533,"width":800},"summary_4x1″:{"url":"https://gray-kvly-prod.cdn.arcpublishing.com/resizer/ciOQvWvPx69inPJuxqwaLJ_Nn5w=/800×200/sensible/cloudfront-us-east-1.pictures.arcpublishing.com/grey/J25IY5XQ4VDQXFAPJEJ65MELIU.jpg","top":200,"width":800},"summary_4x3″:{"url":"https://gray-kvly-prod.cdn.arcpublishing.com/resizer/cKbB-6JySoNBF0FJwbCHJa91cow=/800×600/sensible/cloudfront-us-east-1.pictures.arcpublishing.com/grey/J25IY5XQ4VDQXFAPJEJ65MELIU.jpg","top":600,"width":800},"summary_16x9″:{"url":"https://gray-kvly-prod.cdn.arcpublishing.com/resizer/bgPnyz2lAW1vSS7Rv5JMBF3rg14=/800×450/sensible/cloudfront-us-east-1.pictures.arcpublishing.com/grey/J25IY5XQ4VDQXFAPJEJ65MELIU.jpg","top":450,"width":800},"summary_default":{"url":"https://gray-kvly-prod.cdn.arcpublishing.com/resizer/N94HAai9ReEKmDAdavxomRf1bIs=/980×0/sensible/cloudfront-us-east-1.pictures.arcpublishing.com/grey/J25IY5XQ4VDQXFAPJEJ65MELIU.jpg","top":0,"width":980}}}},"supply":{"system":"composer"},"subheadlines":{"primary":""},"taxonomy":{"tags":[]},"kind":"story","model":"0.10.7″,"web site":"kvly","web sites":{"kvly":{"website_section":{"_id":"https://www.valleynewslive.com/information/valley-today","_website":"kvly","kind":"part","model":"0.6.0″,"identify":"Valley At the moment","path":"https://www.valleynewslive.com/information/valley-today","parent_id":"https://www.valleynewslive.com/information","father or mother":{"default":"https://www.valleynewslive.com/information"},"additional_properties":{"unique":{"_id":"https://www.valleynewslive.com/information/valley-today","_website":"kvly","identify":"Valley At the moment","website":{"site_title":"Valley At the moment"},"navigation":{"nav_title":"Valley At the moment"},"node_type":"part","order":{"default":2002,"publishing-sections":1069,"navigation-menu-links":1019},"ancestors":{"default":["https://www.valleynewslive.com/","https://www.valleynewslive.com/news"],"publishing-sections":["https://www.valleynewslive.com/"],"navigation-menu-links":["https://www.valleynewslive.com/"]},"father or mother":{"default":"https://www.valleynewslive.com/information","publishing-sections":"https://www.valleynewslive.com/","navigation-menu-links":"https://www.valleynewslive.com/"},"_admin":{"dfp_id":"https://www.valleynewslive.com/information/valley-today"},"inactive":false}},"_website_section_id":"kvly./information/valley-today"},"website_url":"https://www.valleynewslive.com/2021/04/06/fargo-catholic-diocese-reinstates-obligation-to-attend-mass/"}},"_id":"QWHMXW5CABHEPCTIY25GEPVQWM","content_elements":[],"website_url":"https://www.valleynewslive.com/2021/04/06/fargo-catholic-diocese-reinstates-obligation-to-attend-mass/","hasVideo":false,"hasVideoCenterVideo":false,"hasClickabilityVideo":false,"hasPowaLiveVideoPlayer":false,"pageviews":7108},{"credit":{"by":[{"_id":"jordan.schroeer","type":"author","version":"0.5.8″,"name":"Jordan Schroeer","org":"Fargo, North Dakota","image":{"url":"https://s3.amazonaws.com/arc-authors/gray/9f529356-5b98-4ae9-8959-2a82d30b6acb.jpg","version":"0.5.8″,"resized_urls":{"original":"https://s3.amazonaws.com/arc-authors/gray/9f529356-5b98-4ae9-8959-2a82d30b6acb.jpg","small":{"url":"https://gray-kvly-prod.cdn.arcpublishing.com/resizer/odY6TOfaswBMVXThs7xdXqGzqXg=/50×50/smart/s3.amazonaws.com/arc-authors/gray/9f529356-5b98-4ae9-8959-2a82d30b6acb.jpg","height":50,"width":50},"gallery_4x3″:{"url":"https://gray-kvly-prod.cdn.arcpublishing.com/resizer/U1cZZDztLLtfSEYLBq2TzGYj9QQ=/1000×750/smart/s3.amazonaws.com/arc-authors/gray/9f529356-5b98-4ae9-8959-2a82d30b6acb.jpg","height":750,"width":1000},"large":{"url":"https://gray-kvly-prod.cdn.arcpublishing.com/resizer/m4k_2XMV6VeuHT996KJmcW7x0GM=/800×0/smart/s3.amazonaws.com/arc-authors/gray/9f529356-5b98-4ae9-8959-2a82d30b6acb.jpg","height":0,"width":800},"large_1x1″:{"url":"https://gray-kvly-prod.cdn.arcpublishing.com/resizer/etFUG0sOwOW7hMx_OZtvnNJrnMQ=/1200×1200/smart/s3.amazonaws.com/arc-authors/gray/9f529356-5b98-4ae9-8959-2a82d30b6acb.jpg","height":1200,"width":1200},"large_2x1″:{"url":"https://gray-kvly-prod.cdn.arcpublishing.com/resizer/RttfOSlvEva3owUXpOGvqxkkxq8=/1200×600/smart/s3.amazonaws.com/arc-authors/gray/9f529356-5b98-4ae9-8959-2a82d30b6acb.jpg","height":600,"width":1200},"large_2x3″:{"url":"https://gray-kvly-prod.cdn.arcpublishing.com/resizer/RSB2CNTnwYB4psyhPq1vUYFfp9o=/1200×1800/smart/s3.amazonaws.com/arc-authors/gray/9f529356-5b98-4ae9-8959-2a82d30b6acb.jpg","height":1800,"width":1200},"large_3x1″:{"url":"https://gray-kvly-prod.cdn.arcpublishing.com/resizer/DR-aq30u5VExmai7TqqwQoMi0tE=/1200×400/smart/s3.amazonaws.com/arc-authors/gray/9f529356-5b98-4ae9-8959-2a82d30b6acb.jpg","height":400,"width":1200},"large_3x2″:{"url":"https://gray-kvly-prod.cdn.arcpublishing.com/resizer/IRwStf5r1nHDx19ESaKRAyKHELs=/1200×800/smart/s3.amazonaws.com/arc-authors/gray/9f529356-5b98-4ae9-8959-2a82d30b6acb.jpg","height":800,"width":1200},"large_4x3″:{"url":"https://gray-kvly-prod.cdn.arcpublishing.com/resizer/-M6EaLS9jtPzhX1RfHvGx6u9Dxc=/1200×900/smart/s3.amazonaws.com/arc-authors/gray/9f529356-5b98-4ae9-8959-2a82d30b6acb.jpg","height":900,"width":1200},"large_16x9″:{"url":"https://gray-kvly-prod.cdn.arcpublishing.com/resizer/XA12z9TTa6v2PV3gey8l8W66Wp4=/1200×675/smart/s3.amazonaws.com/arc-authors/gray/9f529356-5b98-4ae9-8959-2a82d30b6acb.jpg","height":675,"width":1200},"primary":{"url":"https://gray-kvly-prod.cdn.arcpublishing.com/resizer/HUhENhVCyVqa7lWDRb2AsITA1e8=/980×0/smart/s3.amazonaws.com/arc-authors/gray/9f529356-5b98-4ae9-8959-2a82d30b6acb.jpg","height":0,"width":980},"summary_1x1″:{"url":"https://gray-kvly-prod.cdn.arcpublishing.com/resizer/3SviYucfVi4AGbJ4aPDT2wtuddI=/800×800/smart/s3.amazonaws.com/arc-authors/gray/9f529356-5b98-4ae9-8959-2a82d30b6acb.jpg","height":800,"width":800},"summary_2x1″:{"url":"https://gray-kvly-prod.cdn.arcpublishing.com/resizer/eatgQbFF9e1xwMOqFY5yMYUO5XA=/800×400/smart/s3.amazonaws.com/arc-authors/gray/9f529356-5b98-4ae9-8959-2a82d30b6acb.jpg","height":400,"width":800},"summary_2x3″:{"url":"https://gray-kvly-prod.cdn.arcpublishing.com/resizer/WPzQh1RiGjr61pmf1bGiV48dO7Y=/800×1200/smart/s3.amazonaws.com/arc-authors/gray/9f529356-5b98-4ae9-8959-2a82d30b6acb.jpg","height":1200,"width":800},"summary_3x1″:{"url":"https://gray-kvly-prod.cdn.arcpublishing.com/resizer/QNdgcA3QUcgG7II3FVtUu7Yaxj4=/800×267/smart/s3.amazonaws.com/arc-authors/gray/9f529356-5b98-4ae9-8959-2a82d30b6acb.jpg","height":267,"width":800},"summary_3x2″:{"url":"https://gray-kvly-prod.cdn.arcpublishing.com/resizer/6_AujlNqvNKZ3j1wdVU7vwaKNYE=/800×533/smart/s3.amazonaws.com/arc-authors/gray/9f529356-5b98-4ae9-8959-2a82d30b6acb.jpg","height":533,"width":800},"summary_4x1″:{"url":"https://gray-kvly-prod.cdn.arcpublishing.com/resizer/5Jx-W5n11LWWA6t6ThTRD66yPpU=/800×200/smart/s3.amazonaws.com/arc-authors/gray/9f529356-5b98-4ae9-8959-2a82d30b6acb.jpg","height":200,"width":800},"summary_4x3″:{"url":"https://gray-kvly-prod.cdn.arcpublishing.com/resizer/zDDxMKyTMFGHZOVSGBrjh8sTSsM=/800×600/smart/s3.amazonaws.com/arc-authors/gray/9f529356-5b98-4ae9-8959-2a82d30b6acb.jpg","height":600,"width":800},"summary_16x9″:{"url":"https://gray-kvly-prod.cdn.arcpublishing.com/resizer/iqhX-j65DBSjsy1J6hKD41LpLkM=/800×450/smart/s3.amazonaws.com/arc-authors/gray/9f529356-5b98-4ae9-8959-2a82d30b6acb.jpg","height":450,"width":800},"summary_default":{"url":"https://gray-kvly-prod.cdn.arcpublishing.com/resizer/HUhENhVCyVqa7lWDRb2AsITA1e8=/980×0/smart/s3.amazonaws.com/arc-authors/gray/9f529356-5b98-4ae9-8959-2a82d30b6acb.jpg","height":0,"width":980}}},"description":"","url":"","slug":"","social_links":[{"site":"email","url":"jordan.schroeer@valleynewslive.com"}],"socialLinks":[{"site":"email","url":"jordan.schroeer@valleynewslive.com","deprecated":true,"deprecation_msg":"Please use social_links."}],"additional_properties":{"unique":{"_id":"jordan.schroeer","firstName":"Jordan","lastName":"Schroeer","byline":"Jordan Schroeer","function":"Valley At the moment Anchor","picture":"https://s3.amazonaws.com/arc-authors/grey/9f529356-5b98-4ae9-8959-2a82d30b6acb.jpg","electronic mail":"jordan.schroeer@valleynewslive.com","affiliations":"","schooling":[],"awards":[],"books":[],"podcasts":[],"bio_page":"","bio":"","longBio":"","slug":"","native_app_rendering":false,"fuzzy_match":false,"contributor":false,"standing":true,"last_updated_date":"2021-01-05T16:00:13.237Z","custom_gray_stationname":"kvly","custom_gray_stationdepartment":"information","custom_gray_displaypriority":"4″,"location":"Fargo, North Dakota"}}}]},"display_date":"2021-04-06T09:07:31.924Z","description":{"primary":"Firefighters from a number of departments together with Lidgerwood, Mooreton, Milnor and Barney all helped put out the flames."},"headlines":{"primary":"Fireplace destroys a number of buildings close to Wyndmere, ND"},"promo_items":{"primary":{"_id":"YZALTNNLQJDEVCILK3T5RTZVR4″,"additional_properties":{"fullSizeResizeUrl":"/resizer/Oxz49JYpVCCZw7UykIPb6rz9Aok=/arc-anglerfish-arc2-prod-gray/public/YZALTNNLQJDEVCILK3T5RTZVR4.jpg","galleries":[],"ingestionMethod":"guide","mime_type":"picture/jpeg","originalName":"Wyndmere Fireplace pics 040621.jpg","originalUrl":"https://cloudfront-us-east-1.pictures.arcpublishing.com/grey/YZALTNNLQJDEVCILK3T5RTZVR4.jpg","proprietor":"gretchen.hjelmstad@valleynewslive.com","proxyUrl":"/resizer/Oxz49JYpVCCZw7UykIPb6rz9Aok=/arc-anglerfish-arc2-prod-gray/public/YZALTNNLQJDEVCILK3T5RTZVR4.jpg","revealed":true,"resizeUrl":"/resizer/Oxz49JYpVCCZw7UykIPb6rz9Aok=/arc-anglerfish-arc2-prod-gray/public/YZALTNNLQJDEVCILK3T5RTZVR4.jpg","restricted":false,"thumbnailResizeUrl":"/resizer/fJXhwkVIHb6g9AvCgks_x9ZS6Tg=/300×0/arc-anglerfish-arc2-prod-gray/public/YZALTNNLQJDEVCILK3T5RTZVR4.jpg","usage_instructions":"None","model":0,"template_id":453},"tackle":{},"caption":"Photos of buildings destroyed by fireplace close to Wyndmere, ND on April 5, 2021.","created_date":"2021-04-06T13:27:00Z","credit":{"affiliation":[{"name":"Brett Lambrecht/Richland County","type":"author"}]},"top":460,"image_type":"{photograph}","last_updated_date":"2021-04-06T13:27:00Z","licensable":false,"proprietor":{"id":"grey","sponsored":false},"supply":{"additional_properties":{"editor":"picture middle"},"edit_url":"https://grey.arcpublishing.com/picture/YZALTNNLQJDEVCILK3T5RTZVR4″,"system":"picture middle"},"subtitle":"Wynmere Fireplace pics 040621″,"taxonomy":{"associated_tasks":[]},"kind":"picture","url":"https://cloudfront-us-east-1.pictures.arcpublishing.com/grey/YZALTNNLQJDEVCILK3T5RTZVR4.jpg","model":"0.10.3″,"width":800,"syndication":{},"creditIPTC":"Brett Lambrecht/Richland County","resized_urls":{"unique":"https://cloudfront-us-east-1.pictures.arcpublishing.com/grey/YZALTNNLQJDEVCILK3T5RTZVR4.jpg","small":{"url":"https://gray-kvly-prod.cdn.arcpublishing.com/resizer/napzP6sOZNnKR9MTs59Q25FZi10=/50×50/sensible/cloudfront-us-east-1.pictures.arcpublishing.com/grey/YZALTNNLQJDEVCILK3T5RTZVR4.jpg","top":50,"width":50},"gallery_4x3″:{"url":"https://gray-kvly-prod.cdn.arcpublishing.com/resizer/eDNCZ7svP-YbFUeXJXMHIH2dDYM=/1000×750/sensible/cloudfront-us-east-1.pictures.arcpublishing.com/grey/YZALTNNLQJDEVCILK3T5RTZVR4.jpg","top":750,"width":1000},"giant":{"url":"https://gray-kvly-prod.cdn.arcpublishing.com/resizer/7R4xUSUNGMlCafRJcD0joRxx4JE=/800×0/sensible/cloudfront-us-east-1.pictures.arcpublishing.com/grey/YZALTNNLQJDEVCILK3T5RTZVR4.jpg","top":0,"width":800},"large_1x1″:{"url":"https://gray-kvly-prod.cdn.arcpublishing.com/resizer/b8FlVWfh_fiohj8gD28e4WN3YUI=/1200×1200/sensible/cloudfront-us-east-1.pictures.arcpublishing.com/grey/YZALTNNLQJDEVCILK3T5RTZVR4.jpg","top":1200,"width":1200},"large_2x1″:{"url":"https://gray-kvly-prod.cdn.arcpublishing.com/resizer/dalumc6-H3gam8WhjBBCROBjhLQ=/1200×600/sensible/cloudfront-us-east-1.pictures.arcpublishing.com/grey/YZALTNNLQJDEVCILK3T5RTZVR4.jpg","top":600,"width":1200},"large_2x3″:{"url":"https://gray-kvly-prod.cdn.arcpublishing.com/resizer/7yP82E9k0l45iejRznGpAmNh8ms=/1200×1800/sensible/cloudfront-us-east-1.pictures.arcpublishing.com/grey/YZALTNNLQJDEVCILK3T5RTZVR4.jpg","top":1800,"width":1200},"large_3x1″:{"url":"https://gray-kvly-prod.cdn.arcpublishing.com/resizer/ZfbYpung9iJfhMtSqCr29iHAPRY=/1200×400/sensible/cloudfront-us-east-1.pictures.arcpublishing.com/grey/YZALTNNLQJDEVCILK3T5RTZVR4.jpg","top":400,"width":1200},"large_3x2″:{"url":"https://gray-kvly-prod.cdn.arcpublishing.com/resizer/d6g1chG4jT2JxnPSK-qLAefATNk=/1200×800/sensible/cloudfront-us-east-1.pictures.arcpublishing.com/grey/YZALTNNLQJDEVCILK3T5RTZVR4.jpg","top":800,"width":1200},"large_4x3″:{"url":"https://gray-kvly-prod.cdn.arcpublishing.com/resizer/tcRyMhOn7p0zigh4pe0JFCO1P1w=/1200×900/sensible/cloudfront-us-east-1.pictures.arcpublishing.com/grey/YZALTNNLQJDEVCILK3T5RTZVR4.jpg","top":900,"width":1200},"large_16x9″:{"url":"https://gray-kvly-prod.cdn.arcpublishing.com/resizer/Y9f5QrVKVO7183663uQRFe96gXw=/1200×675/sensible/cloudfront-us-east-1.pictures.arcpublishing.com/grey/YZALTNNLQJDEVCILK3T5RTZVR4.jpg","top":675,"width":1200},"major":{"url":"https://gray-kvly-prod.cdn.arcpublishing.com/resizer/tEzNbxI1vRTzNxLEL8LJ2Xylf_U=/980×0/sensible/cloudfront-us-east-1.pictures.arcpublishing.com/grey/YZALTNNLQJDEVCILK3T5RTZVR4.jpg","top":0,"width":980},"summary_1x1″:{"url":"https://gray-kvly-prod.cdn.arcpublishing.com/resizer/4rnTJhXJvRinhy6x6togY2dQ4Mw=/800×800/sensible/cloudfront-us-east-1.pictures.arcpublishing.com/grey/YZALTNNLQJDEVCILK3T5RTZVR4.jpg","top":800,"width":800},"summary_2x1″:{"url":"https://gray-kvly-prod.cdn.arcpublishing.com/resizer/ZXIr-C_o8aHghfJAT3gP-gDFLes=/800×400/sensible/cloudfront-us-east-1.pictures.arcpublishing.com/grey/YZALTNNLQJDEVCILK3T5RTZVR4.jpg","top":400,"width":800},"summary_2x3″:{"url":"https://gray-kvly-prod.cdn.arcpublishing.com/resizer/m0tnZKDL9RC-2-tYRcfU9CBohg8=/800×1200/sensible/cloudfront-us-east-1.pictures.arcpublishing.com/grey/YZALTNNLQJDEVCILK3T5RTZVR4.jpg","top":1200,"width":800},"summary_3x1″:{"url":"https://gray-kvly-prod.cdn.arcpublishing.com/resizer/2T7UiOn6uXmvckH64jzrPGsMEIM=/800×267/sensible/cloudfront-us-east-1.pictures.arcpublishing.com/grey/YZALTNNLQJDEVCILK3T5RTZVR4.jpg","top":267,"width":800},"summary_3x2″:{"url":"https://gray-kvly-prod.cdn.arcpublishing.com/resizer/HY3T-esF0EAs3T80MX3BNmQcVHY=/800×533/sensible/cloudfront-us-east-1.pictures.arcpublishing.com/grey/YZALTNNLQJDEVCILK3T5RTZVR4.jpg","top":533,"width":800},"summary_4x1″:{"url":"https://gray-kvly-prod.cdn.arcpublishing.com/resizer/cw-HFBcKMwGpaExs0l7JazMkigY=/800×200/sensible/cloudfront-us-east-1.pictures.arcpublishing.com/grey/YZALTNNLQJDEVCILK3T5RTZVR4.jpg","top":200,"width":800},"summary_4x3″:{"url":"https://gray-kvly-prod.cdn.arcpublishing.com/resizer/eC3gipJu8-KtXcQpQpaoalfC7J4=/800×600/sensible/cloudfront-us-east-1.pictures.arcpublishing.com/grey/YZALTNNLQJDEVCILK3T5RTZVR4.jpg","top":600,"width":800},"summary_16x9″:{"url":"https://gray-kvly-prod.cdn.arcpublishing.com/resizer/XZzDF8iCyNImI1RSmfCqBjBd73E=/800×450/sensible/cloudfront-us-east-1.pictures.arcpublishing.com/grey/YZALTNNLQJDEVCILK3T5RTZVR4.jpg","top":450,"width":800},"summary_default":{"url":"https://gray-kvly-prod.cdn.arcpublishing.com/resizer/tEzNbxI1vRTzNxLEL8LJ2Xylf_U=/980×0/sensible/cloudfront-us-east-1.pictures.arcpublishing.com/grey/YZALTNNLQJDEVCILK3T5RTZVR4.jpg","top":0,"width":980}}}},"supply":{"system":"composer"},"subheadlines":{"primary":""},"taxonomy":{"tags":[]},"kind":"story","model":"0.10.7″,"web site":"kvly","web sites":{"kvly":{"website_section":{"_id":"https://www.valleynewslive.com/information/valley-today","_website":"kvly","kind":"part","model":"0.6.0″,"identify":"Valley At the moment","path":"https://www.valleynewslive.com/information/valley-today","parent_id":"https://www.valleynewslive.com/information","father or mother":{"default":"https://www.valleynewslive.com/information"},"additional_properties":{"unique":{"_id":"https://www.valleynewslive.com/information/valley-today","_website":"kvly","identify":"Valley At the moment","website":{"site_title":"Valley At the moment"},"navigation":{"nav_title":"Valley At the moment"},"node_type":"part","order":{"default":2002,"publishing-sections":1069,"navigation-menu-links":1019},"ancestors":{"default":["https://www.valleynewslive.com/","https://www.valleynewslive.com/news"],"publishing-sections":["https://www.valleynewslive.com/"],"navigation-menu-links":["https://www.valleynewslive.com/"]},"father or mother":{"default":"https://www.valleynewslive.com/information","publishing-sections":"https://www.valleynewslive.com/","navigation-menu-links":"https://www.valleynewslive.com/"},"_admin":{"dfp_id":"https://www.valleynewslive.com/information/valley-today"},"inactive":false}},"_website_section_id":"kvly./information/valley-today"},"website_url":"https://www.valleynewslive.com/2021/04/06/fire-destroys-multiple-buildings-near-wyndmere-nd/"}},"_id":"E4TNLPNBZFDDFCTQ4KKZ4EPYC4″,"content_elements":[],"website_url":"https://www.valleynewslive.com/2021/04/06/fire-destroys-multiple-buildings-near-wyndmere-nd/","hasVideo":false,"hasVideoCenterVideo":false,"hasClickabilityVideo":false,"hasPowaLiveVideoPlayer":false,"pageviews":6313},{"credit":{"by":[{"_id":"jordan.schroeer","type":"author","version":"0.5.8″,"name":"Jordan Schroeer","org":"Fargo, North Dakota","image":{"url":"https://s3.amazonaws.com/arc-authors/gray/9f529356-5b98-4ae9-8959-2a82d30b6acb.jpg","version":"0.5.8″,"resized_urls":{"original":"https://s3.amazonaws.com/arc-authors/gray/9f529356-5b98-4ae9-8959-2a82d30b6acb.jpg","small":{"url":"https://gray-kvly-prod.cdn.arcpublishing.com/resizer/odY6TOfaswBMVXThs7xdXqGzqXg=/50×50/smart/s3.amazonaws.com/arc-authors/gray/9f529356-5b98-4ae9-8959-2a82d30b6acb.jpg","height":50,"width":50},"gallery_4x3″:{"url":"https://gray-kvly-prod.cdn.arcpublishing.com/resizer/U1cZZDztLLtfSEYLBq2TzGYj9QQ=/1000×750/smart/s3.amazonaws.com/arc-authors/gray/9f529356-5b98-4ae9-8959-2a82d30b6acb.jpg","height":750,"width":1000},"large":{"url":"https://gray-kvly-prod.cdn.arcpublishing.com/resizer/m4k_2XMV6VeuHT996KJmcW7x0GM=/800×0/smart/s3.amazonaws.com/arc-authors/gray/9f529356-5b98-4ae9-8959-2a82d30b6acb.jpg","height":0,"width":800},"large_1x1″:{"url":"https://gray-kvly-prod.cdn.arcpublishing.com/resizer/etFUG0sOwOW7hMx_OZtvnNJrnMQ=/1200×1200/smart/s3.amazonaws.com/arc-authors/gray/9f529356-5b98-4ae9-8959-2a82d30b6acb.jpg","height":1200,"width":1200},"large_2x1″:{"url":"https://gray-kvly-prod.cdn.arcpublishing.com/resizer/RttfOSlvEva3owUXpOGvqxkkxq8=/1200×600/smart/s3.amazonaws.com/arc-authors/gray/9f529356-5b98-4ae9-8959-2a82d30b6acb.jpg","height":600,"width":1200},"large_2x3″:{"url":"https://gray-kvly-prod.cdn.arcpublishing.com/resizer/RSB2CNTnwYB4psyhPq1vUYFfp9o=/1200×1800/smart/s3.amazonaws.com/arc-authors/gray/9f529356-5b98-4ae9-8959-2a82d30b6acb.jpg","height":1800,"width":1200},"large_3x1″:{"url":"https://gray-kvly-prod.cdn.arcpublishing.com/resizer/DR-aq30u5VExmai7TqqwQoMi0tE=/1200×400/smart/s3.amazonaws.com/arc-authors/gray/9f529356-5b98-4ae9-8959-2a82d30b6acb.jpg","height":400,"width":1200},"large_3x2″:{"url":"https://gray-kvly-prod.cdn.arcpublishing.com/resizer/IRwStf5r1nHDx19ESaKRAyKHELs=/1200×800/smart/s3.amazonaws.com/arc-authors/gray/9f529356-5b98-4ae9-8959-2a82d30b6acb.jpg","height":800,"width":1200},"large_4x3″:{"url":"https://gray-kvly-prod.cdn.arcpublishing.com/resizer/-M6EaLS9jtPzhX1RfHvGx6u9Dxc=/1200×900/smart/s3.amazonaws.com/arc-authors/gray/9f529356-5b98-4ae9-8959-2a82d30b6acb.jpg","height":900,"width":1200},"large_16x9″:{"url":"https://gray-kvly-prod.cdn.arcpublishing.com/resizer/XA12z9TTa6v2PV3gey8l8W66Wp4=/1200×675/smart/s3.amazonaws.com/arc-authors/gray/9f529356-5b98-4ae9-8959-2a82d30b6acb.jpg","height":675,"width":1200},"primary":{"url":"https://gray-kvly-prod.cdn.arcpublishing.com/resizer/HUhENhVCyVqa7lWDRb2AsITA1e8=/980×0/smart/s3.amazonaws.com/arc-authors/gray/9f529356-5b98-4ae9-8959-2a82d30b6acb.jpg","height":0,"width":980},"summary_1x1″:{"url":"https://gray-kvly-prod.cdn.arcpublishing.com/resizer/3SviYucfVi4AGbJ4aPDT2wtuddI=/800×800/smart/s3.amazonaws.com/arc-authors/gray/9f529356-5b98-4ae9-8959-2a82d30b6acb.jpg","height":800,"width":800},"summary_2x1″:{"url":"https://gray-kvly-prod.cdn.arcpublishing.com/resizer/eatgQbFF9e1xwMOqFY5yMYUO5XA=/800×400/smart/s3.amazonaws.com/arc-authors/gray/9f529356-5b98-4ae9-8959-2a82d30b6acb.jpg","height":400,"width":800},"summary_2x3″:{"url":"https://gray-kvly-prod.cdn.arcpublishing.com/resizer/WPzQh1RiGjr61pmf1bGiV48dO7Y=/800×1200/smart/s3.amazonaws.com/arc-authors/gray/9f529356-5b98-4ae9-8959-2a82d30b6acb.jpg","height":1200,"width":800},"summary_3x1″:{"url":"https://gray-kvly-prod.cdn.arcpublishing.com/resizer/QNdgcA3QUcgG7II3FVtUu7Yaxj4=/800×267/smart/s3.amazonaws.com/arc-authors/gray/9f529356-5b98-4ae9-8959-2a82d30b6acb.jpg","height":267,"width":800},"summary_3x2″:{"url":"https://gray-kvly-prod.cdn.arcpublishing.com/resizer/6_AujlNqvNKZ3j1wdVU7vwaKNYE=/800×533/smart/s3.amazonaws.com/arc-authors/gray/9f529356-5b98-4ae9-8959-2a82d30b6acb.jpg","height":533,"width":800},"summary_4x1″:{"url":"https://gray-kvly-prod.cdn.arcpublishing.com/resizer/5Jx-W5n11LWWA6t6ThTRD66yPpU=/800×200/smart/s3.amazonaws.com/arc-authors/gray/9f529356-5b98-4ae9-8959-2a82d30b6acb.jpg","height":200,"width":800},"summary_4x3″:{"url":"https://gray-kvly-prod.cdn.arcpublishing.com/resizer/zDDxMKyTMFGHZOVSGBrjh8sTSsM=/800×600/smart/s3.amazonaws.com/arc-authors/gray/9f529356-5b98-4ae9-8959-2a82d30b6acb.jpg","height":600,"width":800},"summary_16x9″:{"url":"https://gray-kvly-prod.cdn.arcpublishing.com/resizer/iqhX-j65DBSjsy1J6hKD41LpLkM=/800×450/smart/s3.amazonaws.com/arc-authors/gray/9f529356-5b98-4ae9-8959-2a82d30b6acb.jpg","height":450,"width":800},"summary_default":{"url":"https://gray-kvly-prod.cdn.arcpublishing.com/resizer/HUhENhVCyVqa7lWDRb2AsITA1e8=/980×0/smart/s3.amazonaws.com/arc-authors/gray/9f529356-5b98-4ae9-8959-2a82d30b6acb.jpg","height":0,"width":980}}},"description":"","url":"","slug":"","social_links":[{"site":"email","url":"jordan.schroeer@valleynewslive.com"}],"socialLinks":[{"site":"email","url":"jordan.schroeer@valleynewslive.com","deprecated":true,"deprecation_msg":"Please use social_links."}],"additional_properties":{"unique":{"_id":"jordan.schroeer","firstName":"Jordan","lastName":"Schroeer","byline":"Jordan Schroeer","function":"Valley At the moment Anchor","picture":"https://s3.amazonaws.com/arc-authors/grey/9f529356-5b98-4ae9-8959-2a82d30b6acb.jpg","electronic mail":"jordan.schroeer@valleynewslive.com","affiliations":"","schooling":[],"awards":[],"books":[],"podcasts":[],"bio_page":"","bio":"","longBio":"","slug":"","native_app_rendering":false,"fuzzy_match":false,"contributor":false,"standing":true,"last_updated_date":"2021-01-05T16:00:13.237Z","custom_gray_stationname":"kvly","custom_gray_stationdepartment":"information","custom_gray_displaypriority":"4″,"location":"Fargo, North Dakota"}}}]},"display_date":"2021-04-06T16:45:43.934Z","description":{"primary":"When authorities arrived, they noticed the fires and labored with the MN DNR to place them out."},"headlines":{"primary":"Burning leaves results in fish home, shed & woods fireplace"},"promo_items":{"primary":{"_id":"EK4I5FV6VZHY3JVJBZG7H6RZQA","additional_properties":{"fullSizeResizeUrl":"/resizer/nYTDW7eI6OKwpPuZn_4J35hLDTE=/arc-anglerfish-arc2-prod-gray/public/EK4I5FV6VZHY3JVJBZG7H6RZQA.jpg","galleries":[],"ingestionMethod":"guide","mime_type":"picture/jpeg","originalName":"Fireplace Hazard Graphic.jpg","originalUrl":"https://cloudfront-us-east-1.pictures.arcpublishing.com/grey/EK4I5FV6VZHY3JVJBZG7H6RZQA.jpg","proprietor":"jordan.schroeer@valleynewslive.com","proxyUrl":"/resizer/nYTDW7eI6OKwpPuZn_4J35hLDTE=/arc-anglerfish-arc2-prod-gray/public/EK4I5FV6VZHY3JVJBZG7H6RZQA.jpg","revealed":true,"resizeUrl":"/resizer/nYTDW7eI6OKwpPuZn_4J35hLDTE=/arc-anglerfish-arc2-prod-gray/public/EK4I5FV6VZHY3JVJBZG7H6RZQA.jpg","restricted":false,"thumbnailResizeUrl":"/resizer/4MGxKSWTNFnymBynKmJQQIedjsM=/300×0/arc-anglerfish-arc2-prod-gray/public/EK4I5FV6VZHY3JVJBZG7H6RZQA.jpg","usage_instructions":"Anybody can use","model":0,"template_id":453},"tackle":{},"caption":"Fireplace hazard graphic","created_date":"2021-03-30T13:53:19Z","credit":{"affiliation":[{"name":"VNL","type":"author"}]},"top":460,"image_type":"{photograph}","last_updated_date":"2021-03-30T13:53:19Z","licensable":false,"proprietor":{"id":"grey","sponsored":false},"supply":{"additional_properties":{"editor":"picture middle"},"edit_url":"https://grey.arcpublishing.com/picture/EK4I5FV6VZHY3JVJBZG7H6RZQA","system":"picture middle"},"subtitle":"Fireplace Hazard Graphic","taxonomy":{"associated_tasks":[]},"kind":"picture","url":"https://cloudfront-us-east-1.pictures.arcpublishing.com/grey/EK4I5FV6VZHY3JVJBZG7H6RZQA.jpg","model":"0.10.3″,"width":800,"syndication":{},"creditIPTC":"VNL","resized_urls":{"unique":"https://cloudfront-us-east-1.pictures.arcpublishing.com/grey/EK4I5FV6VZHY3JVJBZG7H6RZQA.jpg","small":{"url":"https://gray-kvly-prod.cdn.arcpublishing.com/resizer/G_28kTmQwieUnjHHUwOdRJtJQNk=/50×50/sensible/cloudfront-us-east-1.pictures.arcpublishing.com/grey/EK4I5FV6VZHY3JVJBZG7H6RZQA.jpg","top":50,"width":50},"gallery_4x3″:{"url":"https://gray-kvly-prod.cdn.arcpublishing.com/resizer/S6qa9FPb7sOBH9TrDUYKjgEgBJQ=/1000×750/sensible/cloudfront-us-east-1.pictures.arcpublishing.com/grey/EK4I5FV6VZHY3JVJBZG7H6RZQA.jpg","top":750,"width":1000},"giant":{"url":"https://gray-kvly-prod.cdn.arcpublishing.com/resizer/N0HYxXnmPMCT9sN-QxD1yRcK0v8=/800×0/sensible/cloudfront-us-east-1.pictures.arcpublishing.com/grey/EK4I5FV6VZHY3JVJBZG7H6RZQA.jpg","top":0,"width":800},"large_1x1″:{"url":"https://gray-kvly-prod.cdn.arcpublishing.com/resizer/f-QJ6nJ4KFRcWhX2NXFV9PrYLzM=/1200×1200/sensible/cloudfront-us-east-1.pictures.arcpublishing.com/grey/EK4I5FV6VZHY3JVJBZG7H6RZQA.jpg","top":1200,"width":1200},"large_2x1″:{"url":"https://gray-kvly-prod.cdn.arcpublishing.com/resizer/jtd8q6oMf9_c3cK1j0yoLdwAcmI=/1200×600/sensible/cloudfront-us-east-1.pictures.arcpublishing.com/grey/EK4I5FV6VZHY3JVJBZG7H6RZQA.jpg","top":600,"width":1200},"large_2x3″:{"url":"https://gray-kvly-prod.cdn.arcpublishing.com/resizer/kMh2I3dRZSZmvr4RQ2kxVSKHAz0=/1200×1800/sensible/cloudfront-us-east-1.pictures.arcpublishing.com/grey/EK4I5FV6VZHY3JVJBZG7H6RZQA.jpg","top":1800,"width":1200},"large_3x1″:{"url":"https://gray-kvly-prod.cdn.arcpublishing.com/resizer/tW41wtjjXtHV_-m5dWZIdMrM-Z8=/1200×400/sensible/cloudfront-us-east-1.pictures.arcpublishing.com/grey/EK4I5FV6VZHY3JVJBZG7H6RZQA.jpg","top":400,"width":1200},"large_3x2″:{"url":"https://gray-kvly-prod.cdn.arcpublishing.com/resizer/faPMbZn8L_mzG1d_KAJBXmv2niA=/1200×800/sensible/cloudfront-us-east-1.pictures.arcpublishing.com/grey/EK4I5FV6VZHY3JVJBZG7H6RZQA.jpg","top":800,"width":1200},"large_4x3″:{"url":"https://gray-kvly-prod.cdn.arcpublishing.com/resizer/EZQE_uqL94JN6i_ZhU68QCiEnBQ=/1200×900/sensible/cloudfront-us-east-1.pictures.arcpublishing.com/grey/EK4I5FV6VZHY3JVJBZG7H6RZQA.jpg","top":900,"width":1200},"large_16x9″:{"url":"https://gray-kvly-prod.cdn.arcpublishing.com/resizer/czQbooQ2mB77v-LsVhoiy0J5RIQ=/1200×675/sensible/cloudfront-us-east-1.pictures.arcpublishing.com/grey/EK4I5FV6VZHY3JVJBZG7H6RZQA.jpg","top":675,"width":1200},"major":{"url":"https://gray-kvly-prod.cdn.arcpublishing.com/resizer/vxQVhqnr7G2XGdLbLgoIZNBVslM=/980×0/sensible/cloudfront-us-east-1.pictures.arcpublishing.com/grey/EK4I5FV6VZHY3JVJBZG7H6RZQA.jpg","top":0,"width":980},"summary_1x1″:{"url":"https://gray-kvly-prod.cdn.arcpublishing.com/resizer/qldXSQD7VqwQDc-ISiJlJ9-d2Jg=/800×800/sensible/cloudfront-us-east-1.pictures.arcpublishing.com/grey/EK4I5FV6VZHY3JVJBZG7H6RZQA.jpg","top":800,"width":800},"summary_2x1″:{"url":"https://gray-kvly-prod.cdn.arcpublishing.com/resizer/wM5qdPAGP28TlWaJBvOxZANixaQ=/800×400/sensible/cloudfront-us-east-1.pictures.arcpublishing.com/grey/EK4I5FV6VZHY3JVJBZG7H6RZQA.jpg","top":400,"width":800},"summary_2x3″:{"url":"https://gray-kvly-prod.cdn.arcpublishing.com/resizer/tmgdo4AsX-CSF0Yb3KzaKXtWmqQ=/800×1200/sensible/cloudfront-us-east-1.pictures.arcpublishing.com/grey/EK4I5FV6VZHY3JVJBZG7H6RZQA.jpg","top":1200,"width":800},"summary_3x1″:{"url":"https://gray-kvly-prod.cdn.arcpublishing.com/resizer/TDVI9kruZnCkicjjWRWhxi6BFDk=/800×267/sensible/cloudfront-us-east-1.pictures.arcpublishing.com/grey/EK4I5FV6VZHY3JVJBZG7H6RZQA.jpg","top":267,"width":800},"summary_3x2″:{"url":"https://gray-kvly-prod.cdn.arcpublishing.com/resizer/ayWKBM3sczkBkqq7-KHgGGH8FlI=/800×533/sensible/cloudfront-us-east-1.pictures.arcpublishing.com/grey/EK4I5FV6VZHY3JVJBZG7H6RZQA.jpg","top":533,"width":800},"summary_4x1″:{"url":"https://gray-kvly-prod.cdn.arcpublishing.com/resizer/Qyw7be2NpTad7qQGEiN2w1EslXQ=/800×200/sensible/cloudfront-us-east-1.pictures.arcpublishing.com/grey/EK4I5FV6VZHY3JVJBZG7H6RZQA.jpg","top":200,"width":800},"summary_4x3″:{"url":"https://gray-kvly-prod.cdn.arcpublishing.com/resizer/GEaHDQrGswevucPRqncGHO_Vm3Q=/800×600/sensible/cloudfront-us-east-1.pictures.arcpublishing.com/grey/EK4I5FV6VZHY3JVJBZG7H6RZQA.jpg","top":600,"width":800},"summary_16x9″:{"url":"https://gray-kvly-prod.cdn.arcpublishing.com/resizer/W9Qg35zgGZAVyYXHIPQBrugQFUA=/800×450/sensible/cloudfront-us-east-1.pictures.arcpublishing.com/grey/EK4I5FV6VZHY3JVJBZG7H6RZQA.jpg","top":450,"width":800},"summary_default":{"url":"https://gray-kvly-prod.cdn.arcpublishing.com/resizer/vxQVhqnr7G2XGdLbLgoIZNBVslM=/980×0/sensible/cloudfront-us-east-1.pictures.arcpublishing.com/grey/EK4I5FV6VZHY3JVJBZG7H6RZQA.jpg","top":0,"width":980}}}},"supply":{"system":"composer"},"subheadlines":{"primary":""},"taxonomy":{"tags":[]},"kind":"story","model":"0.10.7″,"web site":"kvly","web sites":{"kvly":{"website_section":{"_id":"https://www.valleynewslive.com/information","_website":"kvly","kind":"part","model":"0.6.0″,"identify":"Information","path":"https://www.valleynewslive.com/information","parent_id":"https://www.valleynewslive.com/","father or mother":{"default":"https://www.valleynewslive.com/"},"additional_properties":{"unique":{"_id":"https://www.valleynewslive.com/information","website": Information ,"navigation":{"nav_title":"Information"},"_admin":{"dfp_id":"https://www.valleynewslive.com/information"},"_website":"kvly","identify":"Information","order":{"default":1001,"publishing-sections":1132,"navigation-menu-links":1003,"footer-content-links":1002},"father or mother":{"default":"https://www.valleynewslive.com/","publishing-sections":"https://www.valleynewslive.com/","navigation-menu-links":"https://www.valleynewslive.com/","footer-content-links":"https://www.valleynewslive.com/"},"ancestors":{"default":["https://www.valleynewslive.com/"],"publishing-sections":["https://www.valleynewslive.com/"],"navigation-menu-links":["https://www.valleynewslive.com/"],"footer-content-links":["https://www.valleynewslive.com/"]},"inactive":false,"node_type":"part"}},"_website_section_id":"kvly./information"},"website_url":"https://www.valleynewslive.com/2021/04/06/burning-leaves-leads-to-fish-house-shed-woods-fire/"}},"_id":"EAACJIQALJHU7PNO6W2TQQWS4M","content_elements":[],"website_url":"https://www.valleynewslive.com/2021/04/06/burning-leaves-leads-to-fish-house-shed-woods-fire/","hasVideo":false,"hasVideoCenterVideo":false,"hasClickabilityVideo":false,"hasPowaLiveVideoPlayer":false,"pageviews":5467}],"dataTransformedAt":"2021-04-08T03:58:48.065Z","_id":"19fa75483454b5a79437c717d8bb2a41df896b8b54251edba1d4eda6e3d446ab"},"expires":1617855227869,"lastModified":1617854327869}},"sponsored-content-gdm":{"{"index":0,"revealed":true}":{"knowledge":{"hasError":true,"response":{"standing":204,"statusText":"There is no such thing as a content material scheduled for KVLY at the moment."},"statusCode":204,"message":"There is no such thing as a content material scheduled for KVLY at the moment.","_id":"577e40f607689029a187e342907c31441a67f3a4e39194e7d47ad66e47153de7″},"expires":1617854657286,"lastModified":1617854357286}},"content-feed":{"{"excludeSections":"","feedOffset":0,"feedSize":5,"includeSections":""/","/information"","includedTypes":""}":{"knowledge":{"kind":"outcomes","model":"0.6.0″,"content_elements":[{"content_elements":[{"type":"text"},{"type":"text"},{"type":"text"},{"type":"text"},{"type":"image"},{"type":"text"},{"type":"text"},{"type":"text"},{"type":"text"},{"type":"oembed_response"},{"type":"text"},{"type":"text"}],"display_date":"2021-04-08T03:25:52.506Z","credit":{"by":[{"image":{"version":"0.5.8″,"url":"https://s3.amazonaws.com/arc-authors/gray/af2e4ad0-669d-4c30-acc0-709ed32d4b28.jpg","resized_urls":{"original":"https://s3.amazonaws.com/arc-authors/gray/af2e4ad0-669d-4c30-acc0-709ed32d4b28.jpg","small":{"url":"https://gray-kvly-prod.cdn.arcpublishing.com/resizer/TSAHu88-1XdpPjshjzT-GInBLYc=/50×50/smart/s3.amazonaws.com/arc-authors/gray/af2e4ad0-669d-4c30-acc0-709ed32d4b28.jpg","height":50,"width":50},"gallery_4x3″:{"url":"https://gray-kvly-prod.cdn.arcpublishing.com/resizer/DkFffjUmHbn51_y-rYWcP_RtT-s=/1000×750/smart/s3.amazonaws.com/arc-authors/gray/af2e4ad0-669d-4c30-acc0-709ed32d4b28.jpg","height":750,"width":1000},"large":{"url":"https://gray-kvly-prod.cdn.arcpublishing.com/resizer/8m3Cf4IfLgFQTpJWwRMkSCi3Lk8=/800×0/smart/s3.amazonaws.com/arc-authors/gray/af2e4ad0-669d-4c30-acc0-709ed32d4b28.jpg","height":0,"width":800},"large_1x1″:{"url":"https://gray-kvly-prod.cdn.arcpublishing.com/resizer/MJkpjpkIyq_SBzKqttzBaQQu-sI=/1200×1200/smart/s3.amazonaws.com/arc-authors/gray/af2e4ad0-669d-4c30-acc0-709ed32d4b28.jpg","height":1200,"width":1200},"large_2x1″:{"url":"https://gray-kvly-prod.cdn.arcpublishing.com/resizer/ezNVmesbkcjI1y2owjVandzL7EU=/1200×600/smart/s3.amazonaws.com/arc-authors/gray/af2e4ad0-669d-4c30-acc0-709ed32d4b28.jpg","height":600,"width":1200},"large_2x3″:{"url":"https://gray-kvly-prod.cdn.arcpublishing.com/resizer/bLMn7CJgcs_XrYt0qDRYJX66yIk=/1200×1800/smart/s3.amazonaws.com/arc-authors/gray/af2e4ad0-669d-4c30-acc0-709ed32d4b28.jpg","height":1800,"width":1200},"large_3x1″:{"url":"https://gray-kvly-prod.cdn.arcpublishing.com/resizer/Sbscfgi5NV20kR5FZqIWCRvk608=/1200×400/smart/s3.amazonaws.com/arc-authors/gray/af2e4ad0-669d-4c30-acc0-709ed32d4b28.jpg","height":400,"width":1200},"large_3x2″:{"url":"https://gray-kvly-prod.cdn.arcpublishing.com/resizer/iFqBiFWM9n5D-ML1Q8zklyNN5To=/1200×800/smart/s3.amazonaws.com/arc-authors/gray/af2e4ad0-669d-4c30-acc0-709ed32d4b28.jpg","height":800,"width":1200},"large_4x3″:{"url":"https://gray-kvly-prod.cdn.arcpublishing.com/resizer/HE7RQz3Yz0n-OqeUMSZBQLXEuKg=/1200×900/smart/s3.amazonaws.com/arc-authors/gray/af2e4ad0-669d-4c30-acc0-709ed32d4b28.jpg","height":900,"width":1200},"large_16x9″:{"url":"https://gray-kvly-prod.cdn.arcpublishing.com/resizer/QqPhhu05x6vtXkdy5-Ua-_vkeAY=/1200×675/smart/s3.amazonaws.com/arc-authors/gray/af2e4ad0-669d-4c30-acc0-709ed32d4b28.jpg","height":675,"width":1200},"primary":{"url":"https://gray-kvly-prod.cdn.arcpublishing.com/resizer/0txglV15HglydAnfyH3ge_O_j_c=/980×0/smart/s3.amazonaws.com/arc-authors/gray/af2e4ad0-669d-4c30-acc0-709ed32d4b28.jpg","height":0,"width":980},"summary_1x1″:{"url":"https://gray-kvly-prod.cdn.arcpublishing.com/resizer/sSoaqaMgpuZdHjMBlNqkXdiGlQc=/800×800/smart/s3.amazonaws.com/arc-authors/gray/af2e4ad0-669d-4c30-acc0-709ed32d4b28.jpg","height":800,"width":800},"summary_2x1″:{"url":"https://gray-kvly-prod.cdn.arcpublishing.com/resizer/cfGX5OKr8LuE6f57FgP9hTlG2g4=/800×400/smart/s3.amazonaws.com/arc-authors/gray/af2e4ad0-669d-4c30-acc0-709ed32d4b28.jpg","height":400,"width":800},"summary_2x3″:{"url":"https://gray-kvly-prod.cdn.arcpublishing.com/resizer/BbN2cJnI76dMPtPHFeXFs0QErps=/800×1200/smart/s3.amazonaws.com/arc-authors/gray/af2e4ad0-669d-4c30-acc0-709ed32d4b28.jpg","height":1200,"width":800},"summary_3x1″:{"url":"https://gray-kvly-prod.cdn.arcpublishing.com/resizer/ip9uEDnKebgvOg12dBtdfqo_8Wc=/800×267/smart/s3.amazonaws.com/arc-authors/gray/af2e4ad0-669d-4c30-acc0-709ed32d4b28.jpg","height":267,"width":800},"summary_3x2″:{"url":"https://gray-kvly-prod.cdn.arcpublishing.com/resizer/ViSyljp7q62mUW8FNE_suFqRJZg=/800×533/smart/s3.amazonaws.com/arc-authors/gray/af2e4ad0-669d-4c30-acc0-709ed32d4b28.jpg","height":533,"width":800},"summary_4x1″:{"url":"https://gray-kvly-prod.cdn.arcpublishing.com/resizer/Z-zKmxFPMDmDOVEp3AiXIb2ivmw=/800×200/smart/s3.amazonaws.com/arc-authors/gray/af2e4ad0-669d-4c30-acc0-709ed32d4b28.jpg","height":200,"width":800},"summary_4x3″:{"url":"https://gray-kvly-prod.cdn.arcpublishing.com/resizer/KJ1KAJPF-08RhU4cA5pW-rYQDfc=/800×600/smart/s3.amazonaws.com/arc-authors/gray/af2e4ad0-669d-4c30-acc0-709ed32d4b28.jpg","height":600,"width":800},"summary_16x9″:{"url":"https://gray-kvly-prod.cdn.arcpublishing.com/resizer/RCcU-PzAJZeeCL-209huFQpM-L4=/800×450/smart/s3.amazonaws.com/arc-authors/gray/af2e4ad0-669d-4c30-acc0-709ed32d4b28.jpg","height":450,"width":800},"summary_default":{"url":"https://gray-kvly-prod.cdn.arcpublishing.com/resizer/0txglV15HglydAnfyH3ge_O_j_c=/980×0/smart/s3.amazonaws.com/arc-authors/gray/af2e4ad0-669d-4c30-acc0-709ed32d4b28.jpg","height":0,"width":980}}},"socialLinks":[{"site":"email","deprecated":true,"deprecation_msg":"Please use social_links.","url":"aaron@tvtv.com"}],"org":"KTVF Fairbanks","social_links":[{"site":"email","url":"aaron@tvtv.com"}],"identify":"Aaron Walling","description":"Aaron Walling has been a part of sports activities media because the Fall of 2012, the place he began with play-by-play saying for the Colony Knights in Palmer, AK. From there he went on to the College of Alaska Fairbanks for a Journalism diploma, which he obtained in 2017. He has been a sports activities reporter and commentator for a number of years. ","_id":"Aaron Walling","additional_properties":{"unique":{"lastName":"Walling","function":"KXDF Sports activities Reporter – Anchor","schooling":[{"name":"University of Alaska Fairbanks, Journalism, 2017″}],"native_app_rendering":false,"affiliations":"","bio":"Aaron Walling has been a part of sports activities media because the Fall of 2012, the place he began with play-by-play saying for the Colony Knights in Palmer, AK. From there he went on to the College of Alaska Fairbanks for a Journalism diploma, which he obtained in 2017. He has been a sports activities reporter and commentator for a number of years. ","experience":"Sports activities","custom_gray_stationname":"ktvf","contributor":false,"beat":"Sports activities","bio_page":"","last_updated_date":"2021-01-30T03:25:05.600Z","byline":"Aaron Walling","electronic mail":"aaron@tvtv.com","slug":"","picture":"https://s3.amazonaws.com/arc-authors/grey/af2e4ad0-669d-4c30-acc0-709ed32d4b28.jpg","languages":"English","longBio":"Aaron Walling has been a part of sports activities media because the Fall of 2012, the place he began with play-by-play saying for the Colony Knights in Palmer, AK. From there he went on to the College of Alaska Fairbanks for a Journalism diploma, which he obtained in 2017. Aaron's ardour for sports activities led him to unimaginable jobs because the voice for the Nanooks' males's and ladies's basketball stay stream, writing for the Information-Miner, and doing an task with BBC Radio 4 on Gov. Walker. At Channel 13, Aaron is the Sports activities Director/Anchor/Reporter, often overlaying all sports activities. Aaron began working right here on July twenty fourth. Aaron is a sports activities fanatic, rooting for his Cleveland Browns. He's additionally married to his pretty spouse Cecily.","custom_gray_stationdepartment":"sports activities","fuzzy_match":false,"author_type":"Workers","firstName":"Aaron","books":[],"podcasts":[],"awards":[],"location":"KTVF Fairbanks","_id":"Aaron Walling","standing":false}},"kind":"creator","model":"0.5.8″,"url":"","slug":""}]},"subheadlines":{"primary":""},"headlines":{"primary":"Signs from COVID-vaccine fluctuate; FM well being care officers react"},"description":{"primary":"Signs from the COVID-19 vaccine varies from slight aches to extreme complications. Healthcare officers from the Fargo-Moorhead space communicate on the topic."},"web sites":{"kvly":{"website_url":"/2021/04/08/symptoms-from-covid-vaccine-vary-fm-health-care-officials-react/","website_section":{"path":"https://www.valleynewslive.com/information","father or mother":{"default":"https://www.valleynewslive.com/"},"_website":"kvly","parent_id":"https://www.valleynewslive.com/","identify":"Information","_id":"https://www.valleynewslive.com/information","additional_properties":{"unique":{"father or mother":{"publishing-sections":"https://www.valleynewslive.com/","footer-content-links":"https://www.valleynewslive.com/","default":"https://www.valleynewslive.com/","navigation-menu-links":"https://www.valleynewslive.com/"},"website": Information ,"navigation":{"nav_title":"Information"},"_admin":{"dfp_id":"https://www.valleynewslive.com/information"},"inactive":false,"node_type":"part","_website":"kvly","identify":"Information","_id":"https://www.valleynewslive.com/information","ancestors":{"publishing-sections":["https://www.valleynewslive.com/"],"footer-content-links":["https://www.valleynewslive.com/"],"default":["https://www.valleynewslive.com/"],"navigation-menu-links":["https://www.valleynewslive.com/"]},"order":{"publishing-sections":1132,"footer-content-links":1002,"default":1001,"navigation-menu-links":1003}}},"_website_section_id":"kvly./information","kind":"part","model":"0.6.0″}}},"supply":{"system":"composer"},"taxonomy":{"tags":[]},"kind":"story","promo_items":{"primary":{"proprietor":{"sponsored":false,"id":"grey"},"tackle":{},"syndication":{},"caption":"vnl brand","supply":{"system":"picture middle","edit_url":"https://grey.arcpublishing.com/picture/PLEYGISS3ZBTTF2C4WWT5HU67M","additional_properties":{"editor":"picture middle"}},"taxonomy":{"associated_tasks":[]},"kind":"picture","model":"0.10.3″,"url":"https://cloudfront-us-east-1.pictures.arcpublishing.com/grey/PLEYGISS3ZBTTF2C4WWT5HU67M.jpg","licensable":false,"credit":{"affiliation":[{"name":"KVLY","type":"author"}]},"subtitle":"vnl brand","width":800,"creditIPTC":"KVLY","_id":"PLEYGISS3ZBTTF2C4WWT5HU67M","additional_properties":{"fullSizeResizeUrl":"/resizer/qxyZPE9CPouMthyRbcziOnizfCI=/arc-anglerfish-arc2-prod-gray/public/PLEYGISS3ZBTTF2C4WWT5HU67M.jpg","proprietor":"cordell.wagner@valleynewslive.com","key phrases":[""],"proxyUrl":"/resizer/qxyZPE9CPouMthyRbcziOnizfCI=/arc-anglerfish-arc2-prod-gray/public/PLEYGISS3ZBTTF2C4WWT5HU67M.jpg","originalUrl":"https://cloudfront-us-east-1.pictures.arcpublishing.com/grey/PLEYGISS3ZBTTF2C4WWT5HU67M.jpg","revealed":true,"resizeUrl":"/resizer/qxyZPE9CPouMthyRbcziOnizfCI=/arc-anglerfish-arc2-prod-gray/public/PLEYGISS3ZBTTF2C4WWT5HU67M.jpg","ingestionMethod":"guide","thumbnailResizeUrl":"/resizer/uN7nesySFXnkKuTgJ-LtShuR2gQ=/300×0/arc-anglerfish-arc2-prod-gray/public/PLEYGISS3ZBTTF2C4WWT5HU67M.jpg","model":0,"usage_instructions":"Common","originalName":"VNL LOGO_800x460.jpg","mime_type":"picture/jpeg","restricted":false,"template_id":453,"galleries":[]},"created_date":"2021-03-02T08:15:16Z","last_updated_date":"2021-03-02T08:15:16Z","top":460,"image_type":"{photograph}","resized_urls":{"unique":"https://cloudfront-us-east-1.pictures.arcpublishing.com/grey/PLEYGISS3ZBTTF2C4WWT5HU67M.jpg","small":{"url":"https://gray-kvly-prod.cdn.arcpublishing.com/resizer/5lP9IpbUbSEJBrXVcQs6RLap-34=/50×50/sensible/cloudfront-us-east-1.pictures.arcpublishing.com/grey/PLEYGISS3ZBTTF2C4WWT5HU67M.jpg","top":50,"width":50},"gallery_4x3″:{"url":"https://gray-kvly-prod.cdn.arcpublishing.com/resizer/U-htCTDzA3qUe7zIRUSQUSejK5g=/1000×750/sensible/cloudfront-us-east-1.pictures.arcpublishing.com/grey/PLEYGISS3ZBTTF2C4WWT5HU67M.jpg","top":750,"width":1000},"giant":{"url":"https://gray-kvly-prod.cdn.arcpublishing.com/resizer/6qh2tlhQYfVR3RDR1S9ym7Z2_g4=/800×0/sensible/cloudfront-us-east-1.pictures.arcpublishing.com/grey/PLEYGISS3ZBTTF2C4WWT5HU67M.jpg","top":0,"width":800},"large_1x1″:{"url":"https://gray-kvly-prod.cdn.arcpublishing.com/resizer/gIk7YB6cbmxeSysqFxIMA3XT2QI=/1200×1200/sensible/cloudfront-us-east-1.pictures.arcpublishing.com/grey/PLEYGISS3ZBTTF2C4WWT5HU67M.jpg","top":1200,"width":1200},"large_2x1″:{"url":"https://gray-kvly-prod.cdn.arcpublishing.com/resizer/0UPJ9JDMphyHAtKIRq6xNArxmio=/1200×600/sensible/cloudfront-us-east-1.pictures.arcpublishing.com/grey/PLEYGISS3ZBTTF2C4WWT5HU67M.jpg","top":600,"width":1200},"large_2x3″:{"url":"https://gray-kvly-prod.cdn.arcpublishing.com/resizer/s0J31BkiykOp-OCqfQs1nEstI0U=/1200×1800/sensible/cloudfront-us-east-1.pictures.arcpublishing.com/grey/PLEYGISS3ZBTTF2C4WWT5HU67M.jpg","top":1800,"width":1200},"large_3x1″:{"url":"https://gray-kvly-prod.cdn.arcpublishing.com/resizer/dclgxZGF788otB4KpL4ToHyCa80=/1200×400/sensible/cloudfront-us-east-1.pictures.arcpublishing.com/grey/PLEYGISS3ZBTTF2C4WWT5HU67M.jpg","top":400,"width":1200},"large_3x2″:{"url":"https://gray-kvly-prod.cdn.arcpublishing.com/resizer/UMvVquXO7K5YEhULGar-lNhDvi4=/1200×800/sensible/cloudfront-us-east-1.pictures.arcpublishing.com/grey/PLEYGISS3ZBTTF2C4WWT5HU67M.jpg","top":800,"width":1200},"large_4x3″:{"url":"https://gray-kvly-prod.cdn.arcpublishing.com/resizer/edInfgqGwMTbdNdtzcl6dDZRXoI=/1200×900/sensible/cloudfront-us-east-1.pictures.arcpublishing.com/grey/PLEYGISS3ZBTTF2C4WWT5HU67M.jpg","top":900,"width":1200},"large_16x9″:{"url":"https://gray-kvly-prod.cdn.arcpublishing.com/resizer/r-YfDkdC5pxNMDg2D2CpRdb1h3Y=/1200×675/sensible/cloudfront-us-east-1.pictures.arcpublishing.com/grey/PLEYGISS3ZBTTF2C4WWT5HU67M.jpg","top":675,"width":1200},"major":{"url":"https://gray-kvly-prod.cdn.arcpublishing.com/resizer/f2xsH_MP_iYANiGm2VVRUkTioV4=/980×0/sensible/cloudfront-us-east-1.pictures.arcpublishing.com/grey/PLEYGISS3ZBTTF2C4WWT5HU67M.jpg","top":0,"width":980},"summary_1x1″:{"url":"https://gray-kvly-prod.cdn.arcpublishing.com/resizer/WGImwlrf8n7BtSflEn-EdMnifrs=/800×800/sensible/cloudfront-us-east-1.pictures.arcpublishing.com/grey/PLEYGISS3ZBTTF2C4WWT5HU67M.jpg","top":800,"width":800},"summary_2x1″:{"url":"https://gray-kvly-prod.cdn.arcpublishing.com/resizer/EQAPof7kSc7htCnioA5dGMLBx2I=/800×400/sensible/cloudfront-us-east-1.pictures.arcpublishing.com/grey/PLEYGISS3ZBTTF2C4WWT5HU67M.jpg","top":400,"width":800},"summary_2x3″:{"url":"https://gray-kvly-prod.cdn.arcpublishing.com/resizer/oNX3xZmIEmaKHeGP2HOhHAUFiA4=/800×1200/sensible/cloudfront-us-east-1.pictures.arcpublishing.com/grey/PLEYGISS3ZBTTF2C4WWT5HU67M.jpg","top":1200,"width":800},"summary_3x1″:{"url":"https://gray-kvly-prod.cdn.arcpublishing.com/resizer/Omw_h95nSzLvQqkNsYwXMdRXipc=/800×267/sensible/cloudfront-us-east-1.pictures.arcpublishing.com/grey/PLEYGISS3ZBTTF2C4WWT5HU67M.jpg","top":267,"width":800},"summary_3x2″:{"url":"https://gray-kvly-prod.cdn.arcpublishing.com/resizer/X-h5_ILRnUm-xNy-i4vi75rGr4w=/800×533/sensible/cloudfront-us-east-1.pictures.arcpublishing.com/grey/PLEYGISS3ZBTTF2C4WWT5HU67M.jpg","top":533,"width":800},"summary_4x1″:{"url":"https://gray-kvly-prod.cdn.arcpublishing.com/resizer/JeTMxYEtLTzWF3sXRn8CVp0hFZY=/800×200/sensible/cloudfront-us-east-1.pictures.arcpublishing.com/grey/PLEYGISS3ZBTTF2C4WWT5HU67M.jpg","top":200,"width":800},"summary_4x3″:{"url":"https://gray-kvly-prod.cdn.arcpublishing.com/resizer/vMqxJFWLwpEb0GDx0hjnUflQbMQ=/800×600/sensible/cloudfront-us-east-1.pictures.arcpublishing.com/grey/PLEYGISS3ZBTTF2C4WWT5HU67M.jpg","top":600,"width":800},"summary_16x9″:{"url":"https://gray-kvly-prod.cdn.arcpublishing.com/resizer/M0MNFTZlOL_vGV1jjHk4zTRpZ-c=/800×450/sensible/cloudfront-us-east-1.pictures.arcpublishing.com/grey/PLEYGISS3ZBTTF2C4WWT5HU67M.jpg","top":450,"width":800},"summary_default":{"url":"https://gray-kvly-prod.cdn.arcpublishing.com/resizer/f2xsH_MP_iYANiGm2VVRUkTioV4=/980×0/sensible/cloudfront-us-east-1.pictures.arcpublishing.com/grey/PLEYGISS3ZBTTF2C4WWT5HU67M.jpg","top":0,"width":980}}}},"model":"0.10.7″,"_id":"MDUQKS75TRDEHLICMQLX7TNR7A","web site":"kvly","website_url":"/2021/04/08/symptoms-from-covid-vaccine-vary-fm-health-care-officials-react/","hasVideo":false,"hasVideoCenterVideo":false,"hasClickabilityVideo":false,"hasPowaLiveVideoPlayer":false},{"display_date":"2021-04-08T03:00:00Z","headlines":{"primary":"Information – 10:00PM Information April 7 – Half 1″},"web sites":{"kvly":{"website_url":"https://www.valleynewslive.com/video/2021/04/08/news-pm-news-april-part-2/","website_section":{"path":"https://www.valleynewslive.com/information","_website":"kvly","identify":"Information","_id":"https://www.valleynewslive.com/information","kind":"part","model":"0.6.0″,"major":true}}},"taxonomy":{"tags":[{"text":"Live Events"}]},"supply":{"system":"video middle"},"kind":"video","promo_items":{"primary":{"credit":{},"width":1280,"caption":"Information – 10:00PM Information April 7 – Half 1″,"kind":"picture","model":"0.5.8″,"url":"https://do0bihdskp9dy.cloudfront.web/04-08-2021/t_84a2748141ce40feaa87fef4cc8348ad_name_file_1280x720_2000_v3_1_.jpg","top":720,"resized_urls":{"unique":"https://do0bihdskp9dy.cloudfront.web/04-08-2021/t_84a2748141ce40feaa87fef4cc8348ad_name_file_1280x720_2000_v3_1_.jpg","small":{"url":"https://gray-kvly-prod.cdn.arcpublishing.com/resizer/hE6ULQJc_Yws4eucz0BJvSqUv4I=/50×50/sensible/do0bihdskp9dy.cloudfront.web/04-08-2021/t_84a2748141ce40feaa87fef4cc8348ad_name_file_1280x720_2000_v3_1_.jpg","top":50,"width":50},"gallery_4x3″:{"url":"https://gray-kvly-prod.cdn.arcpublishing.com/resizer/MLXUPuIxvG-OiPl__YQWMOydhtw=/1000×750/sensible/do0bihdskp9dy.cloudfront.web/04-08-2021/t_84a2748141ce40feaa87fef4cc8348ad_name_file_1280x720_2000_v3_1_.jpg","top":750,"width":1000},"giant":{"url":"https://gray-kvly-prod.cdn.arcpublishing.com/resizer/SduE-u8zrGpMw1sRsUuZ5S_C46c=/800×0/sensible/do0bihdskp9dy.cloudfront.web/04-08-2021/t_84a2748141ce40feaa87fef4cc8348ad_name_file_1280x720_2000_v3_1_.jpg","top":0,"width":800},"large_1x1″:{"url":"https://gray-kvly-prod.cdn.arcpublishing.com/resizer/5XEr0FQrT6caMTjtZ7fSsCmF_bA=/1200×1200/sensible/do0bihdskp9dy.cloudfront.web/04-08-2021/t_84a2748141ce40feaa87fef4cc8348ad_name_file_1280x720_2000_v3_1_.jpg","top":1200,"width":1200},"large_2x1″:{"url":"https://gray-kvly-prod.cdn.arcpublishing.com/resizer/FeFnUa3bPG5kjqkYLbke4Uo5Kr8=/1200×600/sensible/do0bihdskp9dy.cloudfront.web/04-08-2021/t_84a2748141ce40feaa87fef4cc8348ad_name_file_1280x720_2000_v3_1_.jpg","top":600,"width":1200},"large_2x3″:{"url":"https://gray-kvly-prod.cdn.arcpublishing.com/resizer/Qb810oXv7yV89w8Nqqof9ycoiyo=/1200×1800/sensible/do0bihdskp9dy.cloudfront.web/04-08-2021/t_84a2748141ce40feaa87fef4cc8348ad_name_file_1280x720_2000_v3_1_.jpg","top":1800,"width":1200},"large_3x1″:{"url":"https://gray-kvly-prod.cdn.arcpublishing.com/resizer/dto7d-u953HZzRAXj8Q_KUT9OTE=/1200×400/sensible/do0bihdskp9dy.cloudfront.web/04-08-2021/t_84a2748141ce40feaa87fef4cc8348ad_name_file_1280x720_2000_v3_1_.jpg","top":400,"width":1200},"large_3x2″:{"url":"https://gray-kvly-prod.cdn.arcpublishing.com/resizer/QRFFcI1ENJn7GwCq8_KMQVzs8eA=/1200×800/sensible/do0bihdskp9dy.cloudfront.web/04-08-2021/t_84a2748141ce40feaa87fef4cc8348ad_name_file_1280x720_2000_v3_1_.jpg","top":800,"width":1200},"large_4x3″:{"url":"https://gray-kvly-prod.cdn.arcpublishing.com/resizer/rKCPXaBNwSir4a5r7WIEhG5bomE=/1200×900/sensible/do0bihdskp9dy.cloudfront.web/04-08-2021/t_84a2748141ce40feaa87fef4cc8348ad_name_file_1280x720_2000_v3_1_.jpg","top":900,"width":1200},"large_16x9″:{"url":"https://gray-kvly-prod.cdn.arcpublishing.com/resizer/VtH8dTA_7cyud6c30Y2PAg-UTs8=/1200×675/sensible/do0bihdskp9dy.cloudfront.web/04-08-2021/t_84a2748141ce40feaa87fef4cc8348ad_name_file_1280x720_2000_v3_1_.jpg","top":675,"width":1200},"major":{"url":"https://gray-kvly-prod.cdn.arcpublishing.com/resizer/4GMWD-IC3cuDtKHpyjubVHcNlA4=/980×0/sensible/do0bihdskp9dy.cloudfront.web/04-08-2021/t_84a2748141ce40feaa87fef4cc8348ad_name_file_1280x720_2000_v3_1_.jpg","top":0,"width":980},"summary_1x1″:{"url":"https://gray-kvly-prod.cdn.arcpublishing.com/resizer/WB5eKxpNj6WdkW8mIWtG9iJI31k=/800×800/sensible/do0bihdskp9dy.cloudfront.web/04-08-2021/t_84a2748141ce40feaa87fef4cc8348ad_name_file_1280x720_2000_v3_1_.jpg","top":800,"width":800},"summary_2x1″:{"url":"https://gray-kvly-prod.cdn.arcpublishing.com/resizer/MxZNuC1w–XH_8ooGs3eo5pz2xc=/800×400/sensible/do0bihdskp9dy.cloudfront.web/04-08-2021/t_84a2748141ce40feaa87fef4cc8348ad_name_file_1280x720_2000_v3_1_.jpg","top":400,"width":800},"summary_2x3″:{"url":"https://gray-kvly-prod.cdn.arcpublishing.com/resizer/sWohBsj0OH39lUkCUad29Im1v7Q=/800×1200/sensible/do0bihdskp9dy.cloudfront.web/04-08-2021/t_84a2748141ce40feaa87fef4cc8348ad_name_file_1280x720_2000_v3_1_.jpg","top":1200,"width":800},"summary_3x1″:{"url":"https://gray-kvly-prod.cdn.arcpublishing.com/resizer/2mUE1HLXSbI1JlZzWR7-A2cQzP0=/800×267/sensible/do0bihdskp9dy.cloudfront.web/04-08-2021/t_84a2748141ce40feaa87fef4cc8348ad_name_file_1280x720_2000_v3_1_.jpg","top":267,"width":800},"summary_3x2″:{"url":"https://gray-kvly-prod.cdn.arcpublishing.com/resizer/ZVCyK1motaVNTo5FLVT7Vc4XzO0=/800×533/sensible/do0bihdskp9dy.cloudfront.web/04-08-2021/t_84a2748141ce40feaa87fef4cc8348ad_name_file_1280x720_2000_v3_1_.jpg","top":533,"width":800},"summary_4x1″:{"url":"https://gray-kvly-prod.cdn.arcpublishing.com/resizer/2W-P7kaurLqCOZCyNZOsPL6QQDQ=/800×200/sensible/do0bihdskp9dy.cloudfront.web/04-08-2021/t_84a2748141ce40feaa87fef4cc8348ad_name_file_1280x720_2000_v3_1_.jpg","top":200,"width":800},"summary_4x3″:{"url":"https://gray-kvly-prod.cdn.arcpublishing.com/resizer/TSYtMb_bJhS1_QsDURpGZUc5eLQ=/800×600/sensible/do0bihdskp9dy.cloudfront.web/04-08-2021/t_84a2748141ce40feaa87fef4cc8348ad_name_file_1280x720_2000_v3_1_.jpg","top":600,"width":800},"summary_16x9″:{"url":"https://gray-kvly-prod.cdn.arcpublishing.com/resizer/Jly0Pm6VarDrvuVXykETc6tmzUo=/800×450/sensible/do0bihdskp9dy.cloudfront.web/04-08-2021/t_84a2748141ce40feaa87fef4cc8348ad_name_file_1280x720_2000_v3_1_.jpg","top":450,"width":800},"summary_default":{"url":"https://gray-kvly-prod.cdn.arcpublishing.com/resizer/4GMWD-IC3cuDtKHpyjubVHcNlA4=/980×0/sensible/do0bihdskp9dy.cloudfront.web/04-08-2021/t_84a2748141ce40feaa87fef4cc8348ad_name_file_1280x720_2000_v3_1_.jpg","top":0,"width":980}}}},"model":"0.8.0″,"_id":"fea756c2-fc98-45c7-b898-084451db1f89″,"web site":"kvly","website_url":"https://www.valleynewslive.com/video/2021/04/08/news-pm-news-april-part-2/","credit":{"by":[]},"content_elements":[],"description":{"primary":"Valley Information Reside at 10:00PM KVLY – VOD"},"caption":{"primary":""},"hasVideo":false,"hasVideoCenterVideo":false,"hasClickabilityVideo":false,"hasPowaLiveVideoPlayer":false},{"display_date":"2021-04-08T03:00:00Z","headlines":{"primary":"Information – Nameless donors ship highschool college students to promenade totally free"},"web sites":{"kvly":{"website_url":"https://www.valleynewslive.com/video/2021/04/08/news-anonymous-donors-send-high-school-students-prom-free/","website_section":{"path":"https://www.valleynewslive.com/information","_website":"kvly","identify":"Information","_id":"https://www.valleynewslive.com/information","kind":"part","model":"0.6.0″,"major":true}}},"taxonomy":{"tags":[{"text":"Live Events"}]},"supply":{"system":"video middle"},"kind":"video","promo_items":{"primary":{"credit":{},"width":1280,"caption":"Information – Nameless donors ship highschool college students to promenade totally free","kind":"picture","model":"0.5.8″,"url":"https://do0bihdskp9dy.cloudfront.web/04-08-2021/t_3661bf6715124d41ae068ce9ef9fac7a_name_file_1280x720_2000_v3_1_.jpg","top":720,"resized_urls":{"unique":"https://do0bihdskp9dy.cloudfront.web/04-08-2021/t_3661bf6715124d41ae068ce9ef9fac7a_name_file_1280x720_2000_v3_1_.jpg","small":{"url":"https://gray-kvly-prod.cdn.arcpublishing.com/resizer/-2OioRdfYo4mODRAV9w43O_NXRU=/50×50/sensible/do0bihdskp9dy.cloudfront.web/04-08-2021/t_3661bf6715124d41ae068ce9ef9fac7a_name_file_1280x720_2000_v3_1_.jpg","top":50,"width":50},"gallery_4x3″:{"url":"https://gray-kvly-prod.cdn.arcpublishing.com/resizer/Z8XCXJphG6JbF-v44oOhwERrIj4=/1000×750/sensible/do0bihdskp9dy.cloudfront.web/04-08-2021/t_3661bf6715124d41ae068ce9ef9fac7a_name_file_1280x720_2000_v3_1_.jpg","top":750,"width":1000},"giant":{"url":"https://gray-kvly-prod.cdn.arcpublishing.com/resizer/XOabajiKCZkL2lmE0xc2nZNRXiM=/800×0/sensible/do0bihdskp9dy.cloudfront.web/04-08-2021/t_3661bf6715124d41ae068ce9ef9fac7a_name_file_1280x720_2000_v3_1_.jpg","top":0,"width":800},"large_1x1″:{"url":"https://gray-kvly-prod.cdn.arcpublishing.com/resizer/nj2llucsAv3L0j3zAcB-lwX9yos=/1200×1200/sensible/do0bihdskp9dy.cloudfront.web/04-08-2021/t_3661bf6715124d41ae068ce9ef9fac7a_name_file_1280x720_2000_v3_1_.jpg","top":1200,"width":1200},"large_2x1″:{"url":"https://gray-kvly-prod.cdn.arcpublishing.com/resizer/xbg8dVXMq8ITMk_eV031YTOoO8Y=/1200×600/sensible/do0bihdskp9dy.cloudfront.web/04-08-2021/t_3661bf6715124d41ae068ce9ef9fac7a_name_file_1280x720_2000_v3_1_.jpg","top":600,"width":1200},"large_2x3″:{"url":"https://gray-kvly-prod.cdn.arcpublishing.com/resizer/BfEiH3a4YOuWDRFpSFxOkEwUzVc=/1200×1800/sensible/do0bihdskp9dy.cloudfront.web/04-08-2021/t_3661bf6715124d41ae068ce9ef9fac7a_name_file_1280x720_2000_v3_1_.jpg","top":1800,"width":1200},"large_3x1″:{"url":"https://gray-kvly-prod.cdn.arcpublishing.com/resizer/yUfKJncC1CtRhWEHd5Cyw-Vyuvo=/1200×400/sensible/do0bihdskp9dy.cloudfront.web/04-08-2021/t_3661bf6715124d41ae068ce9ef9fac7a_name_file_1280x720_2000_v3_1_.jpg","top":400,"width":1200},"large_3x2″:{"url":"https://gray-kvly-prod.cdn.arcpublishing.com/resizer/ZbAB8qqBuvW-isHFOi8KrvhxeD8=/1200×800/sensible/do0bihdskp9dy.cloudfront.web/04-08-2021/t_3661bf6715124d41ae068ce9ef9fac7a_name_file_1280x720_2000_v3_1_.jpg","top":800,"width":1200},"large_4x3″:{"url":"https://gray-kvly-prod.cdn.arcpublishing.com/resizer/XmrdKJ7zwyoj2Sgb-mKPA66DJLo=/1200×900/sensible/do0bihdskp9dy.cloudfront.web/04-08-2021/t_3661bf6715124d41ae068ce9ef9fac7a_name_file_1280x720_2000_v3_1_.jpg","top":900,"width":1200},"large_16x9″:{"url":"https://gray-kvly-prod.cdn.arcpublishing.com/resizer/HMqxBy3fHd5NveWkU7EiWp6FUy4=/1200×675/sensible/do0bihdskp9dy.cloudfront.web/04-08-2021/t_3661bf6715124d41ae068ce9ef9fac7a_name_file_1280x720_2000_v3_1_.jpg","top":675,"width":1200},"major":{"url":"https://gray-kvly-prod.cdn.arcpublishing.com/resizer/yB7snKYUbJlN4pU6Znb1VdHVwLg=/980×0/sensible/do0bihdskp9dy.cloudfront.web/04-08-2021/t_3661bf6715124d41ae068ce9ef9fac7a_name_file_1280x720_2000_v3_1_.jpg","top":0,"width":980},"summary_1x1″:{"url":"https://gray-kvly-prod.cdn.arcpublishing.com/resizer/3D_nNdmkDM4TQ-UEPkfm1JigUlU=/800×800/sensible/do0bihdskp9dy.cloudfront.web/04-08-2021/t_3661bf6715124d41ae068ce9ef9fac7a_name_file_1280x720_2000_v3_1_.jpg","top":800,"width":800},"summary_2x1″:{"url":"https://gray-kvly-prod.cdn.arcpublishing.com/resizer/_fGk7zsFGqUrB5ruxnZmvRnTJII=/800×400/sensible/do0bihdskp9dy.cloudfront.web/04-08-2021/t_3661bf6715124d41ae068ce9ef9fac7a_name_file_1280x720_2000_v3_1_.jpg","top":400,"width":800},"summary_2x3″:{"url":"https://gray-kvly-prod.cdn.arcpublishing.com/resizer/1EGkVWTLrrGYwTR4K5stx6fMp0s=/800×1200/sensible/do0bihdskp9dy.cloudfront.web/04-08-2021/t_3661bf6715124d41ae068ce9ef9fac7a_name_file_1280x720_2000_v3_1_.jpg","top":1200,"width":800},"summary_3x1″:{"url":"https://gray-kvly-prod.cdn.arcpublishing.com/resizer/-r7qsA2dAZM2sRgKjqrdemPHRRE=/800×267/sensible/do0bihdskp9dy.cloudfront.web/04-08-2021/t_3661bf6715124d41ae068ce9ef9fac7a_name_file_1280x720_2000_v3_1_.jpg","top":267,"width":800},"summary_3x2″:{"url":"https://gray-kvly-prod.cdn.arcpublishing.com/resizer/PYyq13AIlpTBT2bOJHRejW1_5Eo=/800×533/sensible/do0bihdskp9dy.cloudfront.web/04-08-2021/t_3661bf6715124d41ae068ce9ef9fac7a_name_file_1280x720_2000_v3_1_.jpg","top":533,"width":800},"summary_4x1″:{"url":"https://gray-kvly-prod.cdn.arcpublishing.com/resizer/02gegwHUgO2Vo5DU96GXDQHlXZE=/800×200/sensible/do0bihdskp9dy.cloudfront.web/04-08-2021/t_3661bf6715124d41ae068ce9ef9fac7a_name_file_1280x720_2000_v3_1_.jpg","top":200,"width":800},"summary_4x3″:{"url":"https://gray-kvly-prod.cdn.arcpublishing.com/resizer/nBvyYDKnJak8MKcrwspKubFTG9s=/800×600/sensible/do0bihdskp9dy.cloudfront.web/04-08-2021/t_3661bf6715124d41ae068ce9ef9fac7a_name_file_1280x720_2000_v3_1_.jpg","top":600,"width":800},"summary_16x9″:{"url":"https://gray-kvly-prod.cdn.arcpublishing.com/resizer/BwD6kyk_R2grMy46gyzdG9l-Q_0=/800×450/sensible/do0bihdskp9dy.cloudfront.web/04-08-2021/t_3661bf6715124d41ae068ce9ef9fac7a_name_file_1280x720_2000_v3_1_.jpg","top":450,"width":800},"summary_default":{"url":"https://gray-kvly-prod.cdn.arcpublishing.com/resizer/yB7snKYUbJlN4pU6Znb1VdHVwLg=/980×0/sensible/do0bihdskp9dy.cloudfront.web/04-08-2021/t_3661bf6715124d41ae068ce9ef9fac7a_name_file_1280x720_2000_v3_1_.jpg","top":0,"width":980}}}},"model":"0.8.0″,"_id":"d8f55562-86f6-4cf7-b637-a01d917124ed","web site":"kvly","website_url":"https://www.valleynewslive.com/video/2021/04/08/news-anonymous-donors-send-high-school-students-prom-free/","credit":{"by":[]},"content_elements":[],"description":{"primary":"Valley Information Reside at 10:00PM KVLY – VOD"},"caption":{"primary":""},"hasVideo":false,"hasVideoCenterVideo":false,"hasClickabilityVideo":false,"hasPowaLiveVideoPlayer":false},{"display_date":"2021-04-08T03:00:00Z","headlines":{"primary":"Information – 10:00PM Information April 7 – Half 2″},"web sites":{"kvly":{"website_url":"https://www.valleynewslive.com/video/2021/04/08/news-pm-news-april-part-3/","website_section":{"path":"https://www.valleynewslive.com/information","_website":"kvly","identify":"Information","_id":"https://www.valleynewslive.com/information","kind":"part","model":"0.6.0″,"major":true}}},"taxonomy":{"tags":[{"text":"Live Events"}]},"supply":{"system":"video middle"},"kind":"video","promo_items":{"primary":{"credit":{},"width":1280,"caption":"Information – 10:00PM Information April 7 – Half 2″,"kind":"picture","model":"0.5.8″,"url":"https://do0bihdskp9dy.cloudfront.web/04-08-2021/t_99e2d165584a403da76b6de2cff3440a_name_file_1280x720_2000_v3_1_.jpg","top":720,"resized_urls":{"unique":"https://do0bihdskp9dy.cloudfront.web/04-08-2021/t_99e2d165584a403da76b6de2cff3440a_name_file_1280x720_2000_v3_1_.jpg","small":{"url":"https://gray-kvly-prod.cdn.arcpublishing.com/resizer/ZERGhyZ–W8yT9wLt4e4SHOmNJg=/50×50/sensible/do0bihdskp9dy.cloudfront.web/04-08-2021/t_99e2d165584a403da76b6de2cff3440a_name_file_1280x720_2000_v3_1_.jpg","top":50,"width":50},"gallery_4x3″:{"url":"https://gray-kvly-prod.cdn.arcpublishing.com/resizer/hNkHrXbJYj0e7fjwIW6-0NjEr8I=/1000×750/sensible/do0bihdskp9dy.cloudfront.web/04-08-2021/t_99e2d165584a403da76b6de2cff3440a_name_file_1280x720_2000_v3_1_.jpg","top":750,"width":1000},"giant":{"url":"https://gray-kvly-prod.cdn.arcpublishing.com/resizer/MP1JnA8gDbge3M3Q-zMmFpl0AXU=/800×0/sensible/do0bihdskp9dy.cloudfront.web/04-08-2021/t_99e2d165584a403da76b6de2cff3440a_name_file_1280x720_2000_v3_1_.jpg","top":0,"width":800},"large_1x1″:{"url":"https://gray-kvly-prod.cdn.arcpublishing.com/resizer/tkAXSuYxnvAwkjYJcwFK4aN7qRs=/1200×1200/sensible/do0bihdskp9dy.cloudfront.web/04-08-2021/t_99e2d165584a403da76b6de2cff3440a_name_file_1280x720_2000_v3_1_.jpg","top":1200,"width":1200},"large_2x1″:{"url":"https://gray-kvly-prod.cdn.arcpublishing.com/resizer/0uoOXuot8fhUwMGCYK8yYNQvx_E=/1200×600/sensible/do0bihdskp9dy.cloudfront.web/04-08-2021/t_99e2d165584a403da76b6de2cff3440a_name_file_1280x720_2000_v3_1_.jpg","top":600,"width":1200},"large_2x3″:{"url":"https://gray-kvly-prod.cdn.arcpublishing.com/resizer/U3TwRf4bQ0ElkZtS81C0dYNgijE=/1200×1800/sensible/do0bihdskp9dy.cloudfront.web/04-08-2021/t_99e2d165584a403da76b6de2cff3440a_name_file_1280x720_2000_v3_1_.jpg","top":1800,"width":1200},"large_3x1″:{"url":"https://gray-kvly-prod.cdn.arcpublishing.com/resizer/jw4mConT9ABWo3DqSbwL1VkyOFM=/1200×400/sensible/do0bihdskp9dy.cloudfront.web/04-08-2021/t_99e2d165584a403da76b6de2cff3440a_name_file_1280x720_2000_v3_1_.jpg","top":400,"width":1200},"large_3x2″:{"url":"https://gray-kvly-prod.cdn.arcpublishing.com/resizer/fCSFiVaqxLN-chQAFWSwotmlUmY=/1200×800/sensible/do0bihdskp9dy.cloudfront.web/04-08-2021/t_99e2d165584a403da76b6de2cff3440a_name_file_1280x720_2000_v3_1_.jpg","top":800,"width":1200},"large_4x3″:{"url":"https://gray-kvly-prod.cdn.arcpublishing.com/resizer/9Kt4Cn86ZJwtXChv4bIJgzfyy3A=/1200×900/sensible/do0bihdskp9dy.cloudfront.web/04-08-2021/t_99e2d165584a403da76b6de2cff3440a_name_file_1280x720_2000_v3_1_.jpg","top":900,"width":1200},"large_16x9″:{"url":"https://gray-kvly-prod.cdn.arcpublishing.com/resizer/Y697pxFRDq7lN4Bjsbv1Em67LWs=/1200×675/sensible/do0bihdskp9dy.cloudfront.web/04-08-2021/t_99e2d165584a403da76b6de2cff3440a_name_file_1280x720_2000_v3_1_.jpg","top":675,"width":1200},"major":{"url":"https://gray-kvly-prod.cdn.arcpublishing.com/resizer/a9EW2h7YUomVHgBvc5tTS6C9vbQ=/980×0/sensible/do0bihdskp9dy.cloudfront.web/04-08-2021/t_99e2d165584a403da76b6de2cff3440a_name_file_1280x720_2000_v3_1_.jpg","top":0,"width":980},"summary_1x1″:{"url":"https://gray-kvly-prod.cdn.arcpublishing.com/resizer/SALbEXDaxNTqrq4uqth9iNrlVYI=/800×800/sensible/do0bihdskp9dy.cloudfront.web/04-08-2021/t_99e2d165584a403da76b6de2cff3440a_name_file_1280x720_2000_v3_1_.jpg","top":800,"width":800},"summary_2x1″:{"url":"https://gray-kvly-prod.cdn.arcpublishing.com/resizer/fOyPBmRVxGCpG5nnaDPbY5q8qGQ=/800×400/sensible/do0bihdskp9dy.cloudfront.web/04-08-2021/t_99e2d165584a403da76b6de2cff3440a_name_file_1280x720_2000_v3_1_.jpg","top":400,"width":800},"summary_2x3″:{"url":"https://gray-kvly-prod.cdn.arcpublishing.com/resizer/cVXDX8TiHH2FdXD328cBeHxvYys=/800×1200/sensible/do0bihdskp9dy.cloudfront.web/04-08-2021/t_99e2d165584a403da76b6de2cff3440a_name_file_1280x720_2000_v3_1_.jpg","top":1200,"width":800},"summary_3x1″:{"url":"https://gray-kvly-prod.cdn.arcpublishing.com/resizer/9mKChkSOIvuWh-puhGUfQ-NUdm0=/800×267/sensible/do0bihdskp9dy.cloudfront.web/04-08-2021/t_99e2d165584a403da76b6de2cff3440a_name_file_1280x720_2000_v3_1_.jpg","top":267,"width":800},"summary_3x2″:{"url":"https://gray-kvly-prod.cdn.arcpublishing.com/resizer/bJ-hjg8FjkUDqWMjbdZlclDnzNM=/800×533/sensible/do0bihdskp9dy.cloudfront.web/04-08-2021/t_99e2d165584a403da76b6de2cff3440a_name_file_1280x720_2000_v3_1_.jpg","top":533,"width":800},"summary_4x1″:{"url":"https://gray-kvly-prod.cdn.arcpublishing.com/resizer/THw-lrQcfkpjIcq3NRM5NV2OK8I=/800×200/sensible/do0bihdskp9dy.cloudfront.web/04-08-2021/t_99e2d165584a403da76b6de2cff3440a_name_file_1280x720_2000_v3_1_.jpg","top":200,"width":800},"summary_4x3″:{"url":"https://gray-kvly-prod.cdn.arcpublishing.com/resizer/934hrYn2eLutrTKAnloZwGnemt0=/800×600/sensible/do0bihdskp9dy.cloudfront.web/04-08-2021/t_99e2d165584a403da76b6de2cff3440a_name_file_1280x720_2000_v3_1_.jpg","top":600,"width":800},"summary_16x9″:{"url":"https://gray-kvly-prod.cdn.arcpublishing.com/resizer/K83D_VQPDeyrFCQ3_qvGyYd_Wno=/800×450/sensible/do0bihdskp9dy.cloudfront.web/04-08-2021/t_99e2d165584a403da76b6de2cff3440a_name_file_1280x720_2000_v3_1_.jpg","top":450,"width":800},"summary_default":{"url":"https://gray-kvly-prod.cdn.arcpublishing.com/resizer/a9EW2h7YUomVHgBvc5tTS6C9vbQ=/980×0/sensible/do0bihdskp9dy.cloudfront.web/04-08-2021/t_99e2d165584a403da76b6de2cff3440a_name_file_1280x720_2000_v3_1_.jpg","top":0,"width":980}}}},"model":"0.8.0″,"_id":"7fb34ebb-b900-48ac-9cee-53a65e05cfc5″,"web site":"kvly","website_url":"https://www.valleynewslive.com/video/2021/04/08/news-pm-news-april-part-3/","credit":{"by":[]},"content_elements":[],"description":{"primary":"Valley Information Reside at 10:00PM KVLY – VOD"},"caption":{"primary":""},"hasVideo":false,"hasVideoCenterVideo":false,"hasClickabilityVideo":false,"hasPowaLiveVideoPlayer":false},{"display_date":"2021-04-08T03:00:00Z","headlines":{"primary":"Climate – 10:00PM Climate April 7″},"web sites":{"kvly":{"website_url":"https://www.valleynewslive.com/video/2021/04/08/weather-pm-weather-april/","website_section":{"path":"/climate/forecast","_website":"kvly","identify":"Forecast","_id":"/climate/forecast","kind":"part","model":"0.6.0″,"major":true}}},"taxonomy":{"tags":[{"text":"Live Events"}]},"supply":{"system":"video middle"},"kind":"video","promo_items":{"primary":{"credit":{},"width":1280,"caption":"Climate – 10:00PM Climate April 7″,"kind":"picture","model":"0.5.8″,"url":"https://do0bihdskp9dy.cloudfront.web/04-08-2021/t_39bc3c39a0c04ab8858c556fa58c1b0a_name_file_1280x720_2000_v3_1_.jpg","top":720,"resized_urls":{"unique":"https://do0bihdskp9dy.cloudfront.web/04-08-2021/t_39bc3c39a0c04ab8858c556fa58c1b0a_name_file_1280x720_2000_v3_1_.jpg","small":{"url":"https://gray-kvly-prod.cdn.arcpublishing.com/resizer/JTF47rQk-v1cYhfHTiSZXGemm0Q=/50×50/sensible/do0bihdskp9dy.cloudfront.web/04-08-2021/t_39bc3c39a0c04ab8858c556fa58c1b0a_name_file_1280x720_2000_v3_1_.jpg","top":50,"width":50},"gallery_4x3″:{"url":"https://gray-kvly-prod.cdn.arcpublishing.com/resizer/rzcJZJFkLoK45MPBM_U-E3-wqlM=/1000×750/sensible/do0bihdskp9dy.cloudfront.web/04-08-2021/t_39bc3c39a0c04ab8858c556fa58c1b0a_name_file_1280x720_2000_v3_1_.jpg","top":750,"width":1000},"giant":{"url":"https://gray-kvly-prod.cdn.arcpublishing.com/resizer/ivJw_Wtu8sTWXil3UarfzqBwxxE=/800×0/sensible/do0bihdskp9dy.cloudfront.web/04-08-2021/t_39bc3c39a0c04ab8858c556fa58c1b0a_name_file_1280x720_2000_v3_1_.jpg","top":0,"width":800},"large_1x1″:{"url":"https://gray-kvly-prod.cdn.arcpublishing.com/resizer/AaGHe0RrQooE4sKCmnX_yrGXP_s=/1200×1200/sensible/do0bihdskp9dy.cloudfront.web/04-08-2021/t_39bc3c39a0c04ab8858c556fa58c1b0a_name_file_1280x720_2000_v3_1_.jpg","top":1200,"width":1200},"large_2x1″:{"url":"https://gray-kvly-prod.cdn.arcpublishing.com/resizer/itI8LtmZZus5dHpfMSNAuDABsek=/1200×600/sensible/do0bihdskp9dy.cloudfront.web/04-08-2021/t_39bc3c39a0c04ab8858c556fa58c1b0a_name_file_1280x720_2000_v3_1_.jpg","top":600,"width":1200},"large_2x3″:{"url":"https://gray-kvly-prod.cdn.arcpublishing.com/resizer/Jy-h12uXNLD0ESt5ujWk-c-IXko=/1200×1800/sensible/do0bihdskp9dy.cloudfront.web/04-08-2021/t_39bc3c39a0c04ab8858c556fa58c1b0a_name_file_1280x720_2000_v3_1_.jpg","top":1800,"width":1200},"large_3x1″:{"url":"https://gray-kvly-prod.cdn.arcpublishing.com/resizer/juR3ZxfusYAyuSCsTj99V_bltQ4=/1200×400/sensible/do0bihdskp9dy.cloudfront.web/04-08-2021/t_39bc3c39a0c04ab8858c556fa58c1b0a_name_file_1280x720_2000_v3_1_.jpg","top":400,"width":1200},"large_3x2″:{"url":"https://gray-kvly-prod.cdn.arcpublishing.com/resizer/_TGhHnWprUdSWGkWl2-RSYEikAM=/1200×800/sensible/do0bihdskp9dy.cloudfront.web/04-08-2021/t_39bc3c39a0c04ab8858c556fa58c1b0a_name_file_1280x720_2000_v3_1_.jpg","top":800,"width":1200},"large_4x3″:{"url":"https://gray-kvly-prod.cdn.arcpublishing.com/resizer/SPKHFyycR1pp-HYGawJnCuwN6g4=/1200×900/sensible/do0bihdskp9dy.cloudfront.web/04-08-2021/t_39bc3c39a0c04ab8858c556fa58c1b0a_name_file_1280x720_2000_v3_1_.jpg","top":900,"width":1200},"large_16x9″:{"url":"https://gray-kvly-prod.cdn.arcpublishing.com/resizer/91kXTjeQJPsCi-RGp-rSvhrItSM=/1200×675/sensible/do0bihdskp9dy.cloudfront.web/04-08-2021/t_39bc3c39a0c04ab8858c556fa58c1b0a_name_file_1280x720_2000_v3_1_.jpg","top":675,"width":1200},"major":{"url":"https://gray-kvly-prod.cdn.arcpublishing.com/resizer/fob0KN1BTAF_9nnaMTHrp0NO7mk=/980×0/sensible/do0bihdskp9dy.cloudfront.web/04-08-2021/t_39bc3c39a0c04ab8858c556fa58c1b0a_name_file_1280x720_2000_v3_1_.jpg","top":0,"width":980},"summary_1x1″:{"url":"https://gray-kvly-prod.cdn.arcpublishing.com/resizer/lxZcj0oY4MKKNB1qAG217Md5JYo=/800×800/sensible/do0bihdskp9dy.cloudfront.web/04-08-2021/t_39bc3c39a0c04ab8858c556fa58c1b0a_name_file_1280x720_2000_v3_1_.jpg","top":800,"width":800},"summary_2x1″:{"url":"https://gray-kvly-prod.cdn.arcpublishing.com/resizer/exbcrXQcdNlIYQtjviTuesvXJNE=/800×400/sensible/do0bihdskp9dy.cloudfront.web/04-08-2021/t_39bc3c39a0c04ab8858c556fa58c1b0a_name_file_1280x720_2000_v3_1_.jpg","top":400,"width":800},"summary_2x3″:{"url":"https://gray-kvly-prod.cdn.arcpublishing.com/resizer/sMJpUYqEfyTb74mqtAi-SBVKeRY=/800×1200/sensible/do0bihdskp9dy.cloudfront.web/04-08-2021/t_39bc3c39a0c04ab8858c556fa58c1b0a_name_file_1280x720_2000_v3_1_.jpg","top":1200,"width":800},"summary_3x1″:{"url":"https://gray-kvly-prod.cdn.arcpublishing.com/resizer/fqM-9kwxyi3MuG1xWKqhkNoWuoU=/800×267/sensible/do0bihdskp9dy.cloudfront.web/04-08-2021/t_39bc3c39a0c04ab8858c556fa58c1b0a_name_file_1280x720_2000_v3_1_.jpg","top":267,"width":800},"summary_3x2″:{"url":"https://gray-kvly-prod.cdn.arcpublishing.com/resizer/VWhaZ0b11qGp5ZgALj6yTTJTMDw=/800×533/sensible/do0bihdskp9dy.cloudfront.web/04-08-2021/t_39bc3c39a0c04ab8858c556fa58c1b0a_name_file_1280x720_2000_v3_1_.jpg","top":533,"width":800},"summary_4x1″:{"url":"https://gray-kvly-prod.cdn.arcpublishing.com/resizer/6-9Q89Pk3G7lHECQe_G4ddvQ6uQ=/800×200/sensible/do0bihdskp9dy.cloudfront.web/04-08-2021/t_39bc3c39a0c04ab8858c556fa58c1b0a_name_file_1280x720_2000_v3_1_.jpg","top":200,"width":800},"summary_4x3″:{"url":"https://gray-kvly-prod.cdn.arcpublishing.com/resizer/O4XpZ1ovfalsrrEYw0o–6KN5K8=/800×600/sensible/do0bihdskp9dy.cloudfront.web/04-08-2021/t_39bc3c39a0c04ab8858c556fa58c1b0a_name_file_1280x720_2000_v3_1_.jpg","top":600,"width":800},"summary_16x9″:{"url":"https://gray-kvly-prod.cdn.arcpublishing.com/resizer/XlpKxgSf5zzt2bIkObVp3A_bbVs=/800×450/sensible/do0bihdskp9dy.cloudfront.web/04-08-2021/t_39bc3c39a0c04ab8858c556fa58c1b0a_name_file_1280x720_2000_v3_1_.jpg","top":450,"width":800},"summary_default":{"url":"https://gray-kvly-prod.cdn.arcpublishing.com/resizer/fob0KN1BTAF_9nnaMTHrp0NO7mk=/980×0/sensible/do0bihdskp9dy.cloudfront.web/04-08-2021/t_39bc3c39a0c04ab8858c556fa58c1b0a_name_file_1280x720_2000_v3_1_.jpg","top":0,"width":980}}}},"model":"0.8.0″,"_id":"8e117fa7-a87b-4ee7-b879-245e9e437a70″,"web site":"kvly","website_url":"https://www.valleynewslive.com/video/2021/04/08/weather-pm-weather-april/","credit":{"by":[]},"content_elements":[],"description":{"primary":"Valley Information Reside at 10:00PM KVLY – VOD"},"caption":{"primary":""},"hasVideo":false,"hasVideoCenterVideo":false,"hasClickabilityVideo":false,"hasPowaLiveVideoPlayer":false}],"additional_properties":{"took":44,"timed_out":false},"depend":63504,"subsequent":5,"dataTransformedAt":"2021-04-08T03:59:27.819Z","_id":"3a9d314b09d834aa9054709751b01b7e174609c6c218654d792c5f0e9817ba1d"},"expires":1617854487736,"lastModified":1617854367736}}};



Source link